*Please note: This article is a student blog written by a Kevin B. Harrington Student Ambassador. The Ambassador Program is a unique opportunity for Saint Anselm College students of any major to be involved in supporting the Institute's various events and activities. To learn more about our student ambassadors please visit the NHIOP website.
The American Stage Series kicked off its first event on Friday March 3, 2023, with special guest Robert F. Kennedy Jr. It was a full house in the New Hampshire Institute of Politics (NHIOP) Auditorium, as there was a lot of public interest in seeing Kennedy speak.
Kennedy is an environmental lawyer and author, who has written many books and New York Times best sellers. He is the son of former United States Senator and Attorney General Robert Kennedy and the nephew of the 35th President of the United States, John F. Kennedy, and former United States Senator Ted Kennedy.
Kennedy started his speech with an extensive discussion about the polarization in the country today and how America is the most divided it has been since the Civil War. He talked about how Americans need to bridge the gap between our differences and somehow, someway, get back to being a more united country. Kennedy underscored the philosophy to "share values and not a political party." Personally, I liked this specific message the best from his entire speech, citing unity as a key focus for the future of the country as we navigate through the next decade and beyond.
As his speech continued, Kennedy segued into New Hampshire's "First in the Nation" primary status. He spoke to the fact that New Hampshire Primaries are very important in the election process. Kennedy revered both the historical significance of New Hampshire primaries and the unique structure of New Hampshire campaigning that makes the Granite State a litmus test for the nation.
The majority of his presentation focused on his extensive work as an environmental lawyer protecting America's waterways. It was through his work with the Waterkeeper Alliance that he discovered some "government agencies become captors for the corporations they were supposed to regulate and fight against." This means, in his own words, he thinks the government agencies need to not only stop using political clout to escape the consequences of free market capitalism but also need to do a better job regulating against corporations. He made some good points here, in my opinion. I think when people often talk about loopholes in the system with taxes and capitalism itself, he did a great job explaining the situations and some of the solutions with which we could counter them. 
Kennedy spoke a lot about the environment and its relation to the economy. He is a self-proclaimed capitalist while saying the economy should be valued by the dignity of the jobs we produce and how we preserve assets in our community. Regarding environmental regulation, he asked the crowd if we should convert our natural resources to cash ASAP, regardless of its environmental impact. This was a rhetorical question because America's natural resources need to be protected. Additionally, he mentioned a 2003 study researching the fresh water in North America. The results of the study indicated mercury levels in fish were so high that it could lead to issues with pregnant women and their children, including autism, blindness, and other diseases. This data about mercury is what spurred his interest in researching vaccines.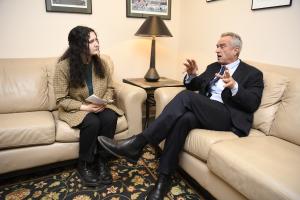 The remainder of his speech was all about vaccines. At times it was difficult to follow him as he discussed the complex nature of vaccine regulation and agency capture. It is also important to note that some of his points have been debunked and fact-checked by many doctors and scientists. His numbers might also be misleading because much of the testing was done a long time ago, and our technology is better now. His main issue with vaccines goes back to the Vaccine Act of 1980. Kennedy does not agree that vaccines are considered biologics, so they do not need long tests before licensing, which would allow vaccines to be deployed very quickly. He mentioned how he had a problem with the studies of the COVID vaccines. He cited that childhood chronic diseases increased from 6% of children in 1970 to 64% in 2004. He claims this has a lot to do with vaccines, among other things, but mostly due to the increased vaccine dosage schedule in the 1990s. During his speech, he referred to his books about his vaccine theories, which elicited applause from the audience. 
Kennedy was an interesting guest, who touched on many passionate topics. As mentioned above, the American Stage Series is a new program at the NHIOP, which cultivates dialogue about the political perspectives, voices and ideas shaping the nation. We look forward to more future speakers in the series to share their viewpoints with the institute.