Accounting and criminal justice double major, Kim Tran '23 has accomplished so much in her time on the Hilltop. Maintaining a busy schedule, the first-generation college student is president and founder of the Women in Business Club on campus, volunteers in the community, and has completed several internships. 
As a commuter and transfer student, she says the Women in Business club has really helped her make meaningful relationships on campus. The club, open to all students on campus, is working with notable companies and firms to implement their ideas. 
What does it mean to Kim to be a first-generation college student? "Throughout my life, my parents have made sacrifices to give me the opportunity to attend college, which is an opportunity they didn't have at my age, says Kim. "Being a first-generation college student motivates me to work twice as hard to give back to not only my parents, but my community as well."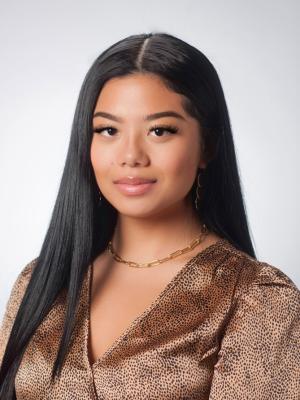 This year she was selected as one of 100 students across the country to attend the Accounting Scholars Leadership Workshop (ASLW) & Accounting Pipeline Diversity Symposium Program in Litchfield Park, Ariz., from Oct 12 – Oct 14. 
During the conference, she learned about the many doors a CPA license can open and attended numerous diversity, equity, and inclusion (DEI) seminars. These sessions included discussions of the importance of DEI from a managerial and employee standpoint. Hearing from minorities of all backgrounds about their journeys in obtaining their CPAs was inspiring. 
"I was able to connect with the professionals at a deeper level by hearing their successes along with their failures as well," said Kim. "It [the conference] was a life-changing opportunity and a once-in-a-lifetime experience."
Before attending the conference, Kim had questions and concerns about minority diversity in the accounting field but the event gave her the answers and confidence she needed to pursue a career in accounting. "After this event, there is no doubt in my mind that I want to pursue my accounting career and obtain my CPA license."
In addition, Kim was selected to attend AT&T's first-ever AT&T B2B Sales Academy which included sales-related courses and emphasized personal development skills. She received her certification of completion in June 2022.
Kim has been accepted into Saint Anselm College's Accelerated 4+1 Criminal Justice master's program and is working towards additional accounting hours to earn her CPA credential. She aims to sit for the CPA exam, and hopefully obtain a Certified Fraud Examiners (CFE) license.