The Healy Room Campaign and Dedication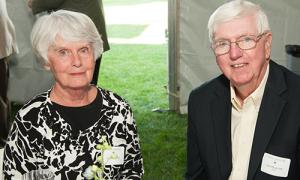 Saint Anselm College is naming a conference room to honor long-serving Admission Director, Donald Healy '60. During his 35 years as Admission Director Don helped more than 10,000 Anselmians find their way to the Hilltop.
"Don Healy is a beloved member of the Anselmian community and one of the most significant lay administrators in the history of Saint Anselm College. The naming of the Admission conference room honors his remarkable role in the college's growth, especially through the 70s and 80s when the college increased enrollment and transitioned to a coed institution," said Dr. Joseph Favazza, President of the College.
The college embarked on a special fundraising project in January to name the Admission conference room, in the new Savard Welcome Center, in honor of Don Healy's service to Saint Anselm College. The college received an anonymous gift of $25,000 from an alumnus to help encourage others to honor Don and his dedication to Saint Anselm – as a student-athlete, basketball coach, Admission Director, parent, mentor, colleague and loyal Hawks fan.
Dedication Event: A formal room dedication will take place October 15, 2022 at 11:00 a.m. in the Savard Welcome Center at Saint Anselm College. To register, please contact the Office of Alumni Relations at 1-888-444-1889 or alumni@anselm.edu.
Make a Gift: Please join dozens of alumni, former colleagues and friends by making a gift in honor of Don Healy. Please use the online form below. You may also mail your gift to Saint Anselm College, College Advancement Box 1738, 100 Saint Anselm Drive, Manchester, NH 03102 (please make check payable to Saint Anselm College and write Healy Room in the note section). For additional questions about giving or making a gift by phone, please contact Tricia Guanci Therrien '88 at 603-641-7210 or pguanci@anselm.edu.