Table of Contents
Did You Know? Celebrating the History of Women at Saint Anselm
The Diversity & Inclusion Innovation Fund
Have an idea for the Inclusion Bulletin? Submit it today!
---
A Word from Dr. Diaz
Saludos y greetings! Welcome to the March issue of the Inclusion Bulletin at Saint Anselm College. This issue introduces Ms. Paro Pope, the office's new coordinator.  Paro was born in Colombia, grew up in Minnesota, and has a fun fact you might never guess when looking at her. The fun fact is posted in the Office's Instagram page. Can you find it?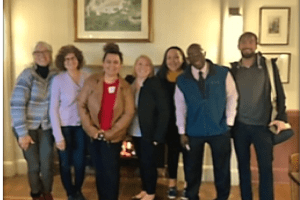 Other news, the college's BIPOC Employee Resource Group (comprised of faculty and Staff who identify as Black, Indigenous, or People of Color) recently gathered for food and fellowship. This group meets each month either remotely or in person. Reach out to coordinators Wayne Currie wcurrie@anselm.edu, Stephanie Fernandez sfernandez@anselm.edu, or Ande Diaz, adiaz@anselm.edu for dates and details.
In celebration of Women's History Month, this issue of the bulletin spotlights four fabulous Anselmians learning about gender studies. Arianna Costa '22., Heisha Trilla Rodriguez '22, Catharine Roberge '24, and Sarah Helmar '22, major in areas ranging from psychology, sociology and criminal justice. To hear about their learning inside and outside the classroom as well as their future plans – read on. As graduating senior Sarah says "The Gender Studies minor has taught me to pay attention to areas where gender stratification is most prominent, and do my best to work against such inequalities … I will carry the skills I have learned in Gender Studies into my life after graduation." - Sarah Helmar '22.
We are proud of these Anselmians who will work for the common good in whatever careers they choose!
 
Office for D&I Welcomes New Staff Member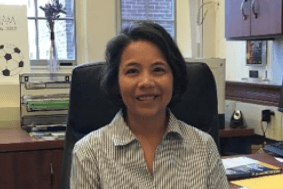 The Office for Diversity & Inclusion is delighted to welcome Amparo "Paro" Pope as the new Office Coordinator! Paro and her family recently moved to New Hampshire. She was born in Bogota, Colombia and grew up in Minnesota. She earned her BA in English Literature from the College of St. Catherine, an all-women's Catholic college in St. Paul. She has worked in higher education for several years and is pleased to continue her career at Saint A's in support of all students, staff and faculty. As a Hispanic woman growing up in the Midwest, Paro has come to appreciate the importance and value that diversity plays in all aspects of her life. Stop by and welcome Paro in person!
---
In The Spotlight
Next year marks the 10th anniversary of Gender Studies at Saint Anselm College. Our March Inclusion Bulletin highlights four students who are passionate about their learning. Let's meet these amazing Anselmians!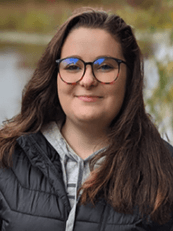 Arianna Costa


Criminal Justice and Psychology double major with a minor in Gender Studies
Within the criminal justice system, crime is often the result of several variables and the intersectionality of these variables (including gender) impact crime differently. My interest is to look deeper at the intersectionality with other variables like race, socio-economic status, and childhood trauma, to learn how these variables may impact criminal tendencies differently for different people. I'm interning for the New Hampshire Coalition Against Sexual and Domestic Violence, as well as actively doing research on gender and race.
Future plans: I see myself working with survivors and victims of domestic violence, sexual assault, and child abuse cases. My minor has given me the lens to help individuals receive support to work through something traumatic.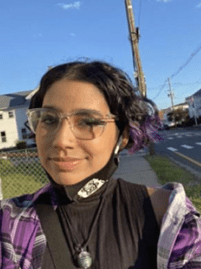 Heisha Trilla Rodriguez


Psychology major with minors in Spanish and Gender Studies
Future Plans: My minors have opened up the opportunity for me to refine and enhance my Spanish and conduct research on sexuality and gender through my internship with the Intercultural Center and the Modern Languages department. My goal in life is to help others who have had and are going through difficult experiences whether that be homelessness, struggles with their mental health, unstable living situations, food insecurity and other disparities that impact our community.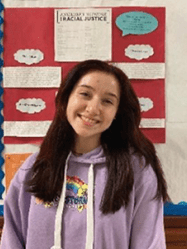 Catharine Robarge


Biology major, intending on Forensics and Gender Studies minors
Gender Studies both enhances my learning as it reminds me of the complexity of individuals and informs me of the way people are united through their cultures and distinct perspectives. This minor allows me to look outside of myself, gain knowledge of others' perspectives, and understand the ways that gender influences society and individuals on a personal level.
Future plans: I hope to be in medical school in pursuit of becoming a medical examiner. Working in the medical field involves working directly with people who need caregivers to understand what they are going through, and Gender Studies helps me do that.
 
Sarah Helmar


History major with a double minor in Gender Studies and Sociology
My pronouns are she/her. My minor helped me to focus on gender relations and gender issues. Some courses have been gender-focused which facilitates conversations about gender inequality in our society. Whereas other classes might not have such an emphasis on gender, I have still found ways to focus on women by meeting with the professor and digging a little deeper to highlight gender stratification. Because of the classroom experience, I have begun to notice gender-related issues in our everyday lives as well. I think this is important with graduation approaching and for entering into different jobs that might be typically male-dominated spaces.
The Gender Studies minor has taught me to pay attention to areas where gender stratification is most prominent, and do my best to work against such inequalities.
Future plans: I'm not quite sure what my career interests are just yet. I have been looking into different teaching fellowships that will help me gain experience. I have also looked into museum work and internships with historical sites that will help narrow down my many interests. Focusing on jobs within museums is a form of teaching public history and I would love to focus on women's history as well. With this option, I can get right into the work field and make an impact, while still considering an advanced degree later in life. Either way, I will carry the skills I have learned in Gender Studies into my life after graduation.
 
---
Did You Know?
Celebrating the History of Women at Saint Anselm
By Benjamin M. Horton, Ph.D.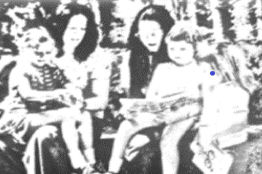 "In the mid-1970s, Saint Anselm College became the first Benedictine liberal arts college in the country to transition to a fully coeducational institution. In doing so, Saint Anselm ushered in a new era for Benedictine Catholic higher education in the United States. Saint Anselm's coeducational transition radically changed the institution's culture, student life, and social identity. Because the primary contributory factors in the College's decision to transition to coeducation were economic, the transition also financially preserved Saint Anselm's commitment to offering a high-quality liberal arts education for students.
"While women who attended Saint Anselm College in the early years of coeducation faced adversity with regard to programming and campus policies and remained significantly underrepresented until the latter part of the 1970s, their legacy paved the way for the future mission and vision of Saint Anselm. The college sought to find its way in an increasingly challenging and modernized higher education environment throughout the 1960s and 1970s, key administrative decisions and policy changes moved the College forward in the 1980s, a time when other Catholic institutions in the State of New Hampshire faced financial challenges and administrative turmoil.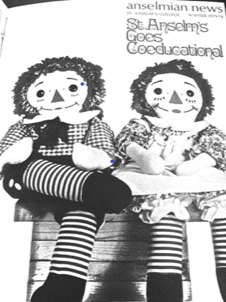 The increased campus-wide diversity resulting from the College's transition to coeducation also contributed to a more defined campus commitment to diversity and inclusion matters, employing the principles of the Benedictine charism in American Catholic higher education. In this sense, under the leadership of Abbot Joseph Gerry O.S.B., Saint Anselm redefined what it meant to be a Benedictine college in the United States in the 20th century. The impacts of this application of Benedictine principles on diversity and inclusion at the College still exist today.
In the midst of considerable changes in the Catholic Church after Vatican II and transformations in Catholic higher education in a post-Land O' Lakes Conference era, Saint Anselm strengthened its commitment to the liberal arts, to its Catholic identity, and to serving students. Without these critical changes and modernization, the College likely would have faced a variety of existential crises throughout the decade following these momentous transitions in national and global Catholic higher education. Instead, however, Saint Anselm established a firm footing and redefined its mission and curriculum in order to preserve its valuable place in the future."
- Benjamin M. Horton, Ph.D.
On the history of coeducation at Saint Anselm College
Excerpted from his work:
"Perspectives on Change: The Coeducational Transition of Saint Anselm College 1969-1979"
 
---
Around Our Campus
Upcoming programs organized by the interdisciplinary minor in Gender Studies include: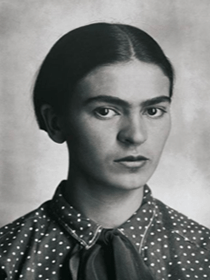 Screening and Discussion: Profs. Inés Vaño Garcia (Modern Languages) and Laura Shea (Fine Arts) will host a screening and discussion of the film "The Life and Times of Frida Kahlo"
Wed. March 23, 4-6 pm, in Dana 1-D
Frida Kahlo is part of popular culture, on tee-shirts and tote bags.  What does this image miss about her pioneering life and art?  And how does thinking about the reality and image of Frida Kahlo through her art help us see something important about differences among her potential multilingual audiences? Supported by a Diversity & Inclusion Innovation award.
 
Promoting Awareness of Harmful Stereotypes of Asian-American Women in Hollywood


March 30, 4-6pm, in Dana 1-D
Co-hosted by Chloe Peng '22 and Prof. Jennifer Thorn (Gender Studies):
The short films "Slaying the Dragon" and "Slaying the Dragon, Reloaded" which consider the representation of Asian and Asian-American women in Hollywood, will be shown as a campus event on March 30, 4-6 pm in Dana 1-D. The films will also be shown and discussed with Access Academy high school students and facilitated by Saint Anselm students. Supported by a Diversity & Inclusion Innovation grant. 
---
The Diversity & Inclusion Innovation Fund
The Office for Diversity & Inclusion accepts proposals twice a year to provide grants up to $2,500 for initiatives that will advance our culture of inclusiveness at the college. This semester's winners are listed below. Contact them directly with any questions. 
 
Upcoming DIIF Information Sessions:
Thurs. Mar. 24, 12-1 pm, via Zoom
 
The deadline to apply for innovation grants for fall 2022 is Friday, April 1, 2022 by noon. We hope you will propose your ideas!
 
---
Save The Date
Thursday, March 24, 7-8:30PM, Student Center Event Space: Franco-American Immigrants and the Merrimack River
Wednesday, March 30, 4-5:00PM, DiCiccio Reading Room, Geisel Library: Book discussion of Charles Yu's novel Interior Chinatown
Thursday, March 31, 9AM-3PM, Auditorium, NH Institute of Politics, Saint Anselm College: Governance Matters: Reconciling DEI Values, Intentions, and Impacts