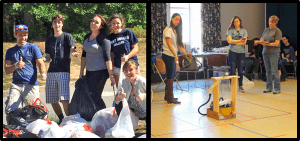 The faculty and students at Saint Anselm College are particularly involved in the community, both on and off campus. Our Chemistry Club is involved with our entire department and provides a welcoming sense of community to our majors as well as carries out service to the community. Additionally, faculty in the department are involved in Alpha Phi Omega, the Diocese of Manchester Diocesan School Board, and Science Olympiad.
Learn More
The Saint Anselm College Chemistry Club participates in both service and professional development. Chemistry Club Members have participate and host National Chemistry Week events, perform demonstrations in elementary and middle school science classes, and host a Science Saturday for local kids. The Club hosts seminars and webinars for Saint Anselm students; some students run office hours and help sessions before exams in the General Chemistry course. They also volunteer to help with the New Hampshire Science Olympiad State Tournament, held on our campus. There is also office space for our students to use, complete with a refrigerator and microwave, and of course a periodic table!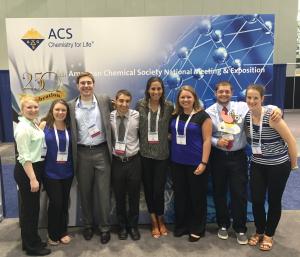 The club is also recognized by the American Chemical Society, which provides numerous opportunities for professional development. Our students attended the 244th American Chemical Society National Meeting in Philadelphia in August 2012 to tell everyone about their research and their involvement in the Saint Anselm Chemistry Club, where they presented a poster! They also attended the 250th ACS National Meeting in Boston in August 2015 (below) to continue their involvement with the organization and presented again!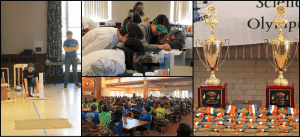 Science Olympiad is team competition that runs much like a track meet. A team of up to 15 competitors tackles a series of different STEM categories ranging from more traditional assessments in Anatomy and Physiology and Chemistry Lab to Bridge Building and Robot Arm. These events rotate annually to reflect the ever changing nature of STEM.
Saint Anselm College has been the proud host of the New Hampshire Science Olympiad competition for the past ten years. In those years, the Division C competition has grown considerably and we now include a Division B competition.  In 2018, twenty nine teams from twenty schools competed! Winners of these state competitions were invited to compete at the national level. In 2018, the national competition was held in May at Colorado State University. As of 2017, new scholarship opportunities were added for Saint Anselm applicants who have been involved in any Science Olympiad competition nationally.