Highlights of Alumni Who Majored in Criminal Justice
Work for the Department of Homeland Security, become a behavorial counselor or an advocate for the homeless. Meet some alumni: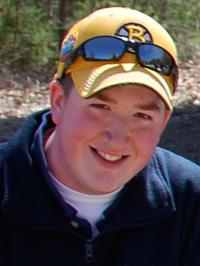 Now the Program Monitor for federal offenders, criminal justice major Kennan MacArthur '13 attributes his success to his criminal justice courses and the volunteer work he did through Saint Anselm's Meelia Center.
As sophomore, Kennan began student volunteering through the Meelia Center at Hampshire House in Manchester, an adult reentry program for federal offenders that works to transition residents from prison back into society.
He volunteered at the Hampshire House for the next three years and eventually became the site coordinator between the Meelia Center and the criminal justice department. With this position he was responsible for recruiting student volunteers for the Hampshire House and sorting the scheduling and personnel for each visit.
During his volunteer work at Hampshire House, Kennan was able to apply his criminal justice teachings to a real world environment.
"My criminal justice background gave me mediation techniques to diffuse situations and a better understanding of the community reintegration process for federal offenders," says Kennan.
Upon graduating from Saint Anselm, Kennan was offered a full time position at Hampshire House where he currently works as a Program Monitor.
His responsibilities include, but are not limited to, holding the residents of the program accountable to the rules of the program by performing bag, pat and room searches, taking alco-sensors, and ensuring that the residents complete their daily details.
"My criminal justice courses combined with my volunteer work at Hampshire House exposed me to a different population and prepared me to work with federal offenders; it helped me grow to make a difference not only in the lives of other student volunteers but the individuals I now monitor.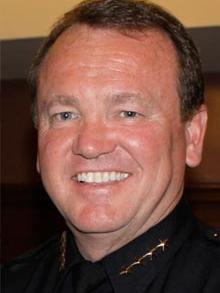 Jim McDonnell learned a lot at Saint Anselm College, but some of the most valuable lessons are not listed on his resume.
"The benefit I got out of Saint Anselm was the relationships, meeting people from a broader background than I had," he says. He came to believe all things are possible-which is how the criminal justice major from Brookline, Mass., became one of the nation's pre-eminent law enforcement officials.
In March 2010, the Saint Anselm grad was named chief of police for Long Beach, Calif., a city of nearly half a million people with one of the world's largest shipping ports. Long Beach is a diverse city 20 miles south of Los Angeles, and its challenges include gang activity and an influx of illegal immigrants. But McDonnell is known for being a bridge builder and an innovative leader.
Budget cuts have slashed the number of police officers, but the chief enjoys the challenge of doing more with less. "We are policing more strategically. We are seeing policing as a business more now than ever before," he says.
McDonnell's appointment follows nearly 30 years on the Los Angeles force, where he received numerous awards on his way up the ladder from patrol duty to second-in-command. He has a master's degree in public administration from the University of Southern California, and he is a graduate of the FBI's prestigious National Executive Institute.
Confidence was never in short supply. When he wanted to join the LAPD, he dreamed big. "I figured if I didn't give it my best shot, I would always regret what could have been. I moved out here with two suitcases and $400, and no car, in the car capital of America. Somehow it all worked out."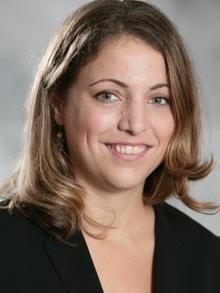 When the World Trade Center towers were attacked by terrorists in 2001, Lisa Sacco watched in horror with the rest of the world. She had just started her master's degree at the State University of New York at Albany, and her classmates included several New York City police officers.
Like many Americans, Sacco was profoundly influenced by the event. She continues to be fascinated by the way people responded to the fear that was born that day, and that fascination inspired her doctoral degree research in criminology/criminal justice at SUNY Albany.
Sacco gathered data to help replace those fears with knowledge. She worked on several research projects and wrote a chapter on the Sacco-Vanzetti trial for the book Crimes and Trials of the Century. Her dissertation detailed how each of the 50 states spends grant money from the Department of Homeland Security.
Sacco moved from Albany to Washington, D.C., after she was hired as a crime policy analyst with the Congressional Research Service at the Library of Congress. The Congressional Research Service is a legislative branch agency within the Library of Congress, providing policy information and legal analysis for committees and members of the House and Senate. She works in the Domestic Social Policy Division, in the areas of drug policy, victims of crime, and violence against women.
"I love being involved in relevant policy research at the federal level, and Capitol Hill is an exciting place to work," she says. She enjoys conducting research that will ultimately inform policy makers. She would like to become a professor and inspire students the way she was inspired by her criminal justice professors at Saint Anselm College.

Mark Sullivan was a student at St. Agnes Grammar School in the Boston suburb of Arlington in November 1963 when President John F. Kennedy was shot and killed in a Dallas motorcade. Like most Americans, Sullivan was glued to his television set watching the tragedy unfold.
Forty-three years later, that motorcade would look very different to the man who was previously in charge of protecting the president. As the 22nd director of the United States Secret Service, Sullivan had an inside view of and a critical role in American history. The appointment by President George W. Bush capped a 30-year Secret Service career launched in Detroit, highlighted by several awards, and guided by a commitment to public service that took shape in early childhood.
Sullivan transferred to Saint Anselm from the University of Massachusetts, and completed an internship with the nearby Derry Police Department. His first job was with the Federal Protective Service, and soon moved on to the Inspector General's office at the Department of Housing and Urban Development. After covering California, Nevada, Hawaii and Guam, he was reassigned to the Boston office, only to learn he had been selected by the Secret Service and was being stationed in Detroit.
Protecting the President
Sullivan's call to the White House came in 1991 when he was assigned to protect George H.W. Bush. His first presidential trip was back to New Hampshire for a campaign rally in the first-in-the-nation primary state. One year later he moved to the first lady's detail, and following the 1992 election, moved to President Bill Clinton's protection detail.
Kevin Flynn '82, a law enforcement professional and former special agent, saw Sullivan's commitment, attention to detail, and leadership qualities early in his career. "I first met mark when our paths crossed in Detroit in 1984, during the presidential campaign. After we got talking and I got to know him a little, I knew that someday I'd be working for him."
On the evening of the presidential election in 2004, three Saint Anselm alumni -- Sullivan, Flynn and William Nelson '98 -- were on protection detail at Sen. John Kerry's home in Boston.
Despite retiring from the Secret Service in February of 2013, Sullivan knows that his former agents are exceptionally well trained and prepared for any situation they might encounter.