Economics and Business
Anselmians near and far work in fields from accounting to marketing to sales. They're employed by companies like Twitter, Cigna, and Bloomberg.
WHY DID YOU MAJOR IN INTERNATIONAL BUSINESS?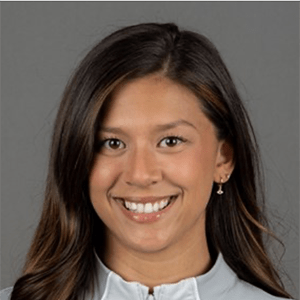 "Choosing International Business as my major has made me better prepared to do business in a complex economy. I feel that I have a business advantage from learning cultural communication skills and problem solving skills on a global scope".
Blue's advice for incoming and current Saint Anselm College is to "use as many resources as possible to help you reach your goals. The faculty at the college are incredible and will help you succeed if you seek them out. Do not hesitate to network and create professional relationships with professors".
Why did you major in International Business?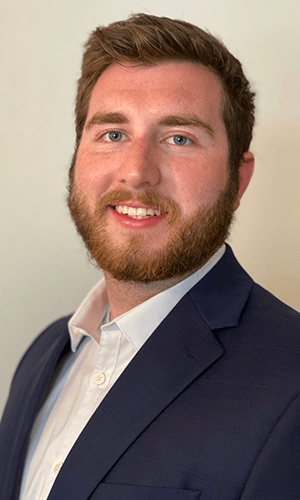 The first being, my father is in an International Business role and I have always looked up to him and been interested in what he has done. 
I find it very interesting to not only learn what business is in the U.S., but to see different aspects of business across the globe. 
I have always enjoyed traveling and one of my goals was to put myself in the right position to be able to travel from work and see many new and exciting countries. 
What was your experience with the International Business major?
I had a fantastic experience as an International Business Major. 
All of the professors I had were very knowledgeable and helpful. They always kept class interesting. My favorite class was International Business Management with Professor Frutos-Bencze. I learned many things about what International Business was as a whole. 
What aspects of the international business major were attractive to you?
One thing that interested me the most when deciding to be an IB major was the fact that you learn a lot about how countries do things differently, whether that be within culture, or many other different aspects of business/relations.

Another thing that interested me was that you are able to take a lot of classes not only in IB but also normal Business major classes so you can learn both sides of business. 
Did Saint Anselm College help you get your first job after graduation? If so how did the college support your job search?
One thing that I believe really helped me from Saint A's other than professors and classes was the Career Development Center. I took my internship I had for a year and was able to count it as college credits. They also really helped me build my resume and cover letters for different jobs I applied to and was able to get a few different options for a post-graduation job. So when offered help from the CDC, I strongly recommend using the resources they offer!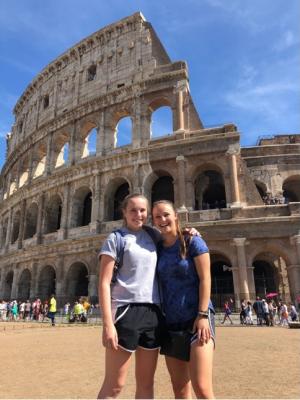 I'm very happy that I stuck with it and go my degree in international business. My experience with the major was full of ups and downs. There were plenty of times where I considered switching my major to something a bit easier with a lesser course load.
The most attractive part of international business, to me, is the ability to travel for a job. Traveling is one of my favorite hobbies and the fact that I can get paid to do that is so interesting to me. It takes a certain type of person to want to spend a career travelling, but if you are that person this is the perfect major for you.
The connections and networking that I made at Saint A's helped me land a job at Raytheon that I'll be starting this June. The Career Development Center is the best place to get advice on internships, resumes, and just any career questions you might have.
My advice to current or prospective students is:  Stick with it. Saint A's is not easy, but it's manageable. Make sure you budget your time accordingly but make time for friends and memories that will last a lifetime. The best part about Saint A's is the people you'll meet, don't take that for granted.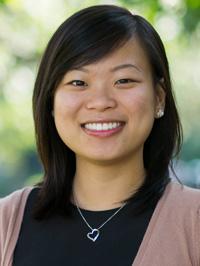 Linh Nguyen majored in accounting because she loves working with numbers and the accounting field has a hot market in the employer world.
Linh graduated from Saint Anselm in 2013 and earned her master's degree in accounting at the University of Rochester in New York.
While attending Saint Anselm, Linh interned at two different companies to get some real life experience. The first was at HSBC Bank in the personal financial service department. She then worked as an accounting intern at Phillips Electronics. Linh considers her studies and interning opportunities at Saint Anselm top of the line.
"My accounting education measures up with the best programs around and includes all the same courses you'll find at larger schools," Linh says. She believes the biggest difference between Saint Anselm and normal business schools is the variety of courses and subjects offered.
"Saint Anselm College blended liberal arts with accounting which I liked because I didn't want all my courses in one area." Not only is this multitude of learning interesting but it also has given her a background in communication, both oral and written.
"My liberal arts education has already paid off because the conversations I've had with employers have gone way beyond the accounting topic."
Now, Linh is an audit associate with Ernst and Young (EY) in North Carolina. She has big dreams and like the numbers she works with the possibilities are infinite.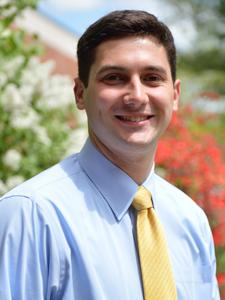 By the completion of three internships in finance, Christopher Tinsley '13 knew that after graduation Hegenbart Financial Advising was the right place for him to begin his career. The financial economics major is a client associate for the private banking and investment group that is associated with Merrill Lynch.
As a client associate, Chris supports all aspects of his clients' needs, which includes monitoring their portfolios, making trades for their accounts, and keeping their information up-to-date. The Hegenbart Group is a wealth management team that focuses on the financial needs of non-profit organizations and affluent individuals.
Chris had previously interned with Simmons-Doyle Group in Manchester as well as Fidelity Investments and New England Securities, which he says helped his transition from intern to full-time employee.
"I also credit the Saint A's business department; they helped me grasp pertinent financial concepts that are now part of my every day tasks," says Chris.
While at Saint Anselm, Chris studied abroad at the University of London, England and was a top debater on the debate team.
He was also the student speaker at his commencement in 2013. Read or listen to his speech on the commencement coverage website.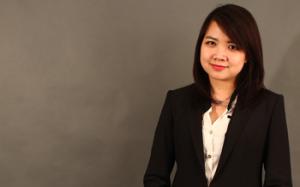 Moving from Vietnam to the United States to attend college was an adventure for Lan Nguyen, but she has never been afraid to take risks. A double major in mathematics with economics and financial economics, Nguyen is working as an associate at New Markets Advisors, in Cambridge, Mass.
New Markets Advisors is a boutique management consulting firm with a special focus on innovation strategy. They work with companies in the healthcare, financial services, consumer products and education industries. The company helps clients create new sources of growth, bolster their innovation capabilities, and generate ideas for products, services, and business models. Nguyen's job is to do research on industries and new opportunities, conduct customer research, and synthesize findings.
Nguyen came to Saint Anselm because she wanted to go to a small school where she could get to know everyone and really get immersed into the American culture. "I couldn't have had a better experience being an international student. I didn't have the chance to visit the campus before I came, but somehow it felt right looking at the pictures on the website, and just reading about the school's focus and traditions," she says. There were times when she missed home, but Saint Anselm and her friends made it easier for her.
Double majoring was no breeze for Nguyen, but it gave her many skills that help her in her business career. She chose financial economics as her major freshman year. After taking calculus, she realized that math fascinated her and that she enjoyed understanding and solving problems. "I developed close relationships and got a lot of help from the professors here. They all shaped my ways of thinking, and helped me get to where I am today," she says.
Nguyen was a member of Students in Free Enterprise (SIFE), an international non-profit organization that allows college students to make a difference in their communities while developing the skills to become socially responsible business leaders. In her senior year she had an internship as an industry research analyst with News Patterns, a news intelligence company in Manchester, N.H., which gave her the research experience that helped her to get the job she has today.
Nguyen enjoys exploring the city of Boston in her free time. Her favorite thing to do is to visit the museums and art galleries, or try different cafes and bakeries in the North End.
Plans for the future? Nguyen wants to get her master's degree, but nothing is set in stone for this young alumna. "I still want to travel the world, and I am not sure where I would end up settling down yet. I guess I'm just ready for any new adventures that are coming my way."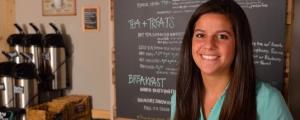 It's a dream come true in a coffee mug: hot mocha latte (or pumpkin spice, if you prefer).
At the age of 23, Alex Puglisi has fulfilled her dream. She is now the successful owner of Café La Reine in Manchester, N.H.
Alex entered Saint Anselm as a business major but wasn't truly inspired to follow down the path of entrepreneurship until she took the class "Paris and New York in the 1920's and 1930's," an exploration of a bygone era of dynamic conversation in cafés and bistros.
While an undergraduate, Alex got her first real look at the reality of business as an intern at Market Reach. There she got a good look at the specifics of marketing and learned the importance of brand. Since graduating from Saint Anselm in 2011, Alex has applied her teachings and skills in business to open her own coffee house in downtown Manchester, N.H.
Marketing and Branding and Making it Work
As for marketing her own business, Alex primarily uses social media to get the word out on Café La Reine. Along with this inexpensive tool she also has some alumni connections  in the Manchester area who suggest her café to their coworkers via word of mouth and, like any good business person, the chosen location allows for plenty of foot traffic.
Beyond just marketing, being your own boss requires lots of work. Alex manages her staff, controls the payroll, and sorts out scheduling. She also keeps the shop and its materials organized and stocked, which means ordering products, keeping inventory and tracking the café's earnings to keep her business afloat.
Support and Success
She relates the importance of her peer's and professor's support at Saint Anselm to her success in running Café La Reine.
"People would doubt me because I was young, but the business program showed me that I could do whatever I want because I have the knowledge and the skill." says Alex.
And when she needed guidance her Saint Anselm professors including Professor John Romps provided valuable advice.
"Since there are professors who care about how well you're doing, they make it a point to care and meet you"
"I can't count the number of times that I went to professor Romps for advice. I even went when I needed help with another class"
She wants other students to follow their dreams of being future business owners saying, "Go for it! Business can seem like a lot of information but you have to be willing to apply it to real life and be creative with what you learn. I loved being a business major because I could see how I could apply what I learned everyday."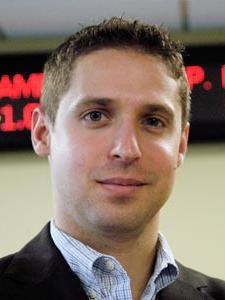 Michael Graver got his first look at Wall Street during the fall of his senior year in his class "Money and Banking." Two years later, when his former professors brought a class to Manhattan's financial district, he was their host in his office at J.P. Morgan Securities.
Mike spent three years on the stock research marketing desk at the firm and is now a vice president in institutional equity sales, connecting JPM's global research and trading capabilities with N.Y.C. Hedge Fund investors. 
Mike feels strongly that international experience is important. "It's a global economy. The more you can learn about government, culture and companies outside the U.S., the better," he says. He earned a German certificate and spent a semester at Richmond University in London. In 2009, he had the opportunity to work in the Mumbai, India, office for three months training new research associates.
He also values his undergraduate internship at Merrill Lynch. "Internships are mandatory," he says, "even more now than when I was a student."
Mike works long days that start early. He's often in the office at six looking at what's going on in Europe and Asia, because those markets open earlier. But he has plenty of interests to take his mind off the international economy: he runs and plays soccer, keeps a close eye on the real estate market, and goes out for "New York sushi: "It's the best!"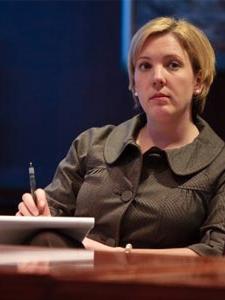 A degree in business and an award for her debating skills led Colleen Karpinsky '01 to pursue a career in law. She is now a senior leader at Dyn, a global Internet technology company with clients like Twitter, Pandora, Etsy, and Zappos.
She is vice president of talent and legal at Dyn in Manchester, N.H., where she uses her human resources and legal background to attract talent and manage customer relationships. Before joining Dyn, she worked as a corporate transactional and employment law attorney at New Hampshire's largest law firm, McLane, Graf, Raulerson & Middleton.
Karpinsky is also active on the community level, as secretary of the Manchester Young Professionals Network and an investment volunteer with the Heritage United Way and a mentor with Team in Training, which raises funds for leukemia and lymphoma research. She also has served on committees for the New Hampshire Bar Association and the New Hampshire Workplace Initiative Against Domestic Violence.
Karpinsky graduated with a degree in business and a certificate in international relations and was a noted debater. During her senior year on the college's debate team, she earned a first place finish at the National Forensic Association's championship tournament. She regularly returns to Saint Anselm to help the debate team prepare for competition.
She earned her law degree at the Pennsylvania State University's Dickinson School of Law, where she was a member of the Woolsack Honor Society.