Highlights of Alumni Who Majored in English
Our graduates take their rigorous training written, spoken, and aural communication to a variety of careers, from politics, broadcast journalism, advertising, and publishing, to education, law, finance, and business. Meet some alumni: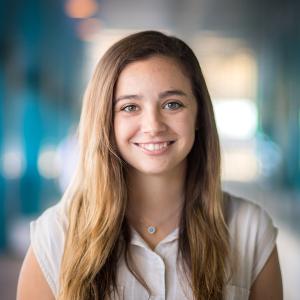 In June 2019, Shannon began working at a start-up company called uConnect, which is a career services marketing platform that helps colleges and universities provide a dedicated space to centralize their academic and career resources. She is an Onboarding Lead, working directly with new clients to customize and build their platform, and brainstorming ways to guide students to more meaningful career pathways. Her role is to help colleges deliver on their promise of student career advancement by partaking in client calls, assisting with the design of institutions' platforms, and encouraging campus communities to become involved in their students' career exploration process.
On Saint Anselm College
"St A's gave me the confidence and background I needed in order to take on this new role. The challenging English courses, ranging from Senior Seminar to Medieval Literature, pushed me to become a better writer and person. I learned how to step outside of my comfort zone through public speaking and presenting my thesis and other various projects. Not only was my workload beneficial in developing stronger research and writing skills, but the support I received from faculty was (and is) unwavering. My professors at St A's always made themselves available during office hours, and worked around my schedule to provide extra support whenever it was necessary. Everyone cared about me as an individual and not just as a number. The faculty at St A's always checked in to see how I was doing, constantly reassuring me that with hard work, the sky was the limit. I'll always be grateful for the mentors I've encountered at Saint Anselm College, including Professor Malieckal, who still remind me to never give up, allowing me to get to where I am today."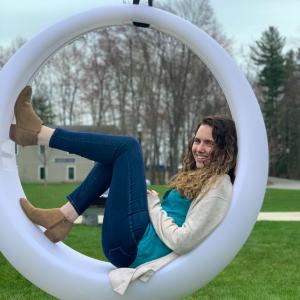 Juliann began a master's degree in creative writing at the University of Edinburgh in Scotland in fall 2019. She writes, "I can credit the skills I learned in the English department to my acceptance into the program. The English department gave me more than I could ever ask for in and out of the classroom. I found myself enjoying books I would never have picked off the shelf by myself. I learned how to read a book to understand what was happening and what more meaningful message was being said. The English department helped me grow a passion for the correlation between reading and writing by forcing me to become an inquisitive reader (Why did that need to happen? Is that item placed there for a reason? Could that symbol be an essay topic?) and that transferred into my daily life. English can be challenging because there's never one correct answer, but every other major on campus needs English to be understood. 
 
The English department was responsible for my jobs and internships throughout college. My three internships during college took place at Simon & Schuster Publishing in London, England; the College Communications and Marketing at Saint Anselm College; and Brookstone Park Publishing in Derry, NH. By senior year I was also the News Editor for the school newspaper, The Crier. Working for The Crier had me talking to people in almost every department on campus, and I had to not only ask appropriate, concise questions but also record and quote responses accurately. I wouldn't have been able to achieve any of these opportunities without the skills and recommendations of the English department."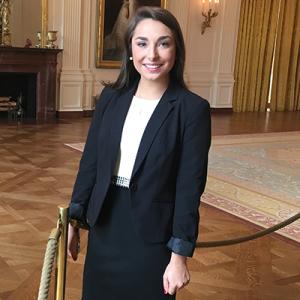 I first worked with ABC News as a student during the New Hampshire First In The Primary debates hosted at Saint Anselm College. As a determined journalist, I was able to make a good impression and work in the production truck as the time-clock for the debates. I maintained my relationship with ABC and landed a position in the Washington bureau after graduation. Here in Washington, I field-produce live shots on Capitol Hill, teleprompt live shows and conduct pre-interviews. I have worked on shows such as Good Morning America, World News Tonight, and This Week. My favorite shift is preparing editorial documents for Good Morning America and cutting b-roll for the show. 
On Saint Anselm College
Saint Anselm College is a top-tier school. From day one, my adviser asked me what I was interested in post-graduation and throughout my four years, she ensured I was able to meet my goals. Since I was a little girl, I have dreamed of working for a major news network, and my adviser helped me strategically plan out what steps to take to reach that goal. She helped me make crucial decisions such as what internships to apply to and what courses to take to help build a professional portfolio.
I chose to attend Saint Anselm College because I knew that I could meet one-on-one with my professors. I am so thankful for Saint Anselm's Benedictine hospitality. Not only will you be able to leave a great, well-rounded individual thanks to a liberal arts education, you will also leave with personal relationships with your professors and the staff. There is no dream too big at Saint Anselm College, and there is a place for everyone and every inspiration. The English department is a community that fosters success.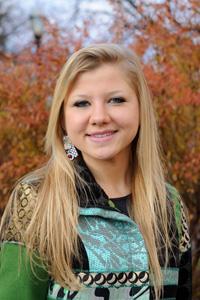 Jasna Numanovic has her dream job. As an account coordinator in the art transport department at Christie's Art Auction, she arranges the domestic and international transport of art objects such as paintings, furniture, and antiquities.
Christie's offers over 450 sales annually in over 80 categories, including all areas of fine and decorative arts, jewelry, photographs, collectibles, wine, and more. Prices range from $200 to over $80 million.
Jasna was introduced to Christie's through fine arts professor Kimberly Kersey-Asbury, who took a student group to New York City to explore careers in the art world. When they stopped at Christie's to see an auction and get a behind-the-scenes tour, Jasna was hooked.
"I just fell in love with it. Seeing Andy Warhols being sold for $70 million in front of your eyes within two to three minutes, I was fascinated," she said.
"As soon as I got home, I researched the internship and started applying a year before the applications even went out." Jasna then interned at Christie's the summer before her senior year.
She worked with the Office of Career Services in the Center for Experiential Learning (CEL), who helped her prepare her career portfolio and supported her throughout the application process. She also stayed in touch with the people she met on the tour and saw her perseverance pay off.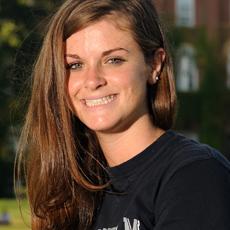 A talented student with a keen mind for literary analysis and a joyful disposition, Bridget Martin has found a career that has kept her amidst scholarly work and allowed her to continue to advance her own education.
As a publicist at Harvard University Press, she is responsible for pitching scholarly books to mainstream media contacts, including the New York Times and the Wall Street Journal, in order to secure book reviews, op-eds, and general features.
"It's my job to convey to the media why these books are relevant to modern readers, and it's really surprising how many correlations can be drawn between scholarly books and current events. The notion that certain themes and ideas transcend time, which was a focus of my liberal arts education, is consistently elucidated in my professional life," said Bridget.
She also maintains the Press's book review database, drafts press releases, and supports other marketing endeavors.
And the best employee benefit of all? At no cost, Bridget is pursuing a Masters in Liberal Arts with a concentration in Literature at the Harvard Extension School.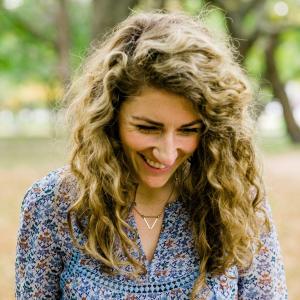 Lauren Chooljian's journey into broadcast journalism started early in her college experience with several hands-on learning experiences. All the steps she took at Saint Anselm prepared her for her job as a morning reporter and producer at Chicago Public Radio and then as a politics and policy reporter at New Hampshire Public Radio.
She became involved right away at the New Hampshire Institute of Politics at Saint Anselm College during presidential primary debates. As a freshman, she had the chance to interview then-senator Hillary Clinton. The summer after her junior year, Lauren won a competitive internship at CBS. She spent 10 weeks in Manhattan working on the network's morning news program. She worked side by side with the show's producer on everything from brainstorming to interviews to editing.
"I learned to think like a news producer," she says.
Those experiences were critical to her career. But Lauren also credits her Saint Anselm professors and the note-taking skills she honed in her college classes. "Taking a lot of information and boiling it down to compelling stories that listeners can understand is what I do every day," she says.
Former classmates and professors often hear her voice, as her stories are broadcast nationally. They're about politics, sports, culture, and the economy. Her authentic voice comes through in all her work. Turning 25, she launched a series called "Year 25: Sharing Stories form a Milestone Age", in which prominent Chicagoans from all walks of life talk about what they were doing at their quarter-century mark. More recently, Lauren contributed to an award-winning WBEZ Chicago series "Every Other Hour", which received a Public Radio News Directors Incorporated award in 2018.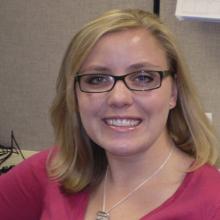 Though Tracie Keenan never took a business course while majoring in English at Saint Anselm College, after graduation she was hired by one of the world's largest beauty and cosmetics companies, L'Oreal USA, where she is a supply chain analyst in the Consumer Products Division.
L'Oreal recognized that Keenan's liberal arts background and communication skills made her a good fit for their company. It was the firm's commitment to philanthropy that convinced Keenan that it would be a good fit for her: L'Oreal sponsors an annual event that has raised hundreds of thousands of dollars for breast cancer.
Keenan grew up in Lincoln Park, NJ and now lives in the shore town of Manasquan. Her guidance counselor suggested she visit Saint Anselm, but she thought it would be too far from home. Her decision was made after attending a prospective student open house at the home of an alumnus. "It was so family-oriented. I thought, 'This place is for me.'" She made friends with several students that night, and those friendships remain strong today.
As a student, Keenan traveled with the college choir to sing in Europe. She also participated in a service trip to Costa Rica, part of the college's Spring Break Alternative program. After college, she began a career as an English teacher. However, she loves her corporate job and feels that her transition into the corporate world is a testament to the value of a liberal arts education.
At L'Oreal, Keenan works with internal departments to ensure efficient flow from ordering through receipt of product at account locations. She supports the Target Corp. account, traveling to the company's headquarters in Minneapolis frequently.
Service is still part of Keenan's life. She brings her therapy dog, Sweet Pea, to visit nursing home residents and teenagers at a rehab center, and she coaches a Special Olympics swim team.

Charlie Bondhus is a poet, professor, and author of the award-winning All the Heat We Could Carry (2013).
After graduating, Charlie earned an MFA in Creative Writing at Goddard College and a Ph.D. in Literature at the University of Massachusetts, Amherst.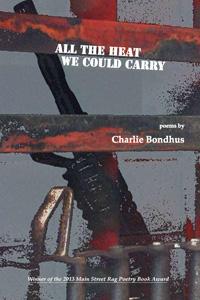 His previous books include How the Boy Might See It (2009) which was a finalist for a Blue Light Press First Book Award. Two other books of his are chapbooks, which are small books containing short stories or poetry. They are titled What We Have Learned to Love (2009) and Monsters and Victims (2010).
All the Heat we Could Carry details war stories from different perspectives, like soldier, friend, and battle buddy. The poems give a realistic view of war. The book is the winner of the 2013 Main Street Rag Poetry Book Award and the Publishing Triangle's Thom Gunn Award for Gay Poetry.
In addition to his career as an author and poet, Charlie teaches at Raritan Valley Community College in New Jersey.
Story by Briana Capistran '16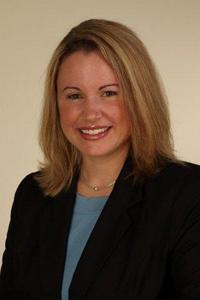 When you own a business, your unique product, whether it's a cupcake or computer code, is the key to your success. Enter Kate (Leidemer) Mahan, who helps businesses big and small maintain trade secrets and other intellectual property as an associate attorney at Manchester, NH., law firm Cook, Little, Rosenblatt & Manson.
Kate also handles patent, trademark, and copyright cases as well as corporate governance disputes, contract actions, and employment matters.
The complex intellectual property cases are the ones Kate enjoys most. "Trade secrets are really the heart of a company. If the company's formula is made public then what they have is potentially useless," says Kate. "I'm protecting someone's livelihood, their business."
She works through appeals, drafts motions, conducts discovery, takes depositions and of course, argues cases. She credits arguing in her Saint Anselm humanities seminar as the place where it all started. "Saint A's, from the first humanities class, taught me to read analytically, question what the issues are and what the author is trying to convey. As a lawyer I need to see the issues and the facts and work with them."
Kate wanted to be a lawyer from an early age. Advised by family friends in the legal field to study literature, she followed her love of reading straight to an English degree. "All the lawyers I spoke with told me that the most important skill a lawyer can possess is the ability to analyze text and write well," says Kate.
She still refers to an English class on writer D.H. Lawrence taught by Professor Ann Holbrook as the course that flexed her mind. "There the big picture thinking just clicked. I had to think bigger than the words on the page and now it's what I do every day."
When she isn't arguing a case, Kate stays in touch with her friends on the Hilltop as a member of the Alumni Council and the co-chair of the Young Alumni Initiative. Her focus is to continue to grow the Anselmian network for new and young alumni.

Adam Ghander, a partner at the law firm of Nutter McClennen & Fish LLP, was selected by the Greater Boston Chamber of Commerce for the 2013 Class of Boston's Future Leaders.
Ghander graduated Saint Anselm summa cum laude with a degree in English in 1999 and earned his J.D. at Boston College Law School. He joined the firm of Nutter McClennen & Fish LLP after working as in-house counsel for a publicly-traded manufacturing and technology company.
Ghander's selection to the Future Leaders list came in February 2013, the same month he was elected a partner in the law firm's business department and emerging companies venture capital practice groups.
Ghander focuses his corporate finance and securities practice on private equity, venture capital, and emerging companies representation; mergers and acquisitions; and securities regulations. He represents clients in industries including banking and financial services, telecommunications, social networking, manufacturing and professional sports. He also lectures frequently on corporate finance at the Boston University School of Management.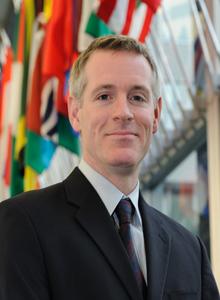 It was during a Spring Break Alternative trip to Vanceburg, KY that senior English major Brendan O'Brien realized he wanted to make a career out of service. Following graduation he join the Peace Corps, which then led him to the United States Department of State.
Working for the Department of State, O'Brien was stationed in Kabul, Afghanistan. As a press attaché and consular officer, he gathered international and local news for the ambassador, set up press events, and wrote press releases and talking points. He also accompanied the ambassador on trips throughout the region. As a consular officer, O'Brien was in charge of hiring staff, working with security for visits from the President and Secretary of State, and was a driving force in opening the visa section of the consulate for the first time in 30 years.
Currently, O'Brien is the Director of American Citizens Services and Crisis Management which means he and his team are responsible for the safety of 60 million US citizens who travel and those 6 million who live overseas.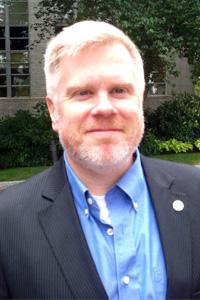 After graduating from Saint Anselm, Bill went on to earn a master's in English and a master's in higher education administration, gaining valuable teaching and administrative experience along the way.
Today Bill is the Executive Director of Graduate Campuses & Quality Assurance at Northeastern University in Boston, MA, where he is a key collaborator in establishing graduate campuses for Northeastern throughout the country.
He manages academic program strategies for off-site locations that respond to the market demands of various regions in the country. In addition to his administrative responsibilities, Bill also teaches a variety of writing classes.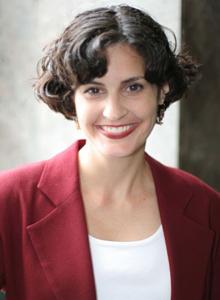 As a student, Emily Orlando was riveted by every detail of 19th-century literature and the sonnets of Sir Philip Sidney.
That fascination led her to a career teaching literature and writing about the authors she admires. Orlando followed her Saint Anselm graduation in 1991 with post-baccalaureate study of French and American literature at Harvard University. She earned a Ph.D. in English at the University of Maryland and taught at several institutions, including Trinity College in Washington, D.C. and Tennessee State University.
She is now an associate professor at Fairfield University in Connecticut. An expert on the life and work of American writer Edith Wharton, she is the author of an award-winning book titled Edith Wharton and the Visual Arts and has published widely on the subjects of literature and culture. She received the Academic Achievement Award from the Saint Anselm College Alumni Association in 2010.