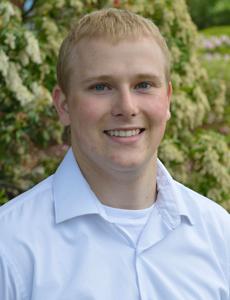 Creating an e-reader application or a predictive personalized algorithm are all in a day's work for Web developer, Jonathon O'Reilly, of the class of 2013.
The math major, computer science minor, works at Christianbooks.com where he was hired upon completing an internship with the organization the spring semester of his senior year.
Christianbook.com is an online Christian book distribution company that sells books, e-books, music, and more. It is the largest religious catalog company in the world, sending out more than 65 mailings of unique catalogs to millions of customers each year. The Boston Globe named the local organization the fifth best place to work in 2011 and the 14th in 2012.
On campus, Jon was captain of the men's lacrosse team and named Male Senior Scholar-Athlete of the Year. He was named to the Dean's List six times, inducted into Chi Alpha Sigma, the National Student Athlete Honor Society, and a member of Saint Anselm College's TAU Chapter of the Delta Epsilon Sigma National Scholastic Honor Society.
He won the Paul S. Coleman Service Award for the athletic department in 2012 and was also a Presidential Scholarship recipient.
He was a member of the Student Athlete Advisory Committee, an altar server at the Abbey Church, a New Student Orientation Leader, and worked in the Academic Resource Center Tutor and Mentor Program.