Highlights of Alumni Who Majored in Modern Languages and Literatures
You'll make connections between history, philosophy, literature and art. Your courses will challenge you to think in new ways and communicate clearly. They're essential skills that lead to success in any career. Meet some alumni: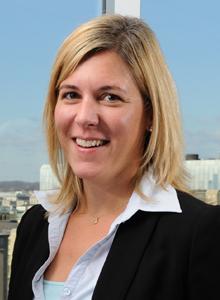 Tracey Bardorf believes the illegal immigration and violence problems on our nation's borders will get better someday. She has to: she deals with it daily, whether she is traveling to Mexico for her job or just reading her e-mail. She is the assistant director of the Office of Policy for U.S. Immigration and Customs Enforcement (ICE), Department of Homeland Security. Bardorf is in charge of managing a team that focuses on risk and strategic management, operations and international affairs, and management policy.
Bardorf was a Spanish major who moved to Arizona after graduating summa cum laude with minors in Latin American Studies and German. She also studied Russian. She earned a J.D. at Arizona State University's Sandra Day O'Connor School of Law. She clerked for a state Supreme Court judge and worked in private practice before moving into the complex field of immigration and human trafficking at the U.S. Attorney's Office in Arizona.
In her current position at I.C.E., Bardorf is based in Washington, D.C. While sympathetic with migrants seeking a better life, she understands the need for a country to control and secure its borders. Bardorf prepares and promotes ICE policy that is in the best interest of the agency and the Department of Homeland Security so that she can "move issues forward in a fair and respectful way."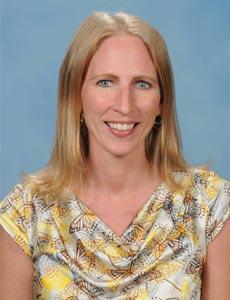 "I loved French when I came to Saint Anselm, and my professors helped it grow," Christina says.
As part of her major, she attended a native speaker class with Robert Perreault, who grew up in a French-speaking family in Manchester. Although it was a challenge for her to speak solely in French during the class, she believes that it made a big difference in learning the language.
She followed her education at Saint Anselm with a master's degree at Middlebury College and a Ph.D. at City University of New York Graduate Center. Now a French and Latin teacher at Saint Anthony's High School in New York, she loves watching students advance in their language skills.
Christina is very active at Saint Anthony's and recently became the chair of the foreign language department. She was the coordinator of the Middle States Association, an accreditation organization for schools in the U.S, and also serves as the yearbook coordinator and public relations director. In her free time, she enjoys traveling, skiing, gardening, and musical theater.
Many of the professors in the French department, specifically Professor John D'Espinosa, helped shape Christina as a French student. "I credit them for my success in French today," Christina says. "They were interested in me as a person as well as a student. I learned a lot about French and about being a teacher from them."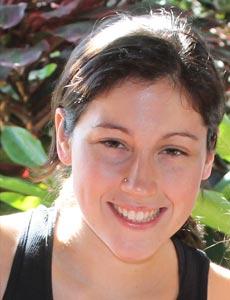 By becoming bilingual, Devon Katz was able to start her career right after graduation-and at the same time help people improve their lives. Her job is to raise funds to support one of New England's leading programs for victims of domestic violence.
The psychology major from Wantaugh, N.Y.  completed a minor in Spanish and served in the Jesuit Volunteer Corps in Montana for a year after graduating. She then began working for Casa Myrna, in Boston's South End. 
The nonprofit organization offers residential and educational programs for abused women and children, many of whom are Spanish speakers. Katz started as a bilingual program advocate at the emergency shelter, and after a year became the development coordinator.
Katz reinforced her Spanish studies by spending a semester in Granada, Spain. Recently, she used her language skills full-time on a service trip to an orphanage in Honduras that she organized with five fellow alumni.
Spanish major, secondary education minor
Teacher and Chair, Marianapolis Preparatory School
Saint Anselm College Alumni Council Member
Joseph Parodi entered Saint Anselm College undeclared and convinced he would end up picking a major at the last minute. But one day in Spanish class, it was a passion, and not just the vocabulary, that clearly translated for him.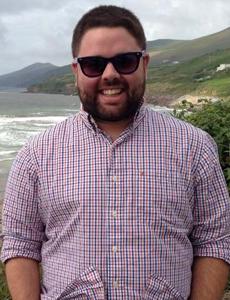 "All of a sudden I just realized that this is what I want to do with the rest of my life," he says. "I'm a really social person, and I think I've always liked languages because that means there's more people I can talk to."
Parodi graduated in 2006 as a Spanish major and international studies minor with a certificate in education.  Since then, he's been living out that freshman epiphany.
He was recently named to the National Language Service Corps, a Department of Defense organization of multilingual volunteers ready to assist with national emergencies requiring skilled translators and interpreters.
"When I heard about it, I thought to myself, this is something I can do," says Parodi of his decision to apply. "With this thing that I'm good at, I can help people."
He was also named the chair of the modern languages department at Marianapolis Preparatory School in Conn., where he has taught Spanish since graduation. Teaching allows him to share his love for language and learning with a new generation of students.
"An experience I have frequently is when people find out I'm a Spanish teacher and they say, 'Oh I took Spanish in high school, but I don't remember any of it'. I know this, so every day while I'm teaching the tenses and vocab I'm also very mindful that there are other things I'm teaching them at the same time, like how to think well," he says.
Parodi credits traveling as key to both improving his foreign language skills and preparing him for life after college. He fondly remembers traveling to Honduras for a Spring Break Alternative trip junior year and studying abroad in Spain the next summer.
"I think everyone should learn a language and, if they have the opportunity to, study abroad," he says. "Living in another culture can be a valuable experience for every student."
He wants to make sure he pays these experiences forward. Parodi brought a group of his students down to his SBA site in Honduras and a group to Spain and Morocco last spring. He's taking another group to Costa Rica this coming spring.
But the most unusual place his travels have taken him is television. Parodi appeared on an episode of Jeopardy in 2008. "I've watched Jeopardy with my parents since I was four so it was like a lifelong dream being realized," he says. "It was the most fun I've ever had in my life."
Story by Samantha Glavin '14