Highlights of Alumni Who Majored in Nursing
We prepare nurses of the future with a curriculum that offers hands on experience and an emphasis on developing critical thinking, ethical decision making and effective communication skills.
Our nursing students start to develop their skills early--their sophomore year--and practice often. Whether in simulation or during clinical experiences, our nurses get experience in a variety of clinical settings so they are prepared for any challenge.
Our nurses graduate prepared to provide quality care to patients across the lifespan and in all health care settings. They are able to adapt to advances in technology and health care, and are leaders in their fields. Meet some alumni: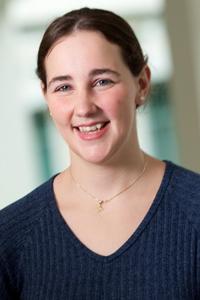 Clearly, Dartmouth-Hitchcock Medical Center was the right place for Danielle (Salvas) Cantin '07 to begin her nursing career. She was thrilled when she was hired, since she had completed her senior practicum at the Lebanon, N.H., hospital. Recently, she was honored by the New Hampshire Board of Nursing as the state's Direct Care Nurse of the Year.
The dedicated nurse works on the pediatric/adolescent unit, which serves oncology, surgical and medical patients. Since joining the unit she has developed a special interest in oncology cases.
"I always sign up to be on the primary care team for oncology patients," she says. "I talk about the kids I'm treating to my co-workers all the time. They're really my kids; they teach me a lot."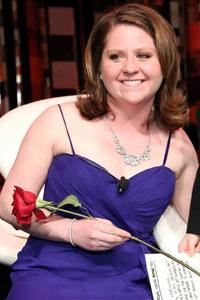 A three-year-old boy named Gregory, in the state of Washington, was diagnosed with acute leukemia. When his mother learned that a bone marrow donor match had been found, she said, "We have a chance. Oh my God... Gregory might live!"
More than three years later, Gregory and his mom got to meet the donor-Saint Anselm College alumna Katelyn D'Entremont '09-at the 2012 DKMS Fight Blood Cancer Gala held in New York City. DKMS is the world's largest bone marrow donor center.
At the celebrity filled event, fashion model Heidi Klum introduced Katelyn on stage.
"It just brings this full circle," said the Saint Anselm nursing grad after a long, teary hug with Gregory's mom. "you get that call and you do the procedure... you're always thinking of them, on a daily basis almost. You have this unique connection with this little kid somewhere in the world-whether it's in Africa or the United States, you never know."
D'Entremont is one of nearly 1,000 Anselmians who have registered as potential bone marrow donors, and one of five who have completed the transplant process.
"It was one of the best experiences of my life," says D'Entremont, a registered nurse who works at Massachusetts General Hospital.
Bone Marrow Registration Drives at Saint Anselm
13 in the last 5 years
962 students/staff have registered
5 students/staff have donated stem cells
Photo: Katelyn at the event in NYC. Photo by Sarah Jane Weiss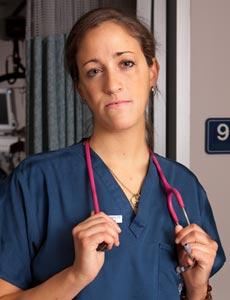 "Somehow I ended up on the perfect floor at the perfect hospital," Stefanie Iannalfo '10 says about working at Mass General Hospital (MGH) in Boston, Mass.
Iannalfo works in the Innovation Unit dealing with cancer patients.  The Innovation Units were launched in 2012 to research ways to raise the high standard of care that MGH already has by using new technology and ideas. "Because MGH is always trying new initiatives or striving to improve, nurses constantly feel the need to do the same," she says.
While at Saint Anselm Iannalfo was the founder of the Hunger and Homelessness Coalition and an annual food drive called "Good Stuff for Good People." This drive has since expanded and delivers furnishings and household goods to the homes of local residents, mostly refugees and immigrants. Iannalfo also participated in Road for Hope and Spring Break Alternative trips to South Dakota and Maine. She received the Student Award for Service and Citizenship at commencement in 2010. Days after receiving this award Iannalfo flew to Kenya, where she was a volunteer nurse in the Maasai Village of Saikeri.
Iannalfo's advice to nursing students is for them to find a type of nursing that they love and to stick with it. "Being passionate about your field will inevitably lead you to a longer, happier career and it is much easier to avoid compassion burnout if you love your job," she says. This is true for her, as she loves her work as well as the variety of patients she encounters on her floor.
Iannalfo completed her clinical work at Southern New Hampshire Hospital, a place that had a profound impact on her nursing career. In her essay, "I Tried," which was featured in the fall 2010 issue of Portraits Magazine and was also given as a speech at the nursing pinning ceremony, she writes about the words a mother says as she looks on at her 23-year-old daughter who is slowly losing her battle with cancer. This moment inspired her, as she hopes that if she does not save everyone she can at the very least say to her patients, "I tried, you know that, right? I tried everything."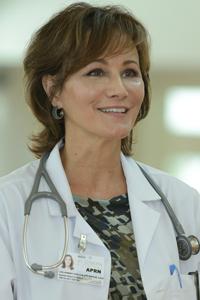 Whether she is at the side of a patient undergoing chemotherapy, teaching young nurses, or conducting research, Lisa Kennedy Sheldon's goal is always the same: making sure cancer patients get the best possible care. She is an assistant professor at UMass Boston's College of Nursing and Health Sciences, teaching in undergraduate and doctoral programs. She also is an advanced oncology nurse practitioner at Saint Joseph's Hospital in Nashua, N.H.
Challenges of Cancer Care
"Cancer care is probably the most complicated care you can give," she says. "You take the regular chronic conditions a person has, and layer onto that a cancer diagnosis and their response to that diagnosis; their symptoms, their treatment; and the side effects of that treatment. It's very humbling and a great honor to care for them. They look to you with trust and you do what's in their best interests that day. It isn't always what's planned."
She mentions a patient who was undergoing chemotherapy for lung cancer that had spread to his bones and brain. More than anything, he wanted to drive his red Cadillac in the Fourth of July parade. "So that day, instead of giving him chemotherapy, the team decided to give him blood and extra fluids and pain medication, and he got to be in the parade. He died four weeks later. In every bed, there's a unique person. You have to go in fresh and just ask, 'what does this person really need right now?'"
Teaching and Research
Kennedy Sheldon holds a Ph.D. in nursing from the University of Utah. Her research focuses on patient-provider communication. At Dana-Farber Phyllis B. Cantor Center for Research in Nursing and Patient Care Services, where she was a postdoctoral fellow, she analyzed how cancer patients talk with their doctors about their psychosocial concerns, such as depression and anxiety. Providers listen and acknowledge, but usually do not explore those concerns because of time or other constraints, she says. She is interested in the effect that has on referral and treatment patterns.
Alternating between clinical practice and research gives her a valuable perspective: "In research you're working with big samples and grandiose conclusions. But when you go back to the bedside, one is the biggest number in the world. Sometimes all those great ideas don't work when you get down to one person."
She has published several books, including Communication for Nurses: Talking with Patients, and many journal articles on cancer nursing education.
Medical Missions
She combines some of her research with medical mission work in Honduras. She's interested in local and global disparities in cancer care, the role of advanced practice nursing in international settings, and initiatives to improve cancer care outcomes globally.
Once a year, she travels to Honduras with a group organized by Mary Queen of Peace parish in Salem, N.H. The group travels in the back of a pickup truck to villages near Juticalpa in the east-central part of the country, bringing donated supplies for screenings and treatment. Kennedy Sheldon shares the information she gathers with an aid agency in Honduras so that local health care providers can follow up with the patients they treat. "If we don't do that, we're not creating sustainable change," she says.
Kennedy Sheldon graduated from Saint Anselm College's nursing program in 1978.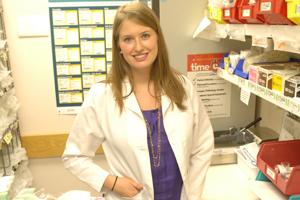 Even at an early age, Carly Staab '12 wanted to follow in the steps of her mother to become a nurse practitioner. On May 19, 2014, these dreams became reality as Carly received her master's degree from Yale University's School of Nursing.
Carly has always wanted to pursue a nursing career as a primary care provider. Now, with her MSN/FNP, she will work at a community health center in Bridgeport, Conn., serving low-income, uninsured patients. As a family nurse practitioner, she will provide primary care to patients of all ages from babies and young children to adults and the elderly.
"Working with vulnerable populations has always been my dream so I am so excited that I get to fulfill that right away," says Carly.
One of her biggest motivators to continue pursuing such a career was her belief in the nursing model of holistic patient centered care at Saint Anselm College.
"At Saint Anselm we were constantly reminded to think of our patients not just as a medical diagnosis, but as people," explained Carly. "I really wanted to bring this mindset to the primary care setting where I believed its impact on individual patients would be most profound."
"Entering graduate school I felt exceptionally prepared in every way. " 
Prepared for Graduate School
Being accepted to graduate school for nursing at Yale is not an easy task. Carly attributes her preparation and readiness to a solid foundation of academic knowledge, well-honed critical thinking skills, and the clinical experience at Saint Anselm.
"Saint Anselm nurses are people who patients want to have taking care of them, hospitals want to hire, and other nurses want to work with."
She stresses the impact her education had on the way she perceives herself as well as the way she is perceived in her field by others.
"Being a Saint Anselm nurse means something. It's hard to put into words but the first time you tell someone where you went to school and see the way they smile and nod knowingly at the mention of Saint Anselm you will understand."