Operant and Behavioral Pharmacology Research Lab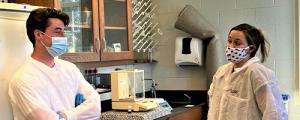 A multipurpose teaching/research lab designed for student and faculty research collaboration in the area of psychobiology, the research conducted here involves basic learning studies in classical (Pavlovian) & operant (Skinnerian) conditioning. These principles are applied to the study of pharmacology and behavior - hence Behavioral Pharmacology, an interdisciplinary field which in part studies experimental models of substance abuse.
Some of the specific studies conducted here involve drug tolerance, drug discrimination, alcohol self-administration, circadian rhythm, complex contextual control of behavior and drugs & behvioral extinction. This last area may be useful for drug rehabilitation treatment since environmental cues are correlated (predict) drug effects. We welcome ideas from students for possible research projects in collaboration with faculty.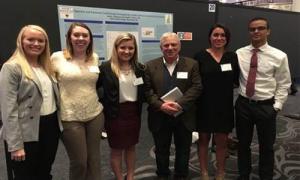 Sex Differences in the Discriminative Stimulus Effects of Nicotine: An evaluation of acquisition, extinction, and recovery. 
The grant is fund researched aimed at evaluating sex differences in internal sensitivity to nicotine's stimulus effects. The research is specifically interested in evaluating recovery of behavior under nicotine – a model of relapse behavior. This may have clinical implications because women have higher relapse rates than men to tobacco smoking and vaping, which may be related to menstrual phase. The lab is also to investigate nicotine sensitivity across the estrous cycle.
The $177,000 grant is New Hampshire Idea Network for Biomedical Research Excellence (NH-INBRE) furnished by Dartmouth College by NIH.
Community Resilience & Social Equity Lab (CRSEL)
Housed within the Psychology Department at Saint Anselm College and created by Professor Loretta Brady ('99) Community Resilience & Social Equity Lab is a dynamic research center and consultancy established to translate social equity research into practices that make organizations resilient and that result in equitable community impact. We develop programs and curriculum that support specialty workforce needs, and we produce events and curate resources that support resiliency, inclusion and social equity.
Psi Chi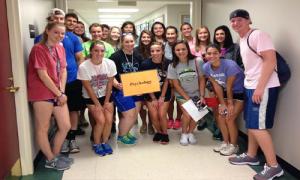 Psi Chi is the National Honor Society in Psychology, founded in 1929 for the purpose of encouraging, stimulating, and maintaining excellence in scholarship and advancing the science of psychology.
Psi Chi functions as a federation of chapters located at more than 700 senior colleges and universities in the USA. A National Council, composed of psychologists who are Psi Chi members and who are elected by the chapters, guides the affairs of the organization and sets policy with the approval of the chapters. The Eastern Region of Psi Chi and the National Psi Chi both have excellent home pages.
Our Psi Chi Chapter provides you with the opportunity to join Psi Chi if you meet certain standards required by Psi Chi and the Association of College Honor Societies (the governing body for college honor societies).
When you are inducted into Psi Chi, you become eligible to wear a Psi Chi honor cord, medal, keypins, charms, lapel pins, tie tacs, cloth emblems for blazers or sweaters, etc. A quarterly Psi Chi Newsletter is sent to each chapter for distribution to the members. Psi Chi members are eligible to present research papers/posters at the national, regional, state, international, and local conventions. Members may participate in undergraduate and graduate research award competitions. The names of new members and activities of chapters are published in the Newsletter and preserved for historical purposes.
If you are interested in joining Psi Chi, please contact the chair of the Psychology Department who will tell you the names of this chapter's President and Faculty Advisor. The chapter will then determine if you are eligible for membership. We look forward to hearing from you.
A list of national links for Psi Chi and additional psychological associations.
Listing of General Grants, Fellowship and Scholarship Opportunities
American Association of University Women Fellowships/Grants
The American Association of University Women is a national organization that promotes education and equity for all women and girls. Our commitment to these issues is reflected by the AAUW Public Policy Program. The AAUW Educational Foundation funds pioneering research on girls and education, community action projects, and fellowships and grants for outstanding women around the globe.
FinAid: The Financial Aid Information Page
This page provides a free guide to student financial aid. It is maintained by Mark Kantrowitz, author of The Prentice Hall Guide to Scholarships and Fellowships for Math and Science Students, and is sponsored by the National Association of Student Financial Aid Administrators (NASFAA).
Foundation Center "Serving the Information Needs of Grantseekers and Grantmakers
The Foundation Center is an independent nonprofit information clearinghouse established in 1956. The Center's mission is to foster public understanding of the foundation field by collecting, organizing, analyzing, and disseminating information on foundations, corporate giving, and related subjects. The audiences that call on the Center's resources include grantseekers, grantmakers, researchers, policymakers, the media, and the general public.
NSF Fastlane
FastLane is for official National Science Foundation use only. FastLane is an experimental program utilizing advanced technology to re-design and streamline the way NSF does business.
NSF
Create a profile and be notified by email when new documents matching your profile are added to the NSF Online document System.
Fulbright Grants for Faculty and Professionals
1,000 awards for college and university faculty and nonacademic professionals to lecture or pursue advanced research and/or related professional activity abroad. For U.S. candidates, grants are available to nearly 148 countries.
College Board
Information of many aspects of college. Includes a search tool with good findings for 'scholarship'.
College Net
Information about scholarships and undergraduate institutions.
FAFSA
FAFSA provides a paperless financial aid application.
FastWeb
Financial Aid search through the internet.
Psi Beta is the national honor society in psychology for community and junior colleges. It functions the same as Psi Chi. It is a federation of campus chapters operated by student members and faculty sponsors. Psi Beta has over 130 chapters at two-year colleges and shares national office space with Psi Chi in Chattanooga TN. Psi Beta and Psi Chi have a cooperative mission that was formalized by both National Councils in 1992. Chapters provide programs and activities occasionally cosponsored with other Psi Beta and Psi Chi chapters. Psi Beta participates with Psi Chi at APA and regional meetings and presents national awards annually. It is a member of the Association of College Honor Societies, which regulates membership requirements.
Students eligible for Psi Beta membership must be enrolled in an accredited two-year college with a Psi Beta chapter, rank in the top 35% or have an overall GPA of 3.0 in a 4.0 system (whichever is higher), have at least a B average in psychology, complete at least one semester of psychology and 12 semester hours total college credit, have demonstrated a genuine interest in psychology and high standards of personal behavior and integrity. Upon request, Psi Beta sends a letter of introduction to Psi Chi advisors when Psi Beta members transfer. If invited to join, the Psi Beta student must pay the registration fee for Psi Chi membership. Our College Psi Chi would like to extend an invitation to transfer students who are members of Psi Beta to apply for Psi Chi membership at this College.
For information on chartering a Psi Beta chapter contact Psi Beta toll-free: 1-888-PSI-BETA.
The mission of Psi Beta honor society is professional development of psychology students at two-year colleges through promotion and recognition of excellence in scholarship, leadership, research and community service.
Students become members by joining the chapter at the school where they are enrolled. Psi Chi chapters are operated by student officers and faculty advisors. Together they select and induct the members and carry out the goals of the Society. Because the officers and faculty advisors are volunteers and their time is limited, anyone interested in joining Psi Chi should take the initiative and contact the Psychology Department, the faculty advisor, and/or the local officers. If there is no chapter, it is worthwhile for qualified students to start a Psi Chi chapter.
All chapters register their inductees at the Psi Chi National Office, where the membership records are preserved for reference purposes. The total number of members recorded at the National Office during the first sixty-four years is 252,000; many of these members have gone on to distinguished careers in psychology.
What Are the Benefits?
The intrinsic value of membership is rewarding to the achiever in that recognition of excellence leads to self-fulfillment and thus to self-realization. By recognizing that what you do does make a difference, you are stimulated to higher productivity. Accomplishments are enjoyed more when shared with others. Furthermore, the contacts made through Psi Chi will be valuable throughout your educational and professional careers.
Concrete advantages of membership include:
The documents - a membership certificate and card which give tangible evidence of membership.
The references provided throughout one's lifetime (this service alone is worth the investment).
The experience gained by working with Psi Chi is excellent for building up a resume; it is difficult to attain that first managerial and creative experience.
Psi Chi is a springboard for professional growth. Opportunities are made available to the members for promoting their research, receiving national and international recognition, meeting and interacting with leaders in their field, and meeting Psi Chi members of other chapters who also will be future leaders.
The United States government recognizes membership in Psi Chi as meeting one of the requirements for entrance at the GS-7 level in the Federal service.
Climaxing the benefits mentioned above is knowing that many individuals, by their caring, dedication, perseverance, and hard work, have made it possible to encourage young persons interested in psychology to strive for excellence - to reach toward that attainable star.
The ultimate test of the value of any membership organization lies in the accomplishments of its members. In each year of Psi Chi's history, more and more members have undertaken graduate studies. And now in its sixty-fifth year, Psi Chi is well represented in the professional ranks of all the behavioral sciences. The Membership Directory of the American Psychological Association is studded with the names of Psi Chi members, both active and alumni. This is only one example demonstrating that the Society's purposes are being fulfilled.
Among the National Organization's Requirements for Membership* Are:
Membership in Psi Chi is an earned honor which is for life. A permanent record of your membership is preserved at the Psi Chi National Office and may be used for reference purposes such as applications for graduate school and jobs. The Psi Chi national membership fee is $55. This one-time fee is for lifetime membership, a certificate suitable for framing, and a membership card. There are no annual national dues, but each chapter may have fees.
Membership is open to graduate and undergraduate men and women who are making the study of psychology one of their main interests and who meet the minimum qualifications.*
Psi Chi is a member of the Association of College Honor Societies (ACHS) and is an affiliate of the American Psychological Association (APA) and the Association for Psychological Science (APS).
Completion of at least 3 semesters or 5 quarters of the college course.
Completion of 9 semester hours or 14 quarter hours of psychology.
Registration for major or minor standing in psychology or for a program psychological in nature which is equivalent to such standings.
Undergraduates who are elected to Psi Chi much rank in the upper 35 percent of their class (sophomore, junior, senior) in general scholarship. They must also demonstrate superior scholarship in psychology, earning a minimum GPA in psychology courses of 3.00. Psi Chi accepts the policy of the institution regarding grades.
For graduate students, an average grade of "B" or better in all graduate courses, including psychology.
High standards of personal behavior.
Two-thirds affirmative vote of those present at a regular meeting of the chapter.
*Any chapter may establish minimum scholastic qualifications that are higher than those listed above.
Psi Chi serves two major goals...
One immediate and visibly rewarding to the individual member
The other slower and more difficult to accomplish, but offering greater rewards in the long run
The first of these is the Society's obligation to provide academic recognition to its inductees by the mere fact of membership.
The second goal is the obligation of each of the Society's local chapters to nurture the spark of that accomplishment by offering a climate congenial to its creative development. For example, the chapters make active attempts to nourish and stimulate professional growth through programs designed to augment and enhance the regular curriculum and to provide practical experience and fellowship through affiliation with the chapter.
In addition, the national organization provides programs to help achieve these goals, including national and regional conventions held annually in conjunction with the psychological associations, research award competitions, and certificate recognition programs. Also, the Society publishes a quarterly Psi Chi Newsletter which helps to unite and inform the members and to recognize their contributions and accomplishments.