Welcome to the Pub
The Pub sits in the back of the Coffee Shop. During the day, all are welcome to enjoy this space. When the pub is open, those who are 21 and older can socialize over a glass of beer or wine by the fireplace or play a game of pool.
It has become a tradition for Saint Anselm College students to purchase a pub mug. These pewter mugs are decorated with the college's crest on the front and a personal engraving on the back. Pub mugs may be kept in the pub until you graduate. The pewter beer mug, originally made in Sheffield, England, adds a touch of "ye olde pub" atmosphere found in pubs throughout England and other parts of Europe.
With the purchase of an Anselmian pewter mug, you become a part of our pub family where "everybody knows your name." Pub mugs are a wonderful symbol of pride and community, and will remind you of your time at Saint Anselm in the years to come.
See updated information, meal plans, hours of operation, and more →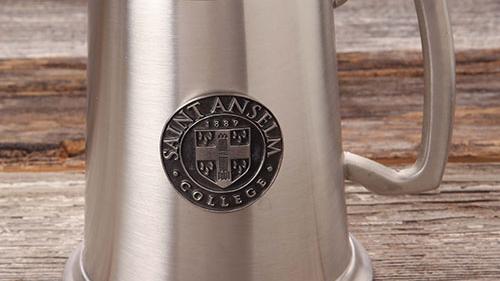 Order A Mug
For special occasions such as birthdays, please place your order well in advance: Orders are placed on the 15th of every month during the academic year, and take approximately 3 weeks to arrive. Please contact Michelle Lavoie for an order form.