On March 27, 2023, the New Hampshire Institute of Politics, (NHIOP) at Saint Anselm College, welcomed former New Jersey Governor Chris Christie. Christie last visited the Institute in April 2022 for a Politics & Eggs event, making his return a widely anticipated event.
To begin his town hall, Christie addressed the devastating Tennessee school shooting that happened earlier in the day. He was quick to criticize President Biden's initial press conference of the incident. He also noted the increase of inflation and that Biden's approval ratings are the worst in history. 
Christie went on to speak about the political divide in our country. He stated, "The truth matters," believing that people are hungry for the truth regardless of their political affiliation. His statement was made after remarks on foreign policy, disagreeing with Florida Governor Ron DeSantis' comments on Ukraine. He also brought this point into the losses of the Republican party in the 2020 election and 2022 midterms.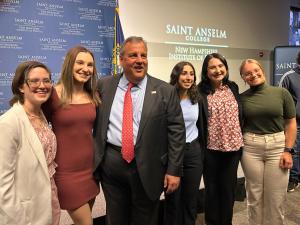 In an interview with Kevin B. Harrington Student Ambassador Jill Dorazio '24, Christie discussed the need to make a change within the Republican party. "We have to get back to winning again. I think you should see clearly from the 2022 elections that we have lost our independent voters throughout the country. They don't like the threats on the table, it is not appealing to independent voters. If Republicans cannot win independent voters than we cannot win general elections. A Republican who only serves the Republican party will be a minority for a long time." 
During the event, Christie also criticized former President Trump saying he endorsed the President in 2016 because he did not want Hilary Clinton to win. "I'm happy to own my mistakes and that was one of them. I stayed with him because I didn't want Hilary Clinton to be President, and I won't apologize for that," said Christie. 
An audience member asked about his endorsement of Trump in 2020. Christie responded, "I got off the train when he stood behind the seal and said the election was stolen." 
It was clear in his town hall that Christie does not support former President Trump. He called for less Republican candidates that hurt them in the midterms, and said they need someone fearless to take down President Trump. "Donald Trump said last week, 'I am your retribution' guess what, no thanks." The audience applauded for his remark. 
At the conclusion of the event, Christie shook hands with audience members and NHIOP student ambassadors. As Christie posed for photos, he noticed a group of female ambassadors waiting behind the media. He left the press to introduce himself to the students where he gave them advice about being successful in politics. He noted that although they were being polite, they should not be afraid to be assertive in a business dominated by men. His words even impressed the women reporters who responded by sharing with the ambassadors that his words caused them to self-reflect their own work habits. He then posed for a group photo and took individual photos with the students.
The New Hampshire Institute of Politics and Christie's visit were mentioned in the following press: