The Center for Ethics in Society and NH Community Development Finance Authority brought together stakeholders, as well as local and national experts, to discuss recovery housing in New Hampshire on April 12, 2023. 
"Recovery housing" is a term that describes a sober, safe, and healthy living environment that promotes recovery from alcohol, drug use, and associated problems. The purpose of a recovery residence is to provide a safe, healthy, family-like living environment to sustain recovery—defined as abstinence from alcohol and other non-prescribed drug use and improvement in one's physical, mental, spiritual, and social well-being. Individuals build resources while living in a recovery residence that will continue to support their recovery as they transition to living independently and productively in the community.
Darrell Mitchell, chair of the National Alliance of Recovery Residences, helped define recovery housing and provided an overview of what is happening on the national level. State Fire Marshal Sean Toomey, as well as local experts Kim Bock, NH Coalition of Recovery Residences; Attorney Craig Donais, Wadleigh, Starr & Peters; and Shawn Cannizzaro, Hope 2 Freedom Recovery Homes, shared their experiences working with recovery housing here in New Hampshire. Watch the recording here.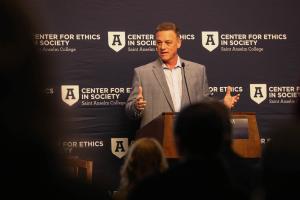 Mitchell spoke of his personal recovery challenges and how he has now devoted his life to help others. "I always have this overwhelming sense of gratitude. I know that seconds and inches in my life separated me from death and probably prison. I've also been taught by other people in recovery that gratitude is action."  
The intersection of housing and recovery is an important component. According to Mitchell, "if treatment was all that was needed, then we wouldn't have an epidemic." Treatment stabilizes the individual, but for long-term success, recovery housing is critical because it is a specific social model that creates connections. 
"You would never do surgery knee replacement surgery without physical therapy afterwards. You know it wouldn't work. And that's what treatment is like," said Kim Bock, Executive Director, NH Coalition of Recovery Residences. "If you don't have the right environment, it's not going to work."  
Congressman Chris Pappas (NH-01) gave remarks during the lunch hour to offer his support to the importance of the recovery housing infrastructure in New Hampshire. "This is not a partisan issue. This is a human issue," said Pappas. Because addiction does not discriminate, it is vital that communities work together for solutions. In the past few years, his office has worked to secure key funding for substance abuse recovery programs in the Granite State.
The afternoon panel discussed opportunities for more recovery homes in New Hampshire communities, including ideas from planners, employers, building code officials, and recovery home operators. The panel featured Donna Benton, director of planning & community development, Dover, N.H. & president, NH Planners Association; Mark Bonta, Littleton plant director, Genfoot America LLC & advisory council member, Recovery Friendly Workplace Initiative; Daisy Pierce, executive director, Navigating Recovery of the Lakes Region & advisory council member, Recovery Friendly Workplace Initiative; and Bill McKinney, manager/building official, Nashua, N.H. & president, NH Building Officials Association. Watch the recording here.
A high point of the day involved collaborative discussion. Municipal officials, planners, recovery home operators and residents, building and fire code officials, and other stakeholders participated in roundtable conversations about barriers to recovery housing, solutions to these barriers, and ways to promote recovery housing in our communities. 
Here are the results:
What are the barriers to recovery housing in communities throughout New Hampshire?
Fears and Misconceptions: Lack of understanding about recovery homes, how they operate, and how they are beneficial for communities can lead to misconceptions and stigma. Some people, for instance, incorrectly think recovery home residents are active drug users, or that they put extra stress on first responders. These misconceptions can lead to stigma and a NIMBY (not in my back yard) attitude.
Code Requirements: Approval processes are lengthy and confusing. People often don't know where to start or what code requirements or local land use regulations exist (minimum parking spots, sprinklers, etc.)
Expense: Land and infrastructure can be expensive, and there is little funding for recovery homes. Plus, some building and fire code requirements require expensive modifications. 
Lack of Coordination: Stakeholders, including city officials, do not always communicate well with each other, and with the public, about requirements, processes, etc. for approval of recovery homes. 
Transportation and Jobs: Especially in rural areas, it is hard to find employment and to get to jobs (due to a general lack of public transportation). It can also be hard to access local services.
Gender Imbalance: Women have fewer options for recovery homes; there are fewer available to them, and most aren't suited for families and child-care.
What are some solutions to overcoming these barriers and for promoting recovery housing in our communities?
Education: Stakeholders (communities, planners, municipal officials, building/fire officials, etc.) need better education about the truths of recovering housing and need to develop a shared language that is defined and accepted across sectors. This could come in the form of public discussions, a documentary, a model/starter kit for communities to follow, or a task force that educates and supports other communities in their acceptance and creation of recovery housing.
Certification: Certification of recovery homes by nationally recognized organizations can reassure communities that recovery homes are safe and well-run.
Data: Data showing the impact of recovery housing on communities, or the cost of incarceration versus the cost of a recovery home, should be collected and made accessible.
Code Flexibility: Municipal officials need to think creatively about how recovery housing can meet building and fire code standards. 
Funding: Considering the high costs of land and infrastructure, there should be more funding opportunities (including for for-profit recovery homes). 
Communication and Collaboration: There needs to be more communication and collaboration between local, state, and national leaders. City officials, for example, need to communicate so they all receive and share correct information. This will also help build relationships between officials and recovery home operators/residents.
Transportation: Recovery housing stakeholders need to find ways to offer transportation for residents of recovery homes to reach jobs and services. 
Variety: Recovery homes will be more accessible to people if they are allowed or encouraged to follow different models, including offering more options for women and families.
Stakeholders agreed that continued efforts are needed to promote discussion and collaboration about challenges and opportunities for recovery housing in New Hampshire. The Center for Ethics in Society at Saint Anselm College and the NH Community Development Finance Authority agreed to continue to work with NH Coalition for Recovery Residences and other stakeholders to advance solutions for recovery housing.