Saint Anselm College's new flagship study abroad program in Tuscania launched with gusto at the start of the spring semester, offering students a unique chance to experience life in Italy. 
Wrapped in medieval walls built centuries ago, Tuscania is a charming village of about 8,500 residents, located about 60 miles northwest of Rome and a three-hour drive from the popular Tuscany region. It is known for its beautiful views of the countryside and historic structures like the important Church of San Pietro.
The program is a fully customized, semester-long study abroad program which is offered in partnership with Academic Programs International (API). During their time in Tuscania, Saint Anselm students live with other students from the College, take classes with a College faculty member, and participate weekly in community-engaged learning activities.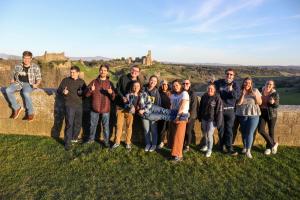 Nineteen Saint Anselm students kicked off the program and arrived in Italy in late January. They were joined by Art History Professor Kate Bentz, the faculty-in-residence who is the lead instructor for several courses. 
"The reason I chose to study abroad in Tuscania is because I wanted more of a small-town cultural immersion rather than being in a big city," said Sean Kelleher '24, an Environmental Studies/Politics double-major. "Somewhere I could feel comfortable and safe in, and really get to know the town and people that live there, and feel like I was more involved in the community." 
For Saint Anselm College Study Abroad Director Jane Bjerklie-Barry, choosing Tuscania as the flagship program was a natural fit for one fundamental reason: 
"It is very much like the Hilltop," Bjerklie-Barry said. "This is a community that is vibrant, genuine and is very much part of our value set as Anselmians of community, hospitality and stewardship."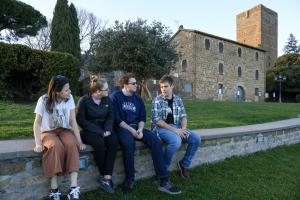 Academic coursework takes place inside the Lorenzo de' Medici Institute. There, students take classes from Bentz and other local instructors who teach classes on Italian language and culture, ethics, sustainable food, and more. 
In addition to her specialty "Italian Renaissance Art" course, Bentz also teaches the Tuscania Program's core course, "Passaggi" (Passages in English) where every week, she leads students on excursions to key sites around Italy so they can learn more about the culture and history of the surrounding areas. 
"'Passaggi' is a course where students learn about Italian history, as well as a host of topics connected to the Liberal Arts core curriculum at Saint Anselm. Seeing historical sites and works of art and architecture in person makes these lessons come alive. They are also asked to make their own passage, if you will," Bentz said. "They are learning about who they are and finding their own place in the broader world outside of their experiences back home on campus."
On a recent trip in March, students explored Villa Lante in Bagnaia, a stunning Mannerist garden known for its fountains and dripping grottoes. In addition to a host of medieval and Renaissance monuments, they have visited ancient Etruscan tombs and learned about artifacts in local museums, and toured ancient Roman sites. Recently, they enjoyed a pasta-making class taught by local chef Giovanni Maria Izzi. 
For many students, a highlight of their time in Tuscania has been the community-engaged learning component, where they have taught Italian middle school kids about various subjects like American cuisine, participated in language exchanges with families, and worked with Beautify Tuscania. That initiative has them participate in activities like planting flowers and repainting poles around areas like town hall in an effort to help spruce up the town. 
"It's so important to me to be a part of Beautify Tuscania because it's a really rare opportunity to engage with the community around us while you're studying abroad," said Junior Audrey Dellabarba, a Politics major. "You get to know community members while also leaving an impact that will stay here even after we leave."