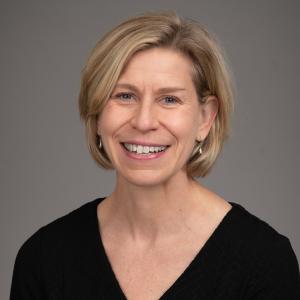 Katherine Bentz
---
Professor & Department Chair
Background
I specialize in the painting, sculpture, and architecture of Renaissance and early modern (16th-17th-century) Europe— Italy, in particular. My research centers on early modern gardens and villas; the history of art collecting; the artistic and urban history of Rome; and the ways in which early modern ideas about medicine and health influenced architecture and landscape design.
I teach a variety of courses, including introductory survey classes on the history art and the history of architecture, as well as courses on Medieval, Renaissance, and Baroque Art. I also offer the discussion seminars Landscape & Art: Nature and Human Culture, and Michelangelo and His World, as well as a seminar for Senior Fine Arts Majors. I lecture and teach in the college's core Freshman program, Conversatio; I taught in Saint Anselm's study abroad semester in Orvieto, Italy; and I team-teach a chemistry course entitled The Science of Art and Artifacts, which investigates the principles of chemistry, technical art history, and conservation studies.
Before I joined the faculty at Saint Anselm, I taught at Columbia University, Emory University, and Penn State University's Study Abroad Program in Todi, Italy. I have won research fellowships and grants from several institutions, including Dumbarton Oaks, Columbia University and the Mellon Foundation, The Getty Research Institute, The National Endowment for the Humanities, and the Australasian Centre for Italian Studies (ACIS). From 2013-2014, I was Rush H. Kress Fellow at the Villa I Tatti, the Harvard Center for Italian Renaissance Studies in Florence, Italy. My article, "The Afterlife of the Cesi Garden: Family Identity, Politics, and Memory in Early Modern Rome," (Journal of the Society of Architectural Historians, 2013) received the 2016 Essay Prize of the Landscape History Chapter of the Society of Architectural Historians. In 2018, I received a College of Arts and Architecture Alumni Award from Penn State University.
Research
My current book project, Gardens as Green Medicine: Prelates and Health in Early Modern Rome, investigates the sumptuous villa gardens built by cardinals and elite ecclesiastics in and around during the later sixteenth century— the would-be austere period of the Counter-Reformation. These elaborate gardens surrounded prelates with luxury and prestige, but they also served as important places for salubrious recreation and exercise, considered essential for maintaining and conserving good health. The health status of these older and sedentary men was paramount, for a healthy papal curia reflected a strong and politically stable Catholic Church during a turbulent time. By examining the widespread culture of preventative medicine in early modern society, as well as the social functions of gardens and their reception by visitors, my study reveals how early modern ideas about health and hygiene shaped villa and garden design and use and demonstrates the critical role that gardens played in preventative medicine, and in Roman society at large.
For additional information about my research and publications, visit my academia.edu page.