Abigail St. Jean '21 says she's living her best life. An English and Spanish double major who graduated from Saint Anselm in 2021, she's now a content developer for Constant Contact in Boston, Mass. She always hoped to combine her knowledge of communication with her love of creativity. 
How has the Saint Anselm College network supported you as a recent graduate? 
The St. A's community post-grad is much greater than we can imagine. An alumni connection via LinkedIn allowed me to pursue my current position as a content developer. Take what you learned on the Hilltop and have confidence to foster new connections and get curious; you never know where a connection may lead you.
What additional experiences helped prepare you for post-graduate life?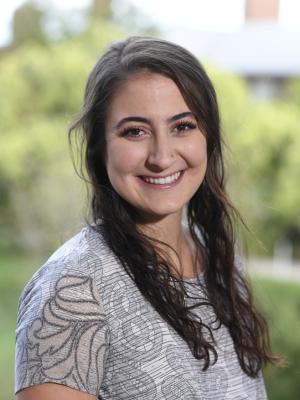 I had a few internships throughout my college experience that prepared me for post-graduate life as a young professional. I originally thought I wanted to go to law school, so I interned as a legal assistant at Bernazzani Law in Nashua, N.H. As I continued throughout my education, I changed the trajectory of what I was interested in. I slowly started seeking out internships in marketing and I landed a role in the college's Communications and Marketing Department.
During your time on campus were you involved in any clubs or organizations? When and how did you get involved?
I was involved in various organizations throughout campus. Freshman year, I had the opportunity to do service learning with English for New Americans in downtown Manchester, where students from campus tutored local immigrants in the English language. Service learning was a part of a class requirement, but I absolutely loved being involved with our local community. Sophomore year, I continued to be involved on campus and I participated in Spring Break Alternative and Road for Hope with Campus Ministry. Both of these experiences changed my whole perspective on what it means to be Anselmian. I also worked in the Academic Resource Center (ARC) as a writing assistant and Spanish tutor from sophomore to senior year. Lastly, I became a member of the Saint Elizabeth Seton Society my junior year and continued my involvement throughout my senior year. 
What was your favorite thing to do on campus? 
My favorite thing to do on campus was to be outside. This varied from hammocking in trees, chasing sunsets, hanging out on the quad, or taking walks.  
What was your favorite tradition at Saint Anselm College?
My favorite tradition was, and still is, Road for Hope because it embodies every value that St. A's commits to. I have never known a greater sense of community, been in touch with my faith, or felt so much encouragement in the span of eight days. After walking 130 miles, my favorite memory from this experience is walking through the front gates of campus and seeing friends, family, and professors come together to create a place we can call home. I will forever cherish the memories made on and off the road. 
Who was your favorite professor or mentor on campus?
My favorite professor and mentor is Professor Orrego. As a freshman, I was originally an English major with a Spanish minor, but he persuaded me to pursue a double major in Spanish. By doing so, I was perfectly prepared to study abroad in Seville, Spain. I attend La Universidad de Sevilla and took all of my classes in Spanish. Professor Orrego aided my study abroad experience and stayed in communication with me as I navigated home during the global COVID-19 Pandemic lockdown. 
How did your experiences in college prepare you for your role at Constant Contact?
I wore many hats in college. I participated in various organizations, I worked and interned on and off campus, and I managed a significant workload as a double major. I believe my education allowed me to pursue a Content Developer role as project planning and time management play such a huge part in my career. I never would have been able to manage multiple tasks like I do without learning how to balance school, work, and campus clubs. 
What does your job involve?
As a Content Developer for Constant Contact, I am a part of the Knowledge Base team. On this team, I collaborate with product owners to learn about our new product features that are launching. After learning about the product, I create and write how-to articles to walk a user through a feature step-by-step. These articles are then published on our customer-facing Knowledge Base. This resource aids our customers for success and limits call volumes for our Technical Support teams. As a marketing tool, we look for ways to help the small stand tall and cater to many small businesses. We want to make their experience with marketing, event planning, and outreach as seamless and easy as possible.