As a child, Jessica Long '22 devoured history books, driven by a desire to learn everything she could about the people and events that preceded her. When she enrolled at Saint Anselm, however, she did not plan to make history part of her future.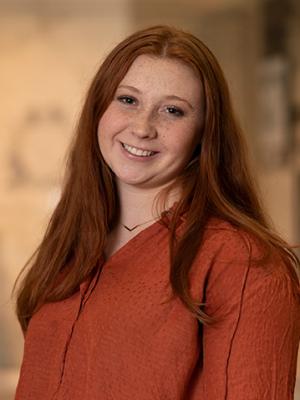 "I always loved history," says Long, who has a particular affinity for America's past. "I just never thought it was something you could find a career in."
She has proven herself wrong. Prior to graduating, Long served as an assistant director at the Libby Museum of Natural History in Wolfeboro, N.H., and interned with the Manchester Historic Association. Now, as a museum educator for the New Hampshire Historical Society in Concord, Long continues to share her love of the subject. 
On a typical day, she leads groups of schoolchildren through the Historical Society's interactive "history detective" exhibit, discussing the innovations that have advanced technology over the years; into the section on the history of New Hampshire, including the Abenaki people who first settled in the area (one of Long's favorite exhibits), or she talks to kids about how events such as war and industrialization have impacted the Granite State. She often directs visitors to the desk at which General John Stark sat when he wrote the letter containing the eventual New Hampshire state motto, "Live Free or Die." Long also greets patrons and answers their questions about the exhibits.
As a first-year student at Saint Anselm from the small town of Temple, N.H., Long intended to major in politics, with thoughts of moving to Washington, D.C. But that changed after she took Professor Matthew Masur's Ancient Civilizations class, and the professor helped debunk the myth of limited career opportunities in the field. Long got further reassurance from Professor Hugh Dubrulle, and eventually added history as a second major.
"I loved the history program, and realized it was providing me with reading, writing, and research skills," Long says. "But I wouldn't have double-majored without the encouragement of those professors and the rest of the history department." 
It was through further conversation with Professor Dubrulle that Long realized she might be able to find a job as a local historian. He told her his wife had started out as a museum educator before becoming the program director at the New Hampshire Historical Society.
"I love working with kids," Long says, "so taking the time to help them learn about history sounded like a great thing to do."
While she is not sure what the future holds beyond her current job, Long could see herself remaining in a museum environment. She expresses gratitude not only for the excellent education she received at Saint Anselm but also for the supportive community that helped her discover her interests. Although she had moments of uncertainty as she pursued her chosen course of study, Long encourages future students to follow their gut.
"If you don't have a direct career at the end of your major, some people focus on why that's bad," Long says. "But I found it helpful because I was able to study something I loved while also strengthening my communication skills. Don't be intimidated by the fact that you might not have a clear career path. If you're motivated, you'll be able to find a job you enjoy."
This extended classnote originally appeared in Portraits magazine.