Dr. Jaime A. Orrego is an Associate Professor of Spanish and Department Chair of Modern Languages and literature. He was also named a Faculty Athletics Representative for the Hawks in 2022. Upon completing his bachelor's degree in Industrial Engineering at Pontificia Universidad Javeriana in his home country of Colombia, Professor Orrego moved to the United States where he discovered his passion for teaching. Going on 14 years at Saint Anselm College, his love for teaching and support for his students remains central to his work.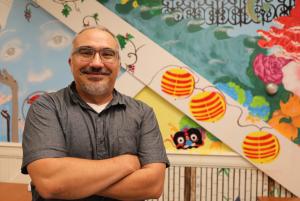 Tell us a little bit about your background.
My background is in the sciences. I moved to the U.S. in 2000 from Colombia. My plan was to continue with sciences but somehow, I started teaching Spanish and I fell in love with teaching. And I decided that it was a good idea to teach because that was the best way for me to share my culture with other people.
You left Colombia for Chicago, then New Hampshire! What motivated you? 
My plan was to come to the United States, learn English, and get a master's degree. Michael Jordan had recently retired from the Chicago Bulls, and I decided on Illinois State University but was disappointed to learn it was 100 miles south of Chicago. Little did I know how much this "mistake' would influence my life. I changed from Engineering to Literature and met the woman who became my wife. New Hampshire was different. interviewing at Saint Anselm, I met monks, students, and colleagues to-be. That's why I'm an Anselmian now.
What is the focus of your research?
My research mainly focuses on the violence in literature, especially in Colombia. I study Latin America in general, but I focus on Colombia in the period between the 1950s and the beginning of the century.
Why should someone learn another language? Does it contribute to appreciating diversity?
In learning a language, we get more than the language itself. We learn about culture, literature, people. It opens our minds. Understanding different cultures helps overcome and prevent divisions that cause misunderstandings, loss of opportunities, and sometimes violence. An understanding of diversity helps create a just society.
I tell students about American stereotypes I learned from movies or TV I watched in my native Colombia. It wasn't until I moved here that I realized how wrong I was. Understanding English, I appreciated the good things this country offers.
Have any of your students reported they've used Spanish to great benefit? 
This is one of the most rewarding parts of my job. Students tell me how much they used Spanish on a Service and Solidarity trip. I've been on one trip and it's beautiful to see students speak a language that's not their own - just to make people more comfortable. I remember that my German roommate in college used the few Spanish words he knew to communicate with my parents when they called. That was a nice gesture and I still appreciate it, even today.
Tell us something interesting about yourself others might not know!
Something that I think is interesting about me that not many people know is how involved with sports I am. I have many reasons why I come to the Hawks games. One of the most important reasons for me is that I see many of my students there. I like to see another aspect of my students outside. The other thing is that they come to my class, so I want to come to what they do outside the classroom.
I kind of transform into a different person when I'm in any type of sports event, and in Saint A's like sometimes when we are in any different sport I'll start screaming at the refs if I have to.
What are your responsibilities as a Faculty Athletics Representative?
As the Faculty Athletics Representative (FAR), I am recognized as the representative of Saint Anselm College and its faculty in the relationship between the National Collegiate Athletic Association (NCAA), the Northeast-10 Conference (NE10), and the local campus. I have responsibility to ensure, either directly or indirectly, that student-athletes meet all NCAA, conference, and Saint A's requirements for eligibility to practice, financial aid, and intercollegiate competition. I am also responsible to monitor the student-athlete experience and be involved in the personal and academic welfare of them.
What does being an Anselmian mean to you?
Being an Anselmian means that everybody who is here is part of my life and I am part of everybody's life here. As I mentioned before, I go to see my students or anybody involved with different sport activities, theater, music, and even at Mass, I have had some students who are now monks.
Parts of this Q&A originally appeared in Focus on Faculty in Portraits magazine and an episode of Everyday Anselmian.