Saint Anselm College today announced that its 11th president will be Dr. Joseph A. Favazza, a leader in liberal arts higher education with a longstanding record of success in achieving critical academic and institutional goals.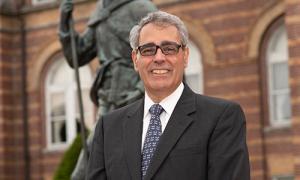 Chair of the Board of Trustees Ann M. Catino, Esq. '82 said, "We have found in Dr. Favazza a president who will strengthen our Benedictine spirit as we move forward, to ensure that our college and our students reach their fullest potential in the lifelong pursuit of truth, personal growth and service. He understands and embraces the enduring value of a liberal arts education and our traditional core, and recognizes the need to prepare students for pre-professional programs and to instill the values of life-long learning and service to others. We were drawn to Dr. Favazza's vision of what the future of Saint Anselm can be, and we are confident in his ability to work closely and effectively with our Board, the members of Saint Anselm Abbey, and our entire community. He knows the vital role Saint Anselm College plays in the life of our students and faculty, as well as for the economy, workforce, and Manchester community. We are very excited about what he will bring to our college, and we look forward to a vibrant future under Dr. Favazza's leadership." 
At Saint Anselm, he will follow Dr. Steven R. DiSalvo, who will assume the role of president of Endicott College in Beverly, Mass., on July 1. 
Dr. Favazza comes to Saint Anselm College from Stonehill College in Easton, Mass., where he has served as Provost and Vice President for Academic Affairs since 2012. His leadership helped shape Stonehill's intellectual culture by building a community of teaching, learning, and scholarly excellence among the faculty. He was also instrumental in the move to restructure the academic program into two schools, the Thomas and Donna May School of Arts & Sciences and the Leo J. Meehan School of Business, as well as to developing and launching targeted graduate programs. 
Prior to his current role at Stonehill, Dr. Favazza served as Dean of General Education, overseeing a new core curriculum and interdisciplinary programs, and as Associate Vice President for Academic Affairs and Dean of the Faculty. He was a tenured Associate Professor of Religious Studies and Director of the "Search for Values" Program for Interdisciplinary Humanities at Rhodes College in Memphis, Tennessee, and has published and presented widely on a range of issues from ritual practices of forgiveness and reconciliation to academic leadership and pedagogy. 
A native of Memphis, Tennessee, Dr. Favazza is the youngest of four siblings and a first-generation college student. 
"My wife Paddy and I are excited to be welcomed into the Saint Anselm community which has already shown us its legendary hospitality and community," says Dr. Favazza. "The Catholic and Benedictine mission of Saint Anselm College has drawn me to this opportunity and it resonates strongly with my experience as a faculty member and an academic leader at Rhodes College and Stonehill College. I look forward to working closely with the Board of Trustees, the Benedictine community, faculty, staff, students, and alumni to ensure that Saint Anselm continues to educate and transform students as it has for the last 129 years." 
Dr. Favazza will assume the presidency of Saint Anselm College on July 15, 2019.