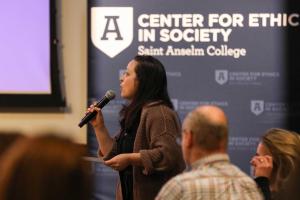 Community
Invitation Only: If you would like to receive an invitation, please email ethics@anselm.edu
For years now N.H. has been suffering from an affordable housing crisis. Are there signs of hope? Join us as we discuss progress at both the state and local level, celebrate individuals and communities that are making a difference, get an update on the NH Zoning Atlas, and discuss priorities for 2024. 
The forum will feature a live interview by Laura Knoy of Dr. Jim O'Connell (subject of Tracey Kidder's "Rough Sleepers"), inspiring stories of local momentum, a facilitated roundtable discussion of obstacles and solutions, Home Matters Leadership Awards, and more.
Breakfast and lunch with be provided. If you have questions, please email: ethics@anselm.edu
Schedule:
8:30 am: Participant Registration and Continental Breakfast
9:00 am: Welcome
9:15 am: Signs of Hope
Housing-Friendly Zoning: an unveiling of the 2023 Atlas and inspirational models of change in NH Communities (20 minutes)
Legislative Progress: an update on pro-housing legislation in the 2023 and 2024 state legislative sessions (10 minutes)
Rapid Fire Housing Success Stories: hopeful housing stories from the NH community (45 minutes)
10:30 am: Break
10:45 am: Facilitated Roundtable Discussion
12:00 pm: Lunch and Moderated Interview with Dr. Jim O'Connell: Laura Knoy interviews Dr. Jim O'Connell, the subject of Tracey Kidder's Rough Sleepers.
1:15 pm: Home Matters in New Hampshire Awards from Housing Action NH
1:30 pm: Closing Remarks
Event details for Signs of Hope: the 6th Annual Housing We Need Roundtable Forum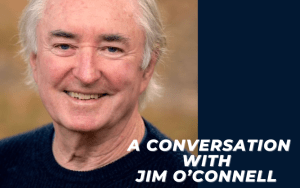 Join us for a live interview with Dr. Jim O'Connell, the subject of Pulitzer Prize-winning journalist Tracy Kidder's book Rough Sleepers.
Dr. O'Connell will be interviewed by Laura Knoy about his work as the founding physician of the Boston Health Care for the Homeless Program.
Sponsored by New Hampshire Housing.