The Center for Ethics is dedicated to preparing the next generation of leaders to be the best they can be. Student programs are designed to foster dialogue, build leadership skills, and encourage intellectual pursuits. 
Campus Dinner Discussions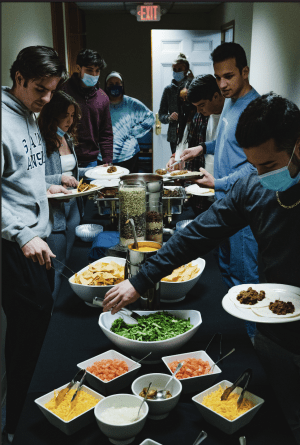 The Center hosts a series of on-campus talks and discussions for the Saint Anselm College community. Students eat a free, catered dinner and get a chance to interact with professors, staff, and monks in an informal environment as they lead a discussion on a topic of their choosing. The purpose of these dinner discussions is to give the campus community a chance to talk about "big ideas" beyond the constraints of a formal classroom and to contribute to intellectual pluralism and tolerance on campus. If you have any topics you want to discuss, email ethics@anselm.edu.
Past topics include: 
Should Museums Give Historical Objects Back to Their Counties of Origin? with Dr. Kate Bentz (Fine Arts)
Improving Access to Equitable Healthcare with Dr. Carrie MacLeod and Dr. Destiny Brady (Nursing)
A Pragmatic Heart-based Ethic with Brother Andrew Thornton (Saint Anselm Abbey)
Student Employment Opportunities
Student employees assist in day-to-day operations and programs, and many assist with High School Ethics Circles, where they facilitate discussions on ethical topics for high school students and help prepare them for the annual Goodchild Ethics Bowl. For more information about employment opportunities, email ethics@anselm.edu.
Access Academy
The Center for Ethics supports the Meelia Center for Community Engagement's Access Academy program, an afterschool program that gives Manchester high school students who are typically underrepresented in higher education the opportunity to take classes for credit toward graduation. The Center for Ethics has supported multiple classes taught by Saint Anselm College student instructors since 2019: Ethics in Your World, Ethics in Law, Ethics in Literature, & Ethics in Psychology.
Student Research
The Center supports student research; click here to read about the research Laura Santer '21 did with support from Center staff. 
Goodchild College Ethics Bowl
With the support of alumnus Kenneth J. Goodchild, Saint Anselm College students participate in an on-campus Ethics Bowl. Judges include business and non-profit executives, as well as distinguished College alumni. College Ethics Bowl competitions were held in the spring of 2021 and 2022, with the winning teams demonstrating careful analysis of the central ethical challenges, thoughtful awareness of the views of those who might not agree with them, and a well-organized presentation.
International Business Ethics Case Competition (IBECC)
Every year, a team of students from Saint Anselm College participate in the International Business Ethics Case Competition (IBECC). IBECC is a collegiate competition where teams of 3-5 students present the ethical, legal, and financial dimensions of a business ethics case study. The team acts as an internal or external consultant brought in by a company to address an issue.
The 2023 Saint Anselm College team was composed of Jacob Akey, Riley Buchanon, Sara Danner, Thomas Donovan, and Anthony Walters. Their case centered around the ethical issues of the company OpenAI, including the growing concern of using ChatGPT for academic dishonesty. They won second place for their full-length presentation and first place for their 90-second elevator pitch.
Executives on Campus Series
The Center's Advisory Board contains a number of distinguished corporate and community leaders, who graciously volunteer their time to come and speak with Saint Anselm College Students. Board members are paired with classes that cover topics in the board members' field of expertise. Such topics include writing and journalism, criminal justice, human resource management, sports marketing, and more.