The Center for Ethics is dedicated to preparing the next generation of leaders to be the best they can be. Student programs are designed to foster dialogue, build leadership skills, and encourage intellectual pursuits. 
Faculty-Student Dinners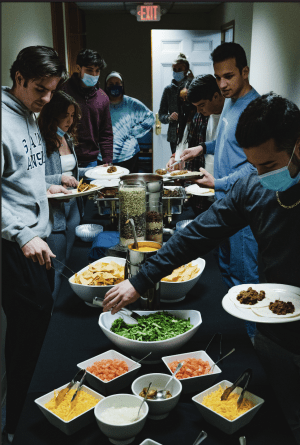 The Center hosts a series of on-campus talks and discussions between Saint Anselm College students and faculty. Students eat a free, catered dinner and get a chance to interact with professors in an informal environment. The purpose of these dinner discussions is to give students and faculty a chance to talk about "big ideas" beyond the constraints of a formal classroom and to contribute to intellectual pluralism and tolerance on campus. If you have any topics you want to discuss, email ethics@anselm.edu.
Past topics include: 
Dr. Christine Kenison and Dr. Rebecca Cristafulli (Modern Languages), "Wouldn't it be easier if we all spoke a universal language?"
Dr. Phil Pajakowski (History), the Ethics of Criminal Punishment.
Dr. Aubrey Scheopner Torres (Education), "Should We Have Standardized Tests?"
Student Employment Opportunities
Student employees assist in day-to-day operations and programs, and many assist with High School Ethics Circles, where they facilitate discussions on ethical topics for high school students and help prepare them for the annual Goodchild Ethics Bowl. For more information about employment opportunities, email ethics@anselm.edu.
Access Academy
The Center for Ethics supports the Meelia Center for Community Engagement's Access Academy program, an afterschool program that gives Manchester high school students who are typically underrepresented in higher education the opportunity to take classes for credit toward graduation. Center staff has supported two classes taught by Saint Anselm College student instructors over the course of multiple semesters: "Ethics in Our World" and "Ethics in Law." 
Student Research
The Center supports student research; click here to read about the research Laura Santer '21 did with support from Center staff. 
Goodchild College Ethics Bowl
With the support of alumnus Kenneth J. Goodchild, Saint Anselm College students participate in an on-campus Ethics Bowl each semester. Judges include business and non-profit executives, as well as distinguished College alumni. In Spring 2021, Ethics Bowl was virtual, and Saint Anselm student teams discussed the ethical issues involved in factory farming, dining out during a pandemic, fast fashion, and cancel culture, among other cases. Judges included Paul Casey (retired partner, Ballard Spahr LLP), Dean Christon (Executive Director of New Hampshire Housing Finance Authority), Ryan Hvizda (Principal, Hvizda Realty), Elissa Margolin (Executive Director of Housing Action NH), Connie Roy-Czyzowski (Vice President of Northeast Delta Dental), and Molly Lunn Owen (Executive Director of 603 Forward). The winning team demonstrated careful analysis of the central ethical challenges, thoughtful awareness of the views of those who might not agree with them, and a well-organized presentation.
International Business Ethics Case Competition (IBECC)
Five Saint Anselm College students participated in the 2022 International Business Ethics Case Competition in April. IBECC is a collegiate competition where teams of 3-5 students present the ethical, legal, and financial dimensions of a business ethics case study. The team acts as an internal or external consultant brought in by a company to address an issue.
The Saint Anselm College team was composed of Natalie Bender '23 (Great Books/Music), Erin Doyle '25 (Psychology), Anders Larson '23 (Philosophy), Kathleen McCarthy '22 (English/Theology), and Catherine Roberge '24 (Biology).
The team argued that Twitter's algorithms create unethical echo chambers, where users only see content that aligns with their views. They urged the judges, who acted as top Twitter executives, to change the algorithms slightly to show users more content that might offer different viewpoints.
Executives on Campus Series
The Center's Advisory Board contains a number of distinguished corporate and community leaders, who graciously volunteer their time to come and speak with Saint Anselm College Students. Board members are paired with classes that cover topics in the board members' field of expertise. Such topics include writing and journalism, criminal justice, human resource management, sports marketing, and more.