About
Diversity and Inclusion Innovation Fund (DIIF) is a fund established to support faculty, staff, monastic and student community members in the development of a project that will advance diversity and inclusion throughout our campus community. Diversity means to include individual and group/social differences. The Saint Anselm community is inclusive of individuals who reflect a broad range of social identities including, but not limited to, the following: Socioeconomic Class, Race, Ethnicity, Gender, Sexual Orientation, Disability, Religion, Politics, National Origin, and First Generation. Inclusion is the active, intentional, and ongoing engagement with diversity.
Purpose
To support Saint Anselm College community-based initiatives that enhance diversity and inclusion throughout our campus community. The DIIF is a targeted, institutional investment designed to encourage cross-campus collaborations to improve diversity and inclusion for long-term community growth in harmony with our Catholic and Benedictine values.
At A Glance
Eligibility: all faculty, staff, monastic, and students are eligible to receive funds.
Application deadlines: Rolling. Applications are reviewed monthly throughout the academic year.
Duration: one semester or one academic year
Typical grants will range from $500 to $2,500.
Administration and Selection
The funds are administered through the Office for Diversity and Inclusion. The DIIF review committee is appointed by the Chief Diversity Officer, chaired by a member of the President's Committee on Diversity and Inclusivity (PCDI) and includes faculty, staff, monastic, and student community members. The Diversity Innovation Fund is awarded through a competitive grant application process. Not all projects are funded.
The selection committee invites proposals for funding in the following areas: 
Dialogue and civil discourse for social equity - Projects that promote dialogue and civil discourse about topics directly related to equity and social justice. 
Integration of local/global diversity – Projects that support the integration of underrepresented and historically marginalized groups. 
Faculty or staff research and teaching re: diversity - Projects that enhance teaching and scholarship including diversity-related curricular projects as well as support for diversity-related research. 
The selection committee will evaluate each project proposal on the following criteria:
Innovation/creativity

Is the project innovative and creative? Does it bring something to our campus community that has never been seen/done before?

Feasibility

Can this project be completed in the time required and with the funding requested? Are there contingencies should the project receive partial funding?

Level of collaboration

Does the project's organization involve several campus departments/organizations? Does the project contain elements that will engage multiple campus constituencies?

Fostering a campus culture of belonging

Does the project's goals align with the purpose of the DIIF?
Submission guidelines:
Applications will be accepted on the 15th of every month (starting on September 15) or until funds run out. First come, first served. This "rolling" application process will allow prospective innovators to consider diversity project proposals throughout the year without the restriction of a hard deadline. Funds must be utilized within the fiscal year, so it does take some planning on your part. 
The last deadline to apply for a DIIF mini-grant is March 15 at noon, which allows project coordinators time to implement their ideas with the awarded funds.
Submit proposals with the application cover sheet via email to Diversity & Inclusion Innovation Fund @ diif@anselm.edu. 
Questions regarding submission details may be directed to Paro Pope at ppope@anselm.edu.
Questions regarding project consultation may be directed to Dr. Ande Diaz at adiaz@anselm.edu.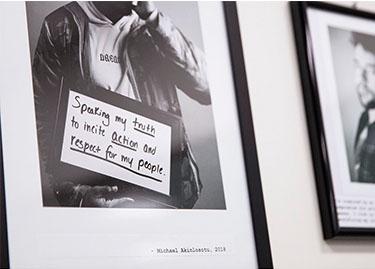 Anselmian Network for Racial Justice
"As an institution, we are guided by our Catholic and Benedictine mission and identity in which all human life is valued and all are worthy of the same dignity and respect. With this in mind, we have spoken with a collective voice in naming racism a social evil and embracing productive efforts to engage in positive change."