Table of Contents
Spotlight on Fr. Stephen Lawson
Diversity & Inclusion Innovation Fund
Looking Ahead: March is Women's History Month!
Have an idea for the Inclusion Bulletin? Submit it today!
---
A Word from Dr. Diaz
Saludos and greetings Anselmians! This issue introduces us to people and perspectives across campus and across the globe. This bulletin spotlights Fr. Steven – learn a little about his background and a program he helped facilitate on faith and forgiveness.This issue also includes the Diversity & Inclusion Innovations this semester. As we expand our concepts of the African Diaspora, Professor Sarah Hardin (History) highlights the African concept of "Ubuntu" meaning "I am because we are" which is a good reminder as we see the conflicts around racial and religious strife around the globe. This issue invites us to look through a collectivist cultural lens even while thinking of individuals.
Next Professor Michael New (English) unpacks the power behind "The Fierce Urgency of Now" that is this year's theme of the college's MLK celebration. Professor New goes on to quote Dr. King's words "to see the enemy's point of view, to hear his questions, to know his assessment of ourselves… from his view we may indeed see the basic weaknesses of our own condition, and … may learn and grow and profit from the wisdom of the brothers who are called the opposition."
Lastly we showcase some of the culturally rich upcoming programs this month such as this Friday's African American Music Concert, a student panel, and a discussion of "The New Jim Crow" about mass incarceration. We also look ahead to March, (Women's History Month) with programs on artist Frida Kahlo and discussions on stereotypes of Asian American women in the media. Read on!
---
Spotlight on Member of the Community: Fr. Stephen Lawson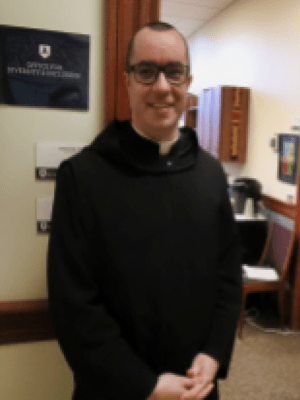 Q: Where or what was home for you growing up? 
I grew up in Holyoke, Massachusetts in a family of eight boys. Yes, my mom is a saint! I graduated from Saint Anselm College in 2008. After college I worked as a political journalist and for a civic engagement group. In January 2010 I entered the monastery. Over the last 12 years I have studied at Saint Meinrad Seminary, worked in the Office of Campus Ministry, taught in the Conversatio program, and I currently work in the Finance Office.
Q: What is the quality that made you choose to make Saint Anselm College your permanent home?
I decided to make Saint Anselm my permanent home because of its small town feel and community. Additionally, this is the place where I found my faith.
Q: What do you think the college does well in terms of diversity and inclusiveness and expressing our value of hospitality?
Our students can make a direct impact on causes they are passionate about. The Intercultural Center is a great example of providing students with ways to build a diverse and inclusive campus environment and student-to-student contact is an effective way of learning across differences. For example, the Transitions Program and the Hilltop Academy have been great additions!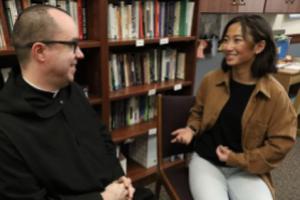 Q: What can we do as a community to strengthen a culture of inclusion going forward?
I think it is important for the College to continue to reduce the financial barriers and expand the support we give to students from disenfranchised backgrounds. Moreover, it would be wonderful if we had the monetary resources to allow students to participate in all college activities free of charge.
Q: Anything else you have done or want to share?
In partnership with director Wayne Currie, I was able to show the film Emmanuel (An inside look at the tragic event that took place in Charleston, South Carolina at the Emanuel AME Church, where 9 innocent churchgoers were gunned down)and facilitate a discussion on the role of faith and forgiveness. I also try to learn the names of all the students I meet. Please stop me and say hello!
---
Did You Know?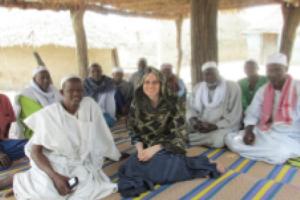 The African Nguni proverb "Umuntu ngumuntu ngabantu [a person is a person through other people/I am because we are/I am because you are]" describes the basis of the concept of Ubuntu [humanity]. Kenyan literary scholar James Ogude writes in his book UBUNTU AND THE EVERYDAY that "ubuntu" elaborates on the concept stating "your sense of self is shaped by your relationships with other people" this perspective can be "counterweight" to society's overemphasis on individualism. For more on Umuntu, check out the Steve Paulson radio interview
Professor Sarah Hardin (History) recently published "A Collective Struggle: Cotton Production by and for a Fulbe Sufi Brotherhood in Postcolonial Southeastern Senegal," in the African Studies Quarterly. Here's a link to the article and the abstract
Though my research is in Senegal, West Africa, I find the following southern African Nguni proverb, Umuntu ngumuntu ngabantu, and the corresponding concept of Ubuntu applicable to my work and daily life. The concept has been translated as "humanity," and the proverb as either "a person is a person through other people," "I am because we are," or "I am because you are." Archbishop Desmond Tutu, who just passed away on December 26, 2021, popularized Ubuntu during South Africa's Truth and Reconciliation Commission (TRC). Rather than defining people as individual owners of private property, we should respect how individuals are formed by one another.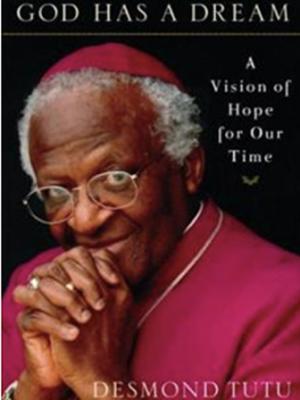 The Ubuntu concept was popularized during South Africa's Truth and Reconciliation Commission (TRC) chaired by the Archbishop Desmond Tutu.
Prof. Michael New, (English) reflects on Rev. Dr. Martin Luther King Jr.'s phrase "The Fierce Urgency of Now," which is the theme of this year's MLK Celebration at the college. Prof. New goes on to say:
"In Conversatio II —The Good Life, one of the readings I'm including in the Democracy and Rhetoric unit is a speech given by Dr. King. Called "Beyond Vietnam—A Time to Break Silence," the 1967 speech is one of King's most controversial statements and, to me, one of his fiercest and most necessary. After laying out the many reasons why Civil Rights and foreign policy need to be reckoned with in tandem, King undertakes a consideration of how the U.S. might look to "those who have been designated as our enemies." His words "to see the enemy's point of view, to hear his questions, to know his assessment of ourselves." King explains that "from his view we may indeed see the basic weaknesses of our own condition, and if we are mature, we may learn and grow and profit from the wisdom of the brothers who are called the opposition."
Humility helps us come to terms with the limitations of our understanding, which leads to a maturity that may enable both empathy for others as well as individual personal growth. King makes the leap to show how militarism is not only destructive to the so-called enemy abroad, but also results in devastation among the authors and sponsors of violence. Allowing oneself to take part in such brutality is itself degrading; becoming an oppressor means forsaking one's own humanity.
Such an insight suggests, for King, that "The war in Vietnam is but a symptom of a far deeper malady within the American spirit," and prompts him to declare that "When machines and computers, profit motives and property rights, are considered more important than people, the giant triplets of racism, extreme materialism, and militarism are incapable of being conquered."
As an antidote, King proposes that we "recapture the revolutionary spirit and go out into a sometimes hostile world declaring eternal hostility to poverty, racism, and militarism." His call to action involves a "revolution of values" in which we must reorient our entire worldview and social structure.
To become "the Good Samaritan on life's roadside" King considers an "initial act." The next step is "to see that the whole Jericho Road must be transformed so that men and women will not be constantly beaten and robbed as they make their journey on life's highway." He contends that "True compassion is more than flinging a coin to a beggar. It comes to see that an edifice which produces beggars needs restructuring."
His impassioned conclusion speaks to the "fierce urgency of now." He writes:
"In this unfolding conundrum of life and history, there is such a thing as being too late. Procrastination is still the thief of time. Life often leaves us standing bare, naked, and dejected with a lost opportunity. The tide in the affairs of men does not remain at flood -- it ebbs. We may cry out desperately for time to pause in her passage, but time is adamant to every plea and rushes on. Over the bleached bones and jumbled residues of numerous civilizations are written the pathetic words, "Too late."
Submitted by Prof. Michael New (English)
Looking ahead this spring, Saint Anselm College will be highlighting lessons and learning about indigenous peoples. Prof. Thorn (English) recommends the book Sand Talk: How Indigenous Thinking Can Save the World, by Tyson Yunkaporta, an Aboriginal scholar and artist. "It's challenging and gentle, clear-eyed and encouraging. Instead of trying to summarize either the form or the voice of this wide-ranging meditation on the state of the world, the environment, our communities."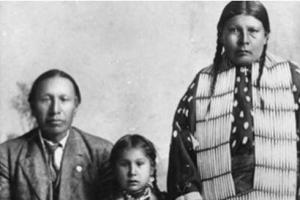 Prof Thorn offers this quote from the book, Sand Talk, "real move toward sustainability will require us to cease limiting our understanding with simplistic language around group and individual identities, villain and victim branding, so that we can see what our actual diversity looks like and what it can do for us" (71). Learn more about the book
On March 8, 2022, Damian Costello will speak on "Indigenous Christianities in a Colonized Land" at 4 pm in Dana 1-D. Abenaki people, after centuries of marginalization, are finally starting to get public recognition of their presence and the importance of their legacy for the future of New Hampshire. This talk uncovers the deep Abenaki engagement with Catholicism that began in the 1600s. While thoroughly Catholic, Abenaki faith defies a number of our contemporary assumptions about the relation between race, politics, economy, and faith. Through an examination of analogous Native Catholic witnesses, such as Nicholas Black Elk, the Lakota holy man and Catholic catechist whose cause for canonization is being examined at the Vatican, the talk suggests the value of recognition of Abenaki heritage to Catholic spaces and self-understanding. The presentation includes contemporaneous photographs, artwork, and clips from the documentary "Walking the Good Red Road: Nicholas Black Elk's Journey to Sainthood," for which Damian Costello was chief consultant. This event is supported by a NHIOP Distinguished Speaker Award.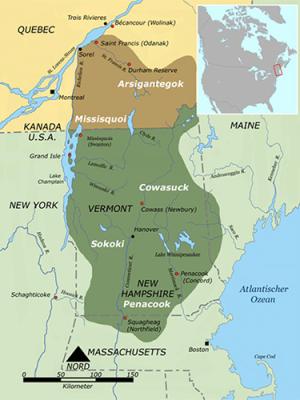 Damian Costello received his Ph.D. in theological studies from the University of Dayton and specializes in the intersection of Indigenous spiritual traditions, Catholic theology, and colonial history. He is an international expert on the life and legacy of Nicholas Black Elk and the author of Black Elk: Colonialism and Lakota Catholicism. Costello's work is informed by five years of ethnographic work on the Navajo Nation and is on the faculty of NAIITS, the North American Institute for Indigenous Theological Studies. He is a founding member and the American co-chair of the Indigenous Catholic Research Fellowship (ICRF) and frequent contributor to America Magazine and U.S. Catholic.
For more information; please contact Prof. Thorn (English)
Recent programs on indigenous peoples include:
a talk by Peter Bayers "The Rez, Lakota Males, and the Regeneration of Lakota Masculinity," following a screening of "Skins," dir. Chris Eyre (Cheyenne and Arapaho)
a screening and discussion of "LaDonna Harris: Indian 101" (March 2018); a talk by Siobhan Senier "Digital Humanities and Indigenous Voices: The Case of 'Dawnland Voices'"
a screening and discussion of "Dawnland; Unerasing Indigineous New England History'', on Maine's Truth and Reconciliation Committee. All three programs received funding from the Diversity and Inclusion Innovation Fund. For more on the DIIF, see below:
---
Diversity & Inclusion Innovation Fund
The Office for Diversity & Inclusion accepts proposals twice a year to provide grants up to $2500 for initiatives that will advance our culture of inclusiveness at the college. This semester's winners are listed below. Contact them directly with any questions. 
Upcoming DIIF Information Sessions
Tuesday, March 1st, 2022, 4-5 p.m.
Virtual Session
Wednesday, March 9th, 2022, 12:30-1:30 p.m.
Virtual Session 
Thursday, March 24th, 2022, 12-1 p.m.
Virtual Session
Anselmian B.R.E.A.K. | Saylor Garcia, Class of 2024, Riley Casey, Campus Ministry
This project focuses on providing students with education about Indigenous populations, opportunities for cultural immersion, and a platform for students to engage in post experience advocacy.
Conexiounes neoyorquinas: Hispanic/LatinX NYC  |  Elizabeth Fouts, Modern Languages & Literatures, Marigen Learnard, Modern Languages & Literatures
A trip to New York City for the nursing students of SP 400 Senior Seminar: Hispanic Literature and Medicine allows students to experience the rich LatinX and LGBTQ+ history and culture.
Dawnland: Indigenous NE  |  Jennifer Thorn, English, Dianna Terrell, Education
This two part program starts with a screening of "Dawnland: Erasure and Unerasure of U.S. History '' and a public talk by Mishy Lesser of the Upstander Project on Truth and Reconciliation. The second part is a workshop for NH teachers/educators about how to include indigenous New England in their lesson plans/curriculum, K through 12.
Francophonie Month  |  Emilie Talpin, Modern Languages & Literatures, Ellery Kraus, Class of 2022
The French program and the French Student Club will hold a small concert and teach our community and local students about West African drumming and dancing followed by a community meal showcasing food, culture, and stories.
Overlooked Scientists  |  Nicole Eyet, Chemistry
Countless stories have gone untold by the greater scientific community. Faculty will choose a topic associated with an overlooked or uncredited scientist to integrate the diversity of scientific achievements into a course.
---
Think you might have a cool idea for welcoming diversity at the college?
Consider applying for grants for Fall 2022. Deadline is Friday, April 1, 2022 by Noon.
We hope you will propose your ideas! More information
---
Coming Soon: Save the Date!
MLK Jr. Book Club Discussion
Wed. February 23, 4-5 pm
via Zoom
The New Jim Crow: Mass Incarceration in the Age of Colorblindness
Wed. February 23, 4-5 pm
via Zoom
---
Looking Ahead: March is Women's History Month!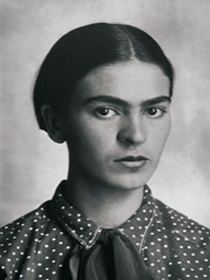 Screening and discussion: Profs. Ines Vano Garcia (Modern Languages) and Laura Shea (Fine Art) will host a screening and discussion of the film "The Life and Times of Frida Kahlo" on Wed. March 23, 4-6 pm, in Dana 1-D.
Frida Kahlo is part of popular culture, on t shirts and tote bags. What does this image miss about her pioneering life and art? And how does thinking about the reality and image of Frida Kahlo through her art help us see something important about differences among her potential multilingual audiences? (Supported by a Diversity & Inclusion Innovation award.)
 
Promoting Awareness of Harmful Stereotypes of Asian American Women in Hollywood
Cohosted by Chloe Peng '22 and Prof. Jennifer Thorn (Gender Studies):
The short films "Slaying the Dragon" and "Slaying the Dragon, Reloaded" which consider the representation of Asian and Asian American women in Hollywood from the silent film era to today, will be shown as a campus event on March 30, 4-6 pm in Dana 1-D. (Supported by a Diversity & Inclusion Innovation award.)