Table of Contents
Spotlight: Office Intern Grace Wirein, '21
The Unity Retreat: "A tale of two Americas: Anselmians Uniting in a time of division"
Diversity and Inclusion Innovation Fund (DIIF)
---
A Word from Dr. Diaz
Bienvendos a todos! Saludos a todos! (Greetings everyone!)
This issue of the bulletin spotlights one of our international students who is making a difference on campus. We also welcome autumn by introducing the U.S. Conference of Catholic BIshops letter on racism and inviting reflections from a few campus leaders. This issue highlights three Diversity & Inclusion Innovation Fund winners. Lastly, don't forget to SAVE THE DATES for exciting programs this fall. Read on!
---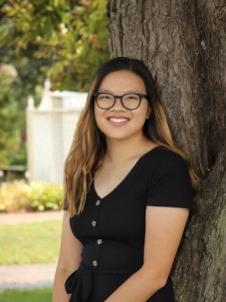 Spotlight: Office Intern Grace Wirein, '21
Q: What are some things you think Saint A's is doing well in fostering a diverse and inclusive community?
Since the start of this academic year the college has done a much better job of dedicating itself as an institution to supporting and promoting racial and social justice in and out of the classroom, especially with the creation of the Anselmian Network for Racial Justice.
 
Q: How can you personally help make Saint A's more welcoming to everyone?
In my work at the office and the projects I am a part of, it's my overarching goal to help be a part of the change in making the campus a more inclusive and open space for any and all people. I think being relatable and meeting people where they are is a big part of making others feel welcome and that they belong to the whole community.
---
Did You Know?
Just a reminder that the office's resource library is now open for members to check out materials! Stop by and sign out interesting books and articles on topics such as pedagogy, social justice, race, American Studies, civic engagement, intergroup dialogue, etc.! The library's newest addition, "Me and White Supremacy" by Layla Saad, a powerful read indeed! Grace's office hours are Mondays and Wednesdays from 10 a.m. to 3 p.m. We welcome you to stop by to check out any of our resources.
---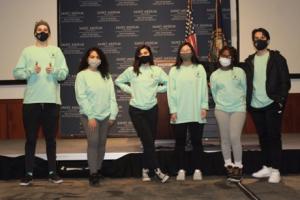 The Unity Retreat: "A tale of two Americas: Anselmians Uniting in a time of division"
The Unity Retreat took place Feb. 19-20, at the NH Institute of Politics. Two student leaders, Anna Gendron '23 and Marivella Blann '21 shared their thoughts.
 
 Q: Can you describe the program and topics? What are some of the goals of the activities?
ANNA: Our overall theme for this Unity Retreat was talking about our current situation in society. We all recognized that there is a lot of division lately, and with the Unity Retreat we'd be focusing on bringing students together and unifying ourselves. We wanted to talk about the divided America and unity through our student body.
MARI: We wanted to educate people on privilege in general, because a lot of people think of privilege as just being white privilege, but there's privilege within different cultures. We went over COVID-19 and how it affects different communities and groups of people, and we also did xenophobia.
 
Q: What draws Saint A's students to the retreat?
ANNA: A lot of people were drawn to this because they want to educate themselves and they want to learn what they can do. I think the fact that it's a student-led opportunity that helps and encourages students, I think it makes it a lot more personable and desirable.
MARI: Once people return from the retreat that's kind of all they talk about, sometimes people will post different things on social media about them having fun at the retreat. I think since everyone is together, it allows them to branch out to people that they've never talked to. I think everyone wants to feel included and the retreat does a good job of uniting people.
 
Q: What do Unity Retreat participants take away from the experience?
ANNA: With the knowledge that people were able gain from this, they realized there is still so much you can learn and so many different ways that our fellow students are providing each other with the opportunity to learn even more. Yes there are things everyone knows about and everyone knows racism exists and COVID exists, but I don't think everyone knew truly how much there is and how broad those topics can get.
MARI: I think the big takeaway is we're all the same, even though we're so different. Everyone has a different story and a different background, but in the end you realize that the person next to you is going through the same things or maybe similar situations that you are, and you're not alone. So I think it just makes people feel almost relieved at the end of the retreat.
---
Diversity and Inclusion Innovation Fund (DIIF)
Seeking funding for your ideas?
Apply and your project could be awarded up to $2,500! We support ideas from faculty, staff, monastic and student community members.
Deadline: Wed., March 31 at noon
Upcoming Info Sessions
Tues., March 9, 12:00 p.m. - 1:00 p.m., via Zoom
Wed., March 17, 12:30 p.m. - 1:15 p.m., via Zoom
Wed., March 24, 4:00 p.m. - 5:00 p.m., via Zoom 
Read more about the Innovation Fund or contact Dr. Ande Diaz at adiaz@anselm.edu.
---
Upcoming Events
March: Women's History Month
*March 1-3
Student Photo Contest
March 4
"We Should All Be Feminists" TED Talk and Discussion – 8 p.m. – Event Space
March 8
International Women's Day 2021 Awareness Event
*March 10
United Nations Interfaith Harmony Reading Group: The Cosmic Common Good: Religious Gruonds for Ecological Ethics by Dr. Daniel Scheid – Comparative Approach: Hindu Ethics Reading Group Discussion – 7:00 p.m. – Zoom
*March 16
Reimagining Justice Series – Keeping Watch: Surveillance and Race – 7:00 p.m.– Zoom
March 16
Navigating The "Real World" As A Woman – 7:00 p.m. - Zoom
*March 16
Empathy Cafe Workshop - 7:00 p.m. - Zoom
March 18
Movie "Women In The Workplace" - 5:00 p.m. - Melucci Theater
March 24
Women History Month Virtual Lunch Panel Discussion - 1:00 p.m. - Zoom
*March 24
United Nations Interfaith Harmony Reading Group: The Cosmic Common Good: Religious Grounds For Ecological Ethics by Dr. Daniel Scheid - Comparative Approach: Buddhist Traditions With A Member Of The Buddhist Community - 7:00 p.m. - Zoom
March 29
Student Research Spotlight: A Daily Diary Study Of Grandmothers Providing Extensive Or Custodial Care For Grandchildren - 12:30 p.m.
Stay tuned for additional True Life talk dates/times for the month of March!
(events with * are DIIF funded programs)