Table of Contents
Spotlight on Rong Huang, Assistant Professor of Economics & Business
A Focus on Requity Labs at Saint Anselm College
Multicultural Student Coalition Family Reunion
Empathy Café – A Workshop on Understanding Different Perspectives and Cultivating Empathy
Have an idea for the inclusion bulletin? Submit it here!
---
A Word from Dr. Diaz
Greetings Anselmians! Despite the tumult of 2021 and the intensity if the "twin pandemics" (Covid and racial reckoning) the Hilltop community holds us together. In this issue of the bulletin we offer a bilingual "Spotlight" on Professor Rong Huang and how Saint A's has become her home. We also feature the Requity Labs directed by Professor Loretta Brady. And the Multicultural Student Union did not let the pandemic stop their annual "Family Reunion" with the Multicultural Alumni Network. Also this spring 75+ employees took LGBTQ+ Awareness workshops to enable them to better support all members of our community. This issue also recaps Diversity & Inclusion Innovation Fund winners including the Empathy Café and ends with a preview of upcoming events. Lastly, the Office for Diversity & Inclusion sends best wishes are you finish the semester. Buena suerte (good luck) with finals one and all!
-- Dr. Ande Diaz
---
Spotlight on Rong Huang, Assistant Professor of Economics & Business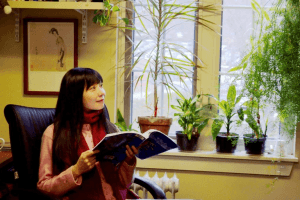 Q: Where's home for you?  |  你的家在哪儿?
That's a very tricky question. I've been asked many times by people something like, "Where are you from?" and it's very hard for me to answer because I've been moving around in the past 20-25 years, all around the world. I really regard here as my home. If you're referring to where I was born, it is China. For me, home is where the heart feels comfortable and peaceful, and it's here.
这是一个非常棘手的问题。 有人问过我很多次,例如"你从哪里来?" 这个问题很难回答,因为过去20到25年间我在世界的不同地方工作和生活。 我会说我的家在这里。 我真的把这里当作我的家。 如果您指的是我的出生地,那就是中国。 对我来说,家就是这里让心灵感到舒适与和平的地方,就在这里。
Q: What are some things you think Saint A's is doing well in fostering a diverse and inclusive community? | 您认为Saint Anselm College在建立多元化和包容性社区方面做得如何?
I think we're doing very well in terms of fostering this diverse community. I would say the overall atmosphere of this community made me feel at home. Again, that is referring to the concept of home, and I do not feel that I'm an outsider, I feel that I'm included in this community right away on the very first day that I was on campus. I feel that I am at home because of the people around me. I think that is a great prerequisite of an institution or company or community doing well in terms of diversity. Of course, we have a lot of programs such as diversity and racial justice programs, which I think in the past 1 or 2 years, these programs have been very active in promoting equality among people, reducing biases and prejudice. I think our Empathy Cafe, and of course the participation of our students, we are trying to contribute a little bit. I think we are doing great.
我认为我们在培养这个多元化社区方面做得很好。根据我的亲身经历,我想说这个社区的整体氛围让我感到像家一般。再说一次,这是指家的概念,我觉得我很快就被容纳入个社区。因为周围的人们令我觉得自己在家里。我认为这是机构,公司或社区良好运转的重要前提。当然,我们还有很多活动和项目,例如多样性和种族正义项目等,发现在过去的1或2年中,这些活动和项目在促进人与人之间的平等,减少偏见和偏见等所有方面都非常活跃。我们做得很好。我们以自己的Empathy Cafe以及同学们的参与,也在努力做出一点贡献。我认为我们学校做得很好。
Q: What do you think we could do better to promote diversity and inclusion? | 您认为有什么可以改进的?
So far, I don't have an answer. I think we've been trying all kinds of means in terms of what we can do. I know we have been trying very hard to recruit international students at the same time. So again, I think we are doing great.
一时间,我回答不上来。我们一直在尝试各种方法尽力推进。 比如,我们一直在努力招收国际学生。 我认为我们做得很好。
Q: How can you personally help make Saint A's more welcoming to everyone? | 从你的角度来看,你能够通过什么方式使得Saint Anselm College更具文化包容性?
One thing is about my teaching.  I would say for all my courses such as International Marketing, Marketing Principles, Consumer Behavior (and in the future I'm going to teach Social Media Marketing and I taught Branding before) I always incorporated the concept of diversity, the concept of reduction of stereotyping into my teaching. That is also important as a great marketer, to have this empathetic view of people. In international marketing course, we spend a lot of time discussing culture and cultural differences. And we really dig into the concept of culture and the different dimensions of culture, how they influence people's behavior and how they influence our marketing strategies.  For my personal experience, I learn from my colleagues and I learn from my own students about diversity because they really bring a lot of new insights into, for instance into the classroom and my life. I do appreciate.  I think I am the one who really benefits from our diversity program and this warm atmosphere here at Saint A's.
首先从我自己教学的角度出发:在我教授的课程中,例如国际市场营销,市场营销原理,消费者行为,(并且将来我要教社交媒体营销,而之前教过品牌营销),我总是将多元化的概念,减低刻板印象等概念融入了教学。要成为一位出色的营销者,同样重要的是要使人们具有同理心。在国际营销课中,我们会花很多时间讨论文化和文化差异。 我们扎实地深入探讨了文化的概念以及文化的不同维度,它们如何影响人们的行为以及他们如何影响我们的营销策略。就我个人的经历而言,我确实从圣安瑟姆学院的氛围中受益,我从同事那里学习,也从我自己的学生那里学习多样性,他们为课堂带来了许多新见解和想法,我很感激。我想也许我是真正受益于我们的多元化计划以及Saint A's这里温暖氛围的人。
---
A Focus on Requity Labs at Saint Anselm College
"As an intern at Requity Labs, I assist in various functions such as supporting communication, literature review, research, and managing lab operations. Over the past couple months, I have been managing the resilience and vicarious trauma project. Interning with Requity Labs has given me the opportunity to develop my professional and intellectual skills."

-Lian Smithers '21, Student Intern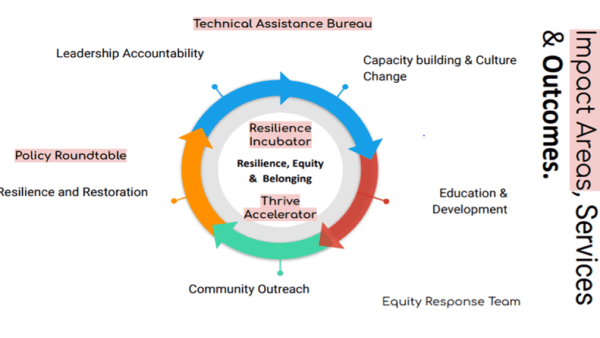 In April 2020, the Psychology Department, led by creator Professor Loretta Brady '99 launched Requity Labs, a dynamic resilience and social equity support resource that empowers workforces to create antiracist policies, foster equitable economic growth, and shape culture, arts, and game-based social interventions to support intra and intercultural growth.
The Lab hopes to be recognized as a program that is instrumental in the development of tomorrow's Chief Diversity, Resilience, and Equity Officers. "We create agents for tomorrow's demands."
Professor Brady has organized community partnerships and collaborations into learning challenges and support opportunities where students and faculty can collaborate on projects. This academic year, students across several majors worked to support two interventions, one on youth positive identity development to support LGBTQ+ identity and another as part of a STEM education program. The projects fulfill a variety of inclusive education needs.
Requity Labs is a dynamic research center and consultancy established to translate social equity research into organizational practices and equitable community impacts.
●We produce events and curate resources that support resiliency, inclusion, and social equity.
●We convene groups to create solutions with vulnerable communities.
●We build curriculum that support holistic professional development for our community's most vital leaders
●We provide products and programs to support those recovering from adversity in its many forms.
Resilient and equitable community development results in stronger people, places, and policies that lead to shared success.
---
Recap of LGBTQ+ Workshop
This spring the college held four professional development workshops to support our LGBTQ+ community. Over 60 faculty and staff participated in a "Foundations of Awareness" workshop (100 level) in March and an additional 18 previously trained employees took an LGBTQ+ Awareness workshop as a "refresher" in April. These workshops provided information regarding evolving terms in the LGBTQ+ community, along with resources that may be helpful for themselves and their students.  In addition, these 75+ employees will be invited to attend a "LGBTQ+ Allyship" workshop (200 level) on May 20. The May workshop is recommended for individuals who want to offer themselves as supportive allies and advocates in our community. The workshops are facilitated by Julia Golden (They/Them), Associate Dean of Students at Massachusetts College of Pharmacy and Health Science University. The workshops were developed by the Office for Diversity & Inclusion and Campus Ministry in partnership with Human Resources, Core Council, TEDA, and the Office of the Dean of the College.
---
Multicultural Student Coalition Family Reunion
On April 24 the Office for Diversity & Inclusion and the Alumni Relations Office worked in collaboration with the Multicultural Student Coalition to host the Family Reunion. Alumni and current students were invited to a virtual reunion to chat about life, what they miss about Saint A's, and what everyone has been up to after graduation. It was a casual setting to meet current MSC members and catch up with alumni. A great conversation was had by all! Alumni from 2016 and on were in attendance, and imparted advice to upperclassmen and graduating seniors. We look forward to having more reunions in the future. Here is to the next one being in-person!
---
Empathy Café – A Workshop on Understanding Different Perspectives and Cultivating Empathy
Sponsored by the Diversity & Inclusion Innovation Fund, the Empathy Café was a series of free workshops held in March and April. The "Café" brought student participants together for interactive experiences to better understand the concept of empathy. On Zoom, participants interviewed each other in pairs about a typical day with classes, and created journey maps to learn about each other's daily routines, level of activity, and high/low mood points. There was a great turnout from students of all classes and majors, and future workshops will tackle topics such as mental health stigma, racial justice, and green living.
Faculty fellows: Professors Kathleen Flannery, Rong Huang, and Dina Frutos-Bencze
Student fellows: Annelise Ciccone '22, Gabrielle Dionne '21, and Grace Wirein '21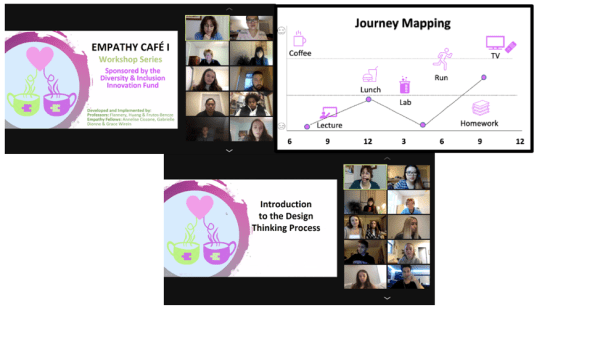 ---
Did You Know?
Launched in the fall of 2017, the Diversity and Inclusion Innovation Fund has provided mini-grants ranging from $500-$2500 to stimulate entrepreneurial innovative initiatives that strengthen the Saint Anselm campus culture. Over 20 departments and campus organizations, and over 40 faculty, staff and student grantees have participated. Since its launching, the Innovation Fund has given out 37 grants to departments and organizations including:                     
Academic Resource Center
Athletics
Chapel Art Center
Conversatio
Criminal Justice
Economics & Business
English; Gender Studies
Fine Arts
Geisel Library
History
Intercultural Center
Modern Languages
Meelia Center
Nursing
Philosophy
Physics
Psychology
Sociology & Social Work
Student Engagement & Leadership Programs
Theology
FALL 2021 DIIF RECIPENTS TO BE ANNOUNCED IN MAY!
---
Looking Ahead
May 1
"Always Be My Maybe" Movie Showing – 8:00 P.M. – Alumni Quad
May 3
Taste of Asia – 11:00 A.M. – Student Center
*May 5
United Nations Interfaith Harmony (UNIH) - Interreligious Cosmic Common Good – 7:00 P.M. - Zoom
May 6
AAPI Student Panel – Event Space
July 12 - 16
Hilltop Academy Summer Bridge Program – Online
Summer/Early Fall
July 18 - August 6
Hilltop Academy Summer Bridge Program – On-Campus LLC
August 16 - 18
Transitions Program – On-Campus
(EVENTS WITH * ARE DIIF FUNDED PROGRAMS)