Table of Contents
Spotlight on Maria Sato '19: Coordinator, of Diversity & Inclusion
Anselmian Network for Racial Justice (ANRJ)
Diversity & Inclusion Innovation Fund (DIIF)
Winners of an Inclusive Career Preparation Award
Looking Ahead - Save the Date!
 
Have an idea for the Inclusion Bulletin? Submit it today!
---
A Word from Dr. Diaz
As we settle in on the Hilltop this fall we keep in mind the existential issues of our time: accelerating climate change, an international refugee crisis, and a global pandemic with increasingly resilient viral variants. At the same time, we must look unflinchingly at our own nation and the Federal Bureau of Investigations 2020 report on hate crimes.
With all this going on, it's easy for any of us to feel powerless. However, I suggest focusing on making a difference in small ways every day. For me I can cut back on my weekly takeout budget and contribute instead to refugee resettlement through the International Institute of New England. I can reserve some funds so that Staff Council can co-develop a workshop on unconscious bias. I can use my skin color privilege to express something my darker brothers and sisters grow tired of repeating.
How can we all collectively extend this principle of "small ways every day" to our commitment to work towards social equity and inclusion?
This issue of the bulletin highlights ways that Anselmians are taking charge of their own learning to practice inclusion in their own lives and work in small ways every day. Projects range from innovation grants on staff development to teacher education on Native American history. The diversity and inclusion innovation grant deadline is coming next month. This issue covers info sessions and deadlines.
Lastly, a great kickoff for the fall: The Office for Diversity and Inclusion rounded out its staff. Meet our new (alumna) office coordinator and stellar (soon to be alumnae) student assistants.
--Dr. Ande Diaz
---
Spotlight on Maria Sato '19: Coordinator, Office for Diversity & Inclusion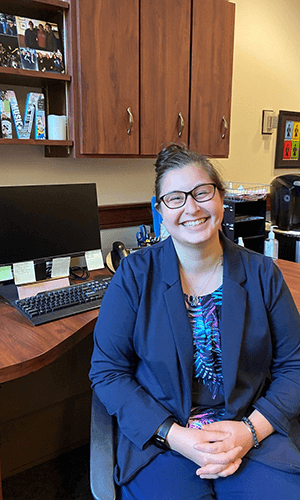 Q: Where
'

s home for you? 

I've come to know home as different places that have touched my soul and challenged me as an individual, all while providing me with some sense of peace in knowing I am in the right place at the right time. Having been born and raised in Bristol, Conn., I found my passion for music and grew as an individual physically and intellectually. Saint A's has also been a place I have called home. During my four years as a student, my ideals and beliefs were challenged, and I worked immensely on my intellectual, social, and emotional development. When I graduated in 2019, I was saddened to leave the Hilltop, but knew deep down Saint A's would always have a piece of my heart and soul. Later, I relocated to Watertown, Mass., to further my education, and soon began to call Watertown home as well. However, Saint Anselm College remains the place where I feel the strongest connection to the idea of "home." I am beyond thrilled to have been given the opportunity to return to continue my professional growth and development in the Office for Diversity & Inclusion.

 
Q: What are some things you think Saint A
'

s is doing well in fostering a diverse and inclusive community?

Over the past few years, I have felt Saint A's has grown by leaps and bounds in fostering a diverse and inclusive community. There has been more space created for open dialogue, and more outward actions toward showing a communal acceptance of individuals of different ethnicities, races, abilities, and sexual orientations.

 
Q: What do you think we could do better to promote diversity and inclusion?
 I would like to act as an agent for change with helping to create more of an inclusive community for individuals who are neurodivergent, for individuals with disabilities, and for individuals who struggle with mental health. I believe the College can improve in developing more empathy and gaining more knowledge and understanding of these issues within the campus community and beyond.
Q: How can you personally help make Saint A
'

s more welcoming to everyone?

I plan to bring my true, authentic self to work, and to actively listen with open ears, an open mind, and an open heart. The Benedictine way is to make everyone feel welcome, and I truly want all of the campus community to feel that way every day. My lived experience has helped shape who I am, and has directed me back to Saint A's to work towards making a difference. I am beyond excited to actively support the College and to work towards advancing diversity, equity, and inclusion here on the Hilltop.
---
Meet our Student Staff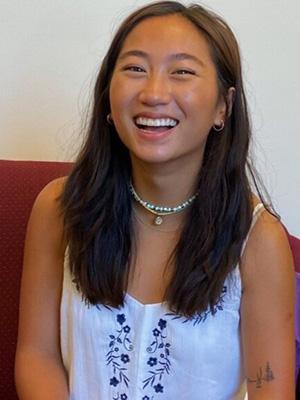 Anna Raley
Year of Graduation: 2024
Major: Politics and Communication
Hometown: North Yarmouth, Maine
 
Q: What are you excited about doing to advance an inclusive campus?
"Bolstering inclusivity within the campus community has always been a priority of mine. Therefore, I am most excited to work in an office that emphasizes the importance of highlighting the experiences of diverse students and faculty. I hope to meet and learn from the perspectives of a wide range of students and staff through my work here at the Office for Diversity & Inclusion."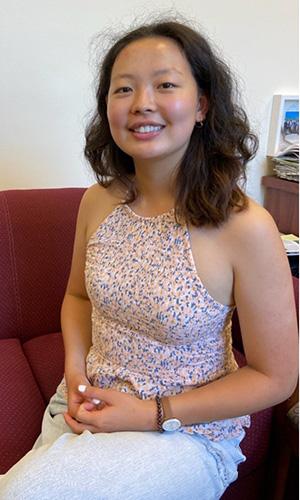 Yihe (Chloe) Peng
Year of Graduation: 2023
Major: Mathematics
Minor: Chemistry
Hometown: Hohhot, Inner Mongolia, China
 
Q: What are you excited about doing to advance an inclusive campus?
"Being able to share my experiences with many people through this opportunity, as well as learning from the group of people that I am working with."
---
Anselmian Network for Racial Justice (ANRJ)
The ANRJ Summer Book Club involved 24 faculty, staff, and students with 12 serving as facilitators of the discussions. A mix of faculty, staff, and students allowed for an exchange of different perspectives on campus. Participants enjoyed the book choices of An Indigenous Peoples' History of the United States by Roxanne Dunbar-Ortiz, Dear America: Notes from an Undocumented Citizen by Jose Antonia Vargas, and Hood Feminism: Notes from the Women that a Movement Forgot by Mikki Kendall. An Indigenous Peoples' History of the United States was the first book read. Dear America was the next book in sequence, continuing many of the themes in An Indigenous Peoples' History—empire, immigration, and what it means to be "American." The books and the discussion questions (such as "How do the perspectives presented in the book apply to and challenge our campus community?"; "What does it mean to be a citizen?"; and "How does race and racism relate to history, immigration, and feminism?") presented diverse perspectives and first-hand experiences that expanded the groups' own understanding of racism, immigration, and the founding of this country. Several participants noted that these books and the discussion helped them examine their own actions, privileges, and assumptions.
This fall the ANRJ launched five (5) intra and interracial dialogue groups meeting regularly this semester. There are six faculty co-leaders focused on curricular change this year. Stay tuned for more from the ANRJ!
---
Diversity & Inclusion Innovation Fund (DIIF)
Announcing the Innovation Grants for this Fall!
 
Black Speculative Fiction Reading Group 
Joshua Tepley, professor, Philosophy 
Meoghan Cronin, professor, English 
This reading group will expose students, faculty, and staff to a number of contemporary Black writers of speculative fiction. Stories are chosen based on a combination of literary merit and philosophical content. Preference will be given to stories that deal with issues of diversity, equality, inclusiveness, otherness, and social justice. The group invites students, faculty, and staff together to discuss race and justice; such focus demonstrates the type of deliberate attention to issues of diversity that are essential to creating an authentically inclusive community. This year-long conversation is also expected to enhance future curricula and scholarly research. 
Speaker/Presentation Series for Staff on Implicit Bias, Racial Microaggressions and LBGTQ+ Issues to Promote Dialogue and Civil Discourse for Social Equity on Campus 
Jacques Plante, chair, Staff Council 
The goal of this initiative is to help better inform staff in their interactions with coworkers and students and to imbue a knowledge of and greater sensitivity towards others who are not in their usual ethnic, social, or cultural primary group. This program is a speaker/presentation series on topics such as Implicit Bias, Racial Microaggressions and LBGTQ+ issues to help promote positive dialogue and social discourse for social equity on campus. 
We want to hear from you!
Do you have a collaborative project to develop diversity and inclusion on our campus? Apply and your project could be awarded up to $2,500! We support ideas from faculty, staff, monastic and student community members. See info sessions scheduled in the upcoming events that follow. Deadline for applying for Spring 2022 DIIF funds is Friday, October 22nd, 12:00 p.m.
---
Winners of an Inclusive Career Preparation Award
Award Recipients
Jennifer Thorn, professor, English
Dianna Terrell, associate professor, Education, Center for Teaching and Learning
"Searching for Truth about the Forced Removal of Native Children in the Dawnland." 
Visiting Facilitator for April Documentary Showing & Workshop
Mishy Lesser, the upcoming keynote speaker at the American Historical Association's 2022 annual convention gives talks and workshops to provide content and perspectives on the past and present realities of Native peoples' lives in what is now the United States, and how practically to integrate this information and these perspectives into curricula. Her film and curricula collaborations include the documentary "Dawnland," on the Maine Committee for Truth and Reconciliation's work to respond fully and equitably to the traumatizing legacy of the state policy of removing Wabanaki children from their families, a policy that continued into the 1970s. "Dawnland" won an Emmy in 2019. Saint Anselm secured screening rights to show "Dawnland" as a college program and the Teaching Guide that fosters thoughtful conversations in educational settings. This workshop will provide inspiration and practical help for educators, students pursuing accreditation as teachers (in Saint  Anselm's program and others in the state), and school administrators on how understanding "New England" history and its present realities from a Wabanaki perspective can enhance teaching.
 
Feel free to contact any of the above winners with your congratulations and/or questions!
---
Looking Ahead - Save the Date!
Multicultural Day
9/25, 11:00 a.m. - 1:00 p.m., Campus Green
A celebration of richness of the world's culture, and a great opportunity of learning different cultures on campus.
Contact name/email: Wayne Currie, wcurrie@anselm.edu
Diversity and Inclusion Innovation Fund Info Sessions
Do you have a collaborative project to develop diversity and inclusion on our campus? Apply and your project could be awarded up to $2,500! We support ideas from faculty, staff, monastic and student community members.
Wed., September 29, 12:30 p.m. - 1:30 p.m.

Mon., October 4, 4:00 p.m. - 5:00 p.m.

Thurs., October 14, 12:00 p.m. - 1:00 p.m.
Contact name/email: Dr. Ande Diaz, adiaz@anselm.edu
Hispanic Heritage Music Concert
Wed., October 6, 12:30 p.m., Koonz Theatre, Dana Center
A recital featuring Music Department faculty and students performing music by composers with Hispanic Heritage.
Contact name/email: Molly Lozeau, mlozeau@anselm.edu
Kathryn Lewek Recital
Sun., November 7, 4:00 p.m., Koonz Theatre, Dana Center
Coloratura soprano presents a voice recital of opera arias and a discussion of Dr. Sean Parr's recently published book Vocal Virtuosity
Contact name/email: Molly Lozeau, mlozeau@anselm.edu
Indigenous Peoples and the Merrimack River
Thurs., November 11, 7:00 p.m., Event Center Space, Roger and Francine Jean Student Center
Learn about what rivers and wetlands meant to Abenaki people historically and their cultural importance today.
Contact name/email: Dr. Gary Bouchard, gbouchar@anselm.edu
*Please be on the lookout for more upcoming events taking place for Hispanic Heritage Month (Sept 15 - Oct 15) and upcoming True Life talks hosted by The Father Jonathan, O.S.B., Center for Intercultural Learning and Inclusion.*