The popularity of TV shows such as "Bones," "NCIS," "CSI" and "Criminal Minds" has made the study of forensic science very popular in recent years. While these shows aren't always the most accurate portrayal of the discipline, they do emphasize the wide variety of specialties that are available within the area. As a result of the diversity which exists, the Forensic Science major at Saint Anselm College is an interdisciplinary major that requires students take a broad base of courses in chemical analysis of evidence, the criminal justice system, computer forensics, data analysis, and image processing.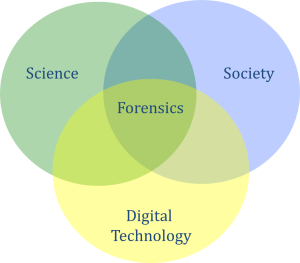 The major was designed for the flexibility of students to specialize in an area of their choosing. Students may also minor in forensics, if they are more interested in the criminal justice aspects of the subject but would like to know more about the scientific analyses carried out. Many of our forensics majors also double major or minor in criminal justice. 
Opportunities at Saint Anselm
The New England Fire Investigation Seminar is hosted every year on the Saint Anselm Campus in May. During its 40 years of existence, it has provided training 3000+public safety officials. This seminar provides an internship opportunity for students on the Saint Anselm campus to help organize, set up, and participate in the workshops. Every year, controlled burns are carried out to give hands on experience with arson investigations. Participants perform hands-on experiments, learn new techniques, focus on different fire conditions, and stand in as witnesses to a fire event (below).
In addition to internships with the New England Fire Investigation Seminar, students have also been awarded internships with the New Hampshire State Police Major Crimes Unit, Massachusetts State Crime Lab, New England Medical Examiner's Office and Forensic Consulting Associates of New England. Other internship opportunities are available through consultation with the chemistry or criminal justice departments.
Research opportunities are also available. Recently students carried out a Study of Chars Produced by Fabrics and Accelerants, and an Investigation into the Flammability of Carpet, Fluorescent Silica Nanoparticles for Fingerprint Analysis. The observational study in the video above resulted in a presentation at the International Association of Arson Investigators annual training conference in 2017. Additional studies are currently underway.