Excavate in Italy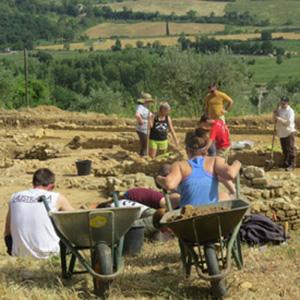 For six weeks in May and June students dig in Roman bath complexes, and Etruscan shrines. The Department runs an excavation outside of  Orvieto, Italy at Coriglia.  This site date from 1000 BCE to 1400 CE and give material from Greek, Etruscan, Roman as well as medieval and renaissance Italian cultures. As part of this excavation, the Department runs a Field School.
Optional course credit (4 or 8 hours) is available through Saint Anselm College Summer School. Archaeology majors and minors are required and Classics students are encouraged to participate in the Field School. 
The Field School has three components, digging in the field, working in the lab, and attending lectures both in the convent and at museums.  Students must also keep a field journal of their work both in the field and in the lab, adhering to assigned protocols.
Daily Schedule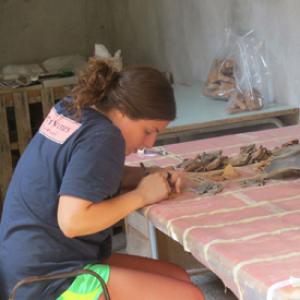 Monday through Friday our wake-up call for fieldwork or lab is 7 a.m.  Breakfast ends at 7:20 a.m.  We leave for the sites at 7:30 a.m. Work is scheduled from 8 a.m. to 5:30 p.m.  Lunch will be from noon to 1 p.m.  "in the field." 
The day will be spent either digging under the Umbrian sun at Coriglia. Students will learn how to use basic archaeological tools: trowels, shovels, pick axes and wheelbarrows. There will also be training in the use of the total station and other archaeometric tools. In the Lab, students will receive hands-on instruction in cleaning and identifying artifacts as well as in sorting and cataloging the finds.
At 7 p.m., the group will meet for dinner in the Convent cloister. Dinner and lectures are mandatory. The dinner menu is "set" but vegetarian meals will be available on request. 
Excavations normally extend from Monday through Friday.  However, if a regular workday is lost due to rain, work may occasionally continue through part of Saturday.
Free Time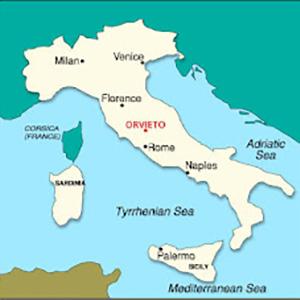 While digging up exciting finds occupies the week, we try to keep weekends free so that students can explore Italy.  Orvieto's central location allows for easy access to most points of interest in Italy; it is an hour from Rome, an hour and a half to Florence by train.
Orvieto itself displays a rich and varied history. Its Duomo (main cathedral), one of the most beautiful in all of Italy, contains a spectacular facade, Signorelli's fresco masterpiece as well the corporal of the Corpus Christi miracle. Renaissance palazzos grace the city, which today are full of shops and museums. With Orvieto's Carta Unica, for 15€, you can visit the Duomo, including the Chapel of San Brizio, the MODO, the Faina Museum, the National Archaeological Museum, the Crocefisso del Tufo Necropolis, Saint Patrick's Well, the Tower of the Moor, the Pozzo della Cava and Orvieto Underground.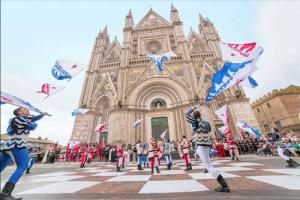 Major festivals are held in Orvieto in May and June: The Festa del Palombella and the Festa del Corpus Domini are religious celebrations full of pagentry with historical parades, exhibitions, theater and open air markets. There are often free concerts and operas. And Orvieto has even more to offer. The local food is amazing: pizza, pasta, gelato, anything with truffles, cinghiale (wild boar) and the world famous Orvieto Classico. All this is within a 15 minute walk from the dig house.
Interested?