Physics Alumni Profiles
Learn more about some of the careers that our graduates have gone on to pursue.
Graduating just nine years ago, Matt Donahue has made a significant contribution to the fields of innovation management and entrepreneurship. After graduating from Saint Anselm College, Matt went on to work for the FBI, and later went on to found his company, KODEX.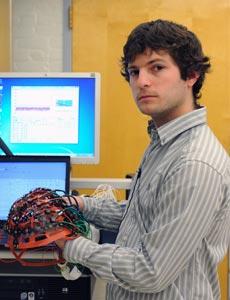 If Paolo Giacometti and his colleagues are successful, doctors will someday be able to read the health of your brain by placing a sophisticated sort of cap on your head. The applied physics graduate is a Ph.D. candidate studying biomedical engineering at Dartmouth College's Thayer School of Engineering.
Biomedical engineering is a rapidly expanding field in which major advances are being made. Tools as common as a stethoscope and as complex as a magnetic resonance imaging system (MRI) are developed by biomedical engineers.
Giacometti is working to develop technologies that help medical professionals diagnose, track, and treat diseases that affect millions of people. One of these is Alzheimer's, a degenerative disease for which there is currently no cure.  Professors in the lab he works in are developing a head probe designed to measure neurological and vascular activity in the brain. The technology exists to measure both, but it is expensive and cumbersome.  The cap that Giacometti is working on does both at once, making it more affordable and accessible.
Giacometti, from Quito, Ecuador, also has a minor in computational physical science. "I think abstractly and have always had an inclination for design and for tinkering," he says.
When he was interested in topics that weren't in the curriculum, Giacometti's professors created courses. He credits professors Schnick, Guerra and Durham in the physics department and professor Malita in the computer science department for helping him to succeed. "The small size of the department allowed me to have an extremely personalized education, professors who were available and very approachable, and experiences and opportunities catered specifically to my needs," he says.
Professors Malita and Durham created the computational physical science minor in his senior year, making him the first person to receive it. "They all made me feel like they were working specifically for me to have the best college experience I could have," he says.
Saint Anselm was a good fit for Giacometti and his two older brothers. He went to a small high school where everyone knew each other, so he wanted a small college where he could have that same kind of experience.
While at Saint Anselm, Giacometti had an internship at DEKA, a biomedical engineering company in Manchester, N.H. The internship eventually turned into a year and a half part time job during his junior and senior year and full time during the summers. "This job and my studies at St. A's gave me the basis to move forward in my career and get into the Ph.D. program at Dartmouth," he says.
After completing his doctorate, Giacometti hopes to work at a biomedical engineering company or a research and development firm where he can keep designing and developing new products.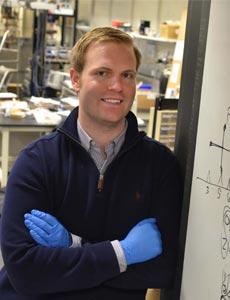 Eric Holland makes and studies artificial atoms. Considering the field he is in (quantum computing and quantum optics), that's a pretty basic description. He is a doctoral candidate at Yale University, in a department that has produced four Nobel Prize winners. He hopes that his work will eventually lead to the development of a much faster computer than the ones we have today.
Quantum optics is the study of a small number of atoms "talking to each other and doing things that have no classical explanation." Quantum computing is an attempt to use atoms to create computers that can transition more quickly.
Experiments have shown promising results but no one has been able to build the most essential part of a quantum computer yet. A quantum computer should be fully realizing its potential within the next 50 years, Holland believes.
Holland finds this field exciting because he is able to test systems that are profoundly simple and yield truly quantum results.  In essence, he can test the thought experiments that were being argued about 80 or so years ago. He works in the lab of Rob Schoelkopf and is thrilled to be a part of such extensive and innovative research.
Holland chose Saint Anselm because he believed it had a good mixture of athletics and academics. Coming in as a freshman he had no idea that physicists even existed.  After one season on the football team he realized it was time to hang up his cleats and see what else was out there. He thought about transferring, but the faculty were inviting and interesting so he decided to stay. After his first physics course Professor Schnick reached out to him to start a summer discussion about famous lectures in physics. That moment changed Holland's career trajectory completely.
Holland credits Saint Anselm for teaching him how to network. "I learned how to find and utilize the resources available to help me achieve what I wanted," he says. He believes it is up to the student to use what Saint Anselm has taught them to make valuable connections in the real world and in their field.
Holland is always on the move. This past summer he went to Bolivia, Peru and Ecuador. He also competed in his first triathlon last year, and loves swimming. He enjoys short story writing and is working on a screenplay. He also would love to get certified to skydive solo.
Holland has many dreams and isn't quite sure where he will end up. He may want to take a postdoc in Europe or apply to be a professor. Either way, the possibilities are endless for this quantum physicist.
It may not look like the robots from the movies, but Alex Macomber '10 can attest that his orange robot gets the job done.
Alex is a senior services engineer at Kiva Systems, where he helps companies automate their fulfillment system at warehouses. That's where the robot comes in.
Alex leads the team that implements the software and builds the robots and shelving units to help companies fill orders more efficiently. He manages contractors and junior engineers and keeps projects on track and on deadline.
Through Saint Anselm's 3-2 engineering program, Alex has two bachelor's degrees which he earned in five years: a bachelor of arts in physics from Saint Anselm and a bachelor of science in electrical engineering from the University of Notre Dame.
Now, Alex travels the country providing a one-stop-shop solution to distribution centers like internet-giant Amazon.
"Having two degrees, especially one in liberal arts and an engineering degree from Notre Dame, sets me apart in the eyes of employers. It's also given me a broad skill set that I use at my job every day."
And if that wasn't enough, having two degrees gives Alex a bigger professional network and career flexibility. He also got to play rugby at Saint Anselm, Notre Dame, and now, while traveling, all around the country.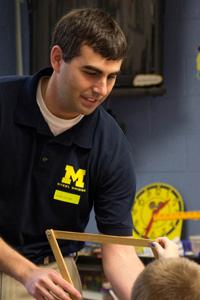 Now a civil engineering professor at the University of Michigan, Jason McCormick '00 took the first steps towards his career right here at Saint Anselm College. He graduated from Saint Anselm and Catholic University of America in 2000 and received a degree in cooperative engineering with a focus in civil engineering. As a freshman, Jason was pretty confident engineering was the career for him. However, at most schools, simply wanting to be an engineer is too broad a choice. That's the advantage of the Saint Anselm 3-2 program.
"I knew I wanted engineering but one of the benefits of the 3-2 program was that I didn't need to know what direction I wanted to go into," says Jason. He felt much more comfortable not having to make his decision right away and it wasn't long before he started to lean towards civil engineering. "I looked towards civil engineering because you're dealing with things that are a part of everyday life: structures and roadways. I also liked the aspect of dealing with big structures."
Civil Engineering
Now his research interests are in the general area of earthquake engineering, extreme load mitigation, and structural response reduction through innovative systems. He does a lot of work with steel structural systems and the use of steel tubes in structures.
Tutoring and Research: Path to Teaching
While an at Saint Anselm Jason was a student tutor to math and physics students and enjoyed the teaching involved in that activity; the first sign that a future in teaching was a possibility. As Jason began the second portion of the 3-2 program at Catholic University of America in Washington D.C. it was clear to his professors that he had skills that his peers lacked. Jason asserts that his ability came from a Saint Anselm's liberal arts curriculum.
"The liberal arts helped me in my ability to think critically about things and write well," says Jason. The faculty recognized his talent and asked him to help with their research.
He then began his second internship at The State University of New York at Buffalo working as a research assistant for the structural engineering program. This experience paired with his writing ability pushed him into being a structural engineer.
As a professor of civil engineering at the University of Michigan he enjoys the freedom his position brings. "Being a professor gives me the opportunity to be involved in both teaching and research," Jason says.
With professors like Jason teaching the engineers of tomorrow the future of the field looks very bright.