Parent Involvement at Saint Anselm College 
When your son or daughter steps foot on the Hilltop and begins their time as a student at Saint Anselm, you too become a part of our Anselmian family. When you see how much your child loves Saint Anselm, you want to get involved - to support your child and help other young people have the same great experience.
The Saint Anselm College Parents' Program welcomes current and past parents and family members. As ambassadors for the college, parent volunteers demonstrate their commitment to the future of their children's alma mater. The Parents' Program also facilitates opportunities for parents to become involved in the life of the college and to preserve and enhance the quality of the Saint Anselm experience for their children, their children's classmates and future students.
Take this opportunity to get involved today! Become an active Anselmian.
Volunteer as a parent liaison for the college by:
Participating in events on campus and in your local community. Assisting the Office of College Advancement by encouraging parent giving and thanking parent donors.
Aiding the Office of Admission by helping to recruit students, contacting parents or hosting regional receptions.
Supporting the Office of Career Services by developing internship opportunities and advising students starting professional careers.
Parents' Leadership Council
The Parents' Leadership Council (PLC) is a group of parent volunteers who play a leadership role at Saint Anselm College.
Membership on the Parents' Leadership Council provides an opportunity to participate in the growth and development of Saint Anselm while fostering stronger ties to your student's experience and the Anselmian community.
PLC members contribute to the college at a leadership level, support the education of their children and other Saint Anselm students, and they help advance the reach and reputation of the college. Members share a common interest in strengthening the college's mission to deliver a rigorous liberal arts education rooted in Catholic, Benedictine values.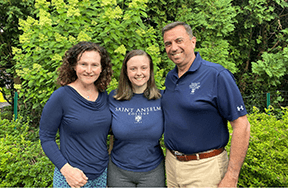 "The first time we visited the Hilltop with Kaitlin '22, we knew she found her home.  At the beginning of Kaitlin's freshman year, we happily joined the dedicated volunteers on the Parents' Leadership Council.  During our time of service, the PLC has been engaged by the administration for input on matters pertaining to Saint Anselm's COVID response, as well as reopening.  In addition, the PLC has been an active participant in Saint Anselm's effort to update its strategic plan.  The robust participation by all members of the PLC and the diversity of views – and the respect shown for everyone's individual views – has made our experience on the PLC deeply rewarding." 
— Scott and Regina Beechert P'22, Parents Leadership Council Chairs
Parents' Leadership Council, 2020-2021
Mr. Scott and Mrs. Regina Beechert P'22, PLC Chairs
Mrs. Sheila Craffey P'22
Mr. William Dowling and Mrs. Kathy Campbell P'24
Ms. Andrea Elliot P'22
Mr. Lawrence Furey P'22
Mr. Kevin and Mrs. Vanessa Harwood P'23, P'24
Mr. Peter Henriques P'22
Mr. Dana and Mrs. Sheri Martin P'24
Drs. Daniel '84 and Mary O'Brien P'18, P'22
Mrs. Suzanne M. Stuzynski '90, P'24 
Thank you to all our current Parents' Leadership Council members. We greatly appreciate your commitment and support of the college and its students.
For more information, please contact:
Ashlee Demers '08, Director of the Parents' Leadership Council
ademers@anselm.edu
603-641-7376