In the spring of 2023, Dr. Beth Rickenbach, in collaboration with the Meelia Center, used her psychology course, "Research Methods in Cognition and Development," to teach students how to apply classroom knowledge in real-word scenarios. Through the course, students gained professional experience and participated in meaningful engagement outside of the classroom, which enhanced the curriculum. 
This was the first time Rickenbach taught this course with a community engagement component. In the past, students usually do a research project on campus, in a traditional classroom setting. This unique model offers both hands on learning and project management skills, which elevates the subject matter. 
At the beginning of the semester, students filled out a survey ranking topics that most interested them. Working with Nickie Lora and Karina Hernandez-Soto from the Meelia Center, the students were placed with a community partner that matched their interests. The students then created custom research projects with their partners to measure specific outcomes. The partnerships varied in subject and scope, ranging from the Manchester Department of Health to Brookhaven Hospice Care to Manchester West High School.
"As a faculty member, I'm grateful for the valued place on community-engagement on this campus—and this is due to the commitment and hard work of Nickie Lora and the staff of the Meelia Center," said Rickenbach. "To be able to have students lead and manage projects with community partners where they can ask and find answers to real-world psychology questions is an invaluable learning opportunity."
Beyond gaining professional experience, this type of meaningful engagement outside of the classroom promotes critical thinking and tangible skills. Students reported that being able to put themselves in the shoes and headspace of their subjects offered perspective and empathy.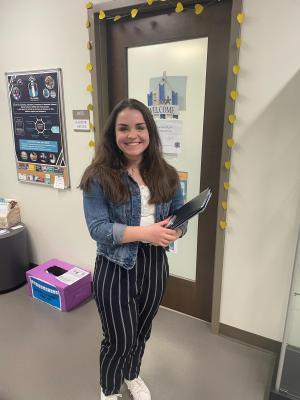 Each student in the class had a different focus and community partner. One student, Abigail Chretien '24, a psychology major, worked with The Harbor, which is a safe space on campus for survivors of sexual violence.
"My project taught me a lot about the importance of research. I was tasked with researching existing barriers for survivors who do not report sexual assaults. I was able to identify individual and institutional factors contributing to underreporting," explained Chretien. "This project has deeply impacted me as a person and has inspired me to continue doing research in support of sexual assault survivors."
Throughout the semester, students were able to see the utility of psychology research in an applied way and the efficacy of treatment. Additionally, the class cultivated opportunities to become familiar with topics they never would have studied before.
Madison Friedman '24, psychology major, partnered with Manchester West high school to research the influence of family engagement on student outcomes. Working with the principal and vice principal, Friedman studied family engagement and ways to promote positive relationships among students, staff/faculty, families, and community members. 
"This experience impacted me greatly as it allowed me to connect and work alongside community members and helped me learn more about the experiences of those within the Manchester community," said Friedman.  
Most of the students enrolled in the class had never taken a community engagement style course before, but reported it was an extremely positive experience. Applying theories in a real-world environment, allowed the students to be a part of the community outside of campus, which impacted them deeply. 
For Brianna Plant '24, a psychology major, the research methods class was nothing short of life changing. She partnered with Waypoint, which is a youth homeless shelter, that offers non-gendered space, for youth up to 24 years of age. 
"My experience working with Waypoint personally helped guide me to what I want to do with my life. I am inspired," said Plant. "After graduation I'm going to get my Master's in Social Work. This class took me beyond my bubble on campus. It was very eye-opening." She continued, "No doubt this was my favorite class I've taken at Saint A's."