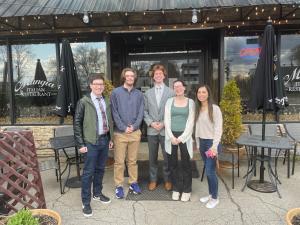 In March 2023, students gathered on the Hilltop for the Frederick Douglass Colloquium, where they studied Douglass' important works about the abolitionist movement. The cohort was led by Philosophy Professor Robert Anderson and Br. Thomas Lacourse, O.S.B., from the monastery, as they explored the extensive texts written by Douglass in the 1800s.
The group of twelve students ranged from freshman through seniors and reflected a mixture of different majors. They joined the program via a nomination process from faculty and staff on campus. Many of them had no previous exposure to Douglass' speeches and writings, but quickly embraced the historical significance of his activism, which ultimately served as inspiration for the civil rights movement of the 1960s. The selected texts studied included a personal account of life in slavery, his defense of violence against slavery, his thoughts on the Constitution and patriotism, and his vision of the good life.
"Fredrick Douglass is one of the most complex and interesting figures of the nineteenth century," said Br. Thomas. "It was a pleasure to guide students as they grappled with Douglass' work and what it meant for them in today's world."
Professor Anderson was thrilled with the program. "I would like to do it once a semester," said Anderson. "It is important to create these opportunities to discuss ethical matters. It would be nice if this became a tradition."
The group met four times between March 10 - 11, in which they studied 175 pages of text. The sessions went beyond the traditional classroom setting and included interactive dinner discussions. The students were enthusiastic and brought a lot of energy and personality to the colloquium. Professor Anderson remarked that the time with the group was akin to "the best Conversatio seminar."
Connecting outside of class gives students an opportunity for deeper learning and increased student engagement. "College is a time for young adults to come to understand complex ideas," reflected Br. Thomas. "Often coming to this understanding is something students only have an opportunity to do in the classroom. The Douglass symposium allowed students to expand their intellectual conversations to contexts outside the classroom."
Students were grateful for the chance to participate in this unique event. Many expressed interested in future discussions and hope it is replicated in the future. "Prior to this colloquium, I had not been very familiar with Frederick Douglass, so I was impressed by, in awe of, and humbled by his beautifully articulated story," said Riley Buchanan '24, a Marketing major.  "I enjoyed meeting and seeing students from other majors, everyone brought interesting perspectives to the discussions."  
The Frederick Douglass Colloquium was hosted by the Center for Ethics in Society, funded in part a grant from the Charles Koch Foundation.