During her time studying communication and politics, Katherine Buck '20 took full advantage of many academic and extracurricular opportunities that prepared her for her current job in the Boston media market. As a New Hampshire Institute of Politics (NHIOP) Kevin B. Harrington Student Ambassador, she had the opportunity to work as a CBS Student Runner during the 2020 presidential primary debates. Her experience continues to influence her life as a Digital Client Service Coordinator at WCVB, Channel 5 News in Boston, Mass.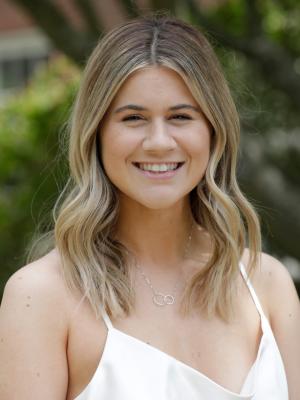 What are you doing now? What does your job involve? 
I currently work at WCVB, Channel 5 News in Boston as a Digital Client Service Coordinator. I work on the sales team alongside ten account executives who work with local (and sometimes national) clients on advertising. The account executives sell both television and digital advertising but my role focuses primarily on our digital products–which there are many of–such as display/video advertisements on WCVB.com or Over The Top streaming commercials, to name a couple. 
My job is to monitor our client's campaigns performance and maintain relationships with our clients by providing them with monthly updates whether that is by email or status calls. I also develop marketing materials and case studies that our AE's can use in the field and on meetings to prospect future clients and help them understand how our products can help their business goals. 
Any notable extracurriculars during your time at Saint Anselm? 
I was part of the Saint Elizabeth Seton Society from sophomore to senior year; during my senior year I was President of the Seton Society. I was also in the National Society of Leadership and Success in junior and senior year. During my senior year I was the secretary. I was also a NHIOP student ambassador. 
How do you use what you learned at Saint A's in your current role?
I use a lot of what I learned at Saint A's in my current role. Communication is such a broad major but it also helped me learn what I wanted to focus my career on. I knew I wanted to go into some type of social or digital media job, and I could take classes that would tailor my skills to that, such as Media Writing where I learned about writing scripts, storyboards, PSAs, and more. It also allowed me to take classes where I could refine my other skills, such as Public Speaking and Business and Professional Writing. Both of which are vital in my job to communicate with account executives, management, and clients. The classes Saint Anselm requires, both for core requirements as well as for the Communication major, allowed me to explore a lot of different courses that made me a well-rounded student and provided me with skills that would go beyond the classroom. 
I also don't think I would've been as prepared for the rigor that came with the interview process without the Career Development Center (CDC) too. They really helped me shape my resume and cover letter throughout college. I did a mock interview during my senior year that helped me understand some general questions that could be asked during an interview and learned what questions I could ask at the end of an interview to learn more about the company I was interviewing with. 
What was your experience working as a CBS Student Runner during the 2020 debates at NHIOP?
On primary day, runners were given different tasks and locations to report to, and I was assigned to CBS This Morning at Café la Reine in Manchester. The show's co-host, Tony Dokoupil, was scheduled to report live from Café la Reine in the morning, and then later from a polling station in Manchester. I was asked to join a producer for the segment to be held at the polling station. When we arrived, the producer received a call that the polling station segment needed to change completely. Given limited time, the producer quickly helped create new shots for the segment, and then walked his team and Tony through the new segment. Being able to witness what happens behind the scenes of a live broadcast was a once-in-a-lifetime opportunity I will never forget.
How did your work with the 2020 debates influence your experience in the workplace?
During the debate we had to be over prepared but also be able to be quick on our feet for what we couldn't anticipate. I think this has helped a lot in my current job, whether it's helping one of the account executives or working with a client. It's always to be over prepared when presenting their campaign results, but they may have questions you didn't plan for. It also helped me learn that it's okay to say that you aren't sure and need to follow up with the information/request they are asking for. It's much better to deliver the correct information in a follow-up email than to give them the wrong information and have to correct it after. 
Service was also a huge part of being a news runner during the debates. We could have been asked to go out and get specific supplies or a prop to be used on the set during the live show. A couple of other runners and I even spent a day trying to find a different table and set of chairs to be used during the live segment. I think this helped me realize that even though these details might seem small in the moment, they make up the bigger picture. It has helped me in my career as being support staff to the sales team, someone might ask for something that seems small, but it could make a big difference in our relationship with the client. 
What advice would you give to current or future students who want to pursue a similar career? 
My advice is to use the resources Saint Anselm has to offer! Whether it's going to a professor's office hours or utilizing the CDC, I think small things like that make a big difference. Everyone who works at the college really wants to help students succeed both in school and after they graduate.
I would also say to find a couple of extracurriculars that you are really passionate about and get involved as much as you can. My extracurriculars helped me put myself out there and develop more of my leadership skills. I would also say do as many internships as possible (which is easier said than done I know)! During my time at Saint Anselm, I did three internships that helped me not only gain experience but taught me what I would like or dislike about these career paths.