When she was seven, Kelsey Walsh '17 knew she wanted to be a reporter. When it came time to look at colleges, Saint Anselm College was high on her list. She visited campus and learned that if reporting on politics was what she wanted to do, Saint Anselm College would help get her there. 
Kelsey is now an associate producer for ABC News Special Events, the team responsible for all breaking news events—everything from Alec Baldwin's charges to the Uvalde Shooting and major weather events to Election Night. She returned to the Hilltop in January 2020 for ABC's Presidential Primary Debate on campus. In the fall of 2022, she flew to London to cover the funeral for Queen Elizabeth ll. 
"I wouldn't be here without the students, faculty, staff, and mentors here on campus, and all here who have inspired me," shared Kelsey when she was back on campus for the Democratic Debate.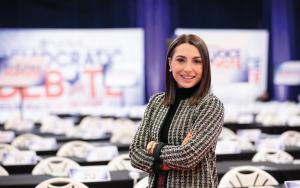 As a student, Kelsey took advantage of everything that Saint Anselm College had to offer. She was an Admissions Ambassador, New Hampshire Institute of Politics Kevin B. Harrington Student Ambassador, and an orientation leader. She volunteered through the Meelia Center for Community Engagement, and worked on campus with the English Department.
She and her friends would spend time at the Coffee Shop, studying and enjoying an Egg St. A's, and she always made time for Sunday night mass at the Abbey Church. 
While at Saint Anselm College, Kelsey participated in a number of internships to build her experience in both journalism and politics. She worked at Montagne Communications and in NH Senator Jeanne Shaheen's office. When Saint Anselm College hosted debates in 2016, Kelsey interned for ABC, working in the production van during the debates.
"As a student, my favorite part of working with ABC was being exposed to some of the best journalists in the business that I've admired for so long," said Kelsey. "One of the most memorable moments was talking with ABC's campaign reporters and realizing that I too, as a student, had the opportunity to interact personally with each candidate running for the highest office in America."
That summer she interned at the White House as a member of the Presidential Correspondence Team where she read the mail people sent to the White House and helped to select the ten letters President Obama requested to read each day. Kelsey loved the human connection that came from reading and sharing those letters.
After graduation, Kelsey moved to Washington, DC to take a job with ABC News. Then she moved to New York City to take a job with the ABC Politics – Election 2020 team. "My pinch-me moments happen more frequently now, but the strongest one of my career happened when I returned to the Hilltop in 2020. I have enormous gratitude for a place I call home, Saint Anselm College," said Kelsey.
We can't wait to see what Kelsey does next.