Computer science major Roque Otazo came all the way from South America to find his second home on the Hilltop. Now, he's an EducationUSA Junior Advisor at the National University of Asuncion (UNA) in his home country of Paraguay.  
"I work closely with students who are interested in pursuing their higher education career in the United States," said Roque. Adding that often the students he works with are more interested in graduate programs in the U.S.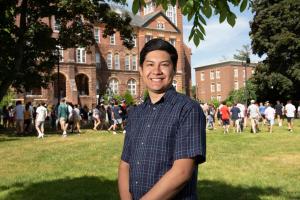 His role also co-coordinates the Opportunity Funds Program, which selects the brightest high schools students in the country with limited financial means to prepare and support them during the application process to U.S. colleges and universities.
EducationUSA is a network from the Department of State of the United States, under the Bureau of Educational and Cultural Affairs, with over 430 centers around the world.
"Saint Anselm's education prepared me to become a well-rounded person. I received an outstanding college education, and I also formed long-lasting friendships and connections with my peers and professors."
 
Coming from Paraguay, Roque knew that getting involved would help him find his place at Saint Anselm. So he jumped into campus activities as soon as he arrived his first year.
How do you go from welcoming a U.S. Senator to campus to student mentor in under 10 minutes? When you have as many interests as Roque, you get very good at scheduling!
 
Although he gave his academics priority, he still found time for all of his out-of-the-classroom experiences. He volunteered, mentored first-year students through the Transitions Program, and supported events at the New Hampshire Institute of Politics [LINK www.anselm.edu/nhiop] as a Kevin B. Harrington Student Ambassador. 
 
He was also a member of the multicultural student coalition and the international relations club. And if that isn't enough, he loves photography so he attended campus events to capture photos for the student newspaper. 
 
"I felt like if I was busy all the time then I was always learning something new," said Roque.
 
He particularly enjoyed teaching local high school students computer science and literacy through the Access Academy Program. He said it was a rewarding experience, but also another opportunity for him to take advantage of all the college offered.