College Health Services, located in the bottom floor of the Roger and Francine Jean Student Center, provides a wide range of confidential medical, health, and counseling services to resident and non-resident students. Our skilled professional staff of medical clinicians and counselors is committed to wellness and prevention with emphasis on treating the whole person. Our primary goal is to foster the physical and emotional well-being of students and provide information encouraging healthy behaviors to benefit students now and in the future.
Throughout our Web pages, you will find information about our services and resources. Additional information about our services is available through the Student Handbook.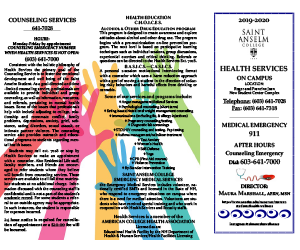 College Health Services is a member of the American College Health Association, the American Nurses Association, New England College Health Association, and is licensed as an educational health facility by the New Hampshire Department of Health and Human Services.
We welcome your calls and visits.
1) Entrance Requirements and Forms
College Health Services requires a completed medical history, physical examination, updated immunizations, and other forms to be completed by all entering freshmen and transfer students.
Students should input your health information directly to the Health Services Patient Portal. As an alternative, health forms can be accessed by visiting the college portal or download forms directly.
Important Note: The health form packet, received by students at the time of admission, must be completed and on file with the college before you register for classes so proper medical treatment may be given should the need arise during the academic year.
2) Insurance
All students are required to carry health insurance. Student health insurance, available to all full-time, matriculated students, is available at minimal cost through the College Business Office. Saint Anselm College is not responsible for the cost of illness or injury incurred while an individual is enrolled here as a student.
For more information about health insurance, please contact the Business Office.
Student Health Insurance is offered through Commercial Travelers: www.gallagherstudent.com/saintanselm
Claim Form
For your convenience, we have provided helpful links, including a copy of our student insurance claim form. Please contact our office if you have any questions filling out the claim form.
https://www.gallagherstudent.com/miscforms/Commercial%20Travelers%20Cla…
3) Managed Care Insurance Info
Managed Care Insurance Information (HMO, PPO, etc.)
All Saint Anselm students are REQUIRED to carry health insurance.
If you will be covered by an HMO while a student at Saint Anselm College, please be advised that many HMO's refuse to pay for non emergency medical care by physicians who are not employed by their health care plan. This may necessitate that you return home for care in the case of an illness that is not an emergency. Also, medications are not usually covered if the medication is ordered by a nurse practitioner or physician outside their plan.
Medicaid from any state other than New Hampshire does not cover the student for expenses incurred in New Hampshire.
You and your parent or legal guardian need to be aware of exactly what steps need to be followed in order to insure that your HMO will pay for out-of-area care in non-emergency and emergency situations.
The staff at Health Services will do all that we can to insure that your son/daughter notifies the proper person regarding out-of-area charges for medical care, but ultimately costs incurred will be the parents' responsibility. It is important for the student to know the proper procedures for obtaining authorization for payment from his/her HMO provider.
Note: Insurance information for citizens of the United States or international students will be mailed to you over the summer or may be obtained from the Treasurer's Office or College Health Services.
You will be billed for college health insurance unless you return the WAIVER CARD with proof of insurance. Read more information about college health insurance and the steps you or your parent need to take.
International students may obtain forms from the Director of Multicultural Services.
---
For medical/emotional issues that need urgent care seek treatment at Catholic Medical Center, 100 McGregor Street or Elliot Hospital, One Elliot Way. Students are responsible for paying fees charged by off campus providers.