History was made in the New Hampshire Institute of Politics (NHIOP) on June 6, 2023, when Chris Christie officially announced his bid for the GOP presidential nomination at a town hall event. Although the institute frequently hosts presidential candidates and politicians – this is the very first time that a candidate has officially declared their presidential campaign at Saint Anselm College.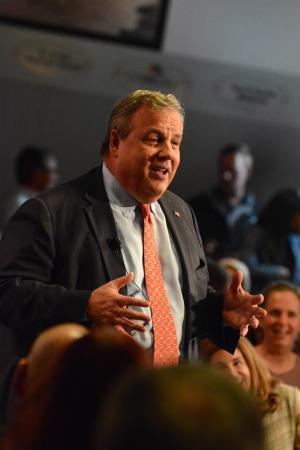 It was a packed event, with standing room only, that brought media from around the country. With Bruce Springsteen music playing as he entered the room, a nod to his New Jersey roots, the former governor spoke for about 30 minutes before making his announcement. 
"I can't guarantee you success, but I can guarantee you that at the end of it, you will have no doubt in your mind who I am and what I stand for and whether I deserve it," he said. "That's why I came back to New Hampshire to tell all of you that I intend to seek the Republican nomination for President of the United States in 2024." 
Christie took questions from the audience in an impromptu fashion, as they were not preselected, and the event was open to the general public. He spoke for over two hours and was joined by his wife Mary Pat, his 90-year-old father and two of his adult children. 
Reporters and news crews gathered on the Hilltop for 24 hours in anticipation of the town hall event. "When a top tier candidate chooses to announce for president from the NHIOP, it demonstrates that we have become the center for civic engagement in the nation," remarked Neil Levesque, the executive director of the New Hampshire Institute of Politics.
Kevin B. Harrington Student Ambassadors volunteered in a variety of roles during the Town Hall, including coordinating microphones during the Q&A session. Although school is currently out of session, many students and faculty returned for this special event.
Isabella Langella '25, a history major, was excited to be back on campus in her role as a student ambassador. "The Chris Christie event at the NHIOP opened the doors for political discourse as well as introducing a more moderate Republican candidate into the field. Christie was articulate regarding his plans for the future of this nation as well as how he plans to conduct his campaign," said Langella. "By announcing his bid for the presidency at the NHIOP, New Hampshire was once again pushed to the forefront of the election process, highlighting our First in the Nation status."