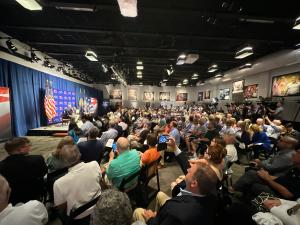 Is America ready to move beyond the two-party political system? According to Senator Joe Manchin, democrat from West Virginia, the answer is a resounding yes. Together with former Utah Governor Jon Huntsman, the duo launched the No Labels "Common Sense" agenda on Monday, July 17th at the New Hampshire Institute of Politics. 
No Labels bills itself as a centrist organization, focused on shaking up the status quo. "The common sense majority has no voice in the country," explained Manchin. "They just watch the three-ring circus."
This event was the first in a series of town halls scheduled to promote the No Labels approach to unify the country with common sense solutions. The Granite State was specifically chosen for the launch because the constituents are savvy with the political process. "What you learn from the people of New Hampshire is very real. They want substance. They don't want style." said Huntsman.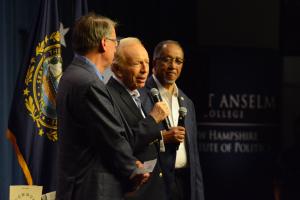 New Hampshire continues to showcase its important foothold in the primary process. "We were very happy to be the first location in the nation for this organization and Senator Manchin to discuss their thoughts about the 2024 election," remarked Neil Levesque, director of the New Hampshire Institute of Politics.
Manchin and Huntsman first connected with the No Labels group 12 years ago, when they both served as co-chairs. Although the pair have different political ideologies, they feel that a moderate, unified ticket - including both a democrat and a republican - could be the solution to fix the "implosion of trust" in the current political landscape.
Although it was inferred several times, Manchin stopped short of officially declaring his candidacy. "I've never been in any race I've ever spoiled. I've been in races to win. And if I get in the race, I'm going to win," he said. "With that being said, I haven't made a decision."
In addition to the headline speakers, special guests included: senator Joe Lieberman, (D-CT), Governor Pat McCrory (R-NC), and Dr. Benjamin F. Chavis, Jr., civil rights leader. New Hampshire Governor Chris Sununu was also in attendance as an audience member.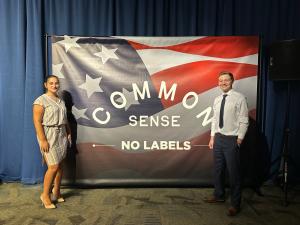 The public interest in the event was unprecedented, and this was one of the largest events ever hosted at the NHIOP. The auditorium was standing room only, and three overflow rooms were created to accommodate the crowd. Students also returned to the Hilltop, to volunteer and participate with the town hall. 
"The turnout shocked me, such that I believe this ticket would be more important than a lot of people realize, should it form," said Erik Bishop '24, politics major, who was in attendance to serve as a Kevin B. Harrington Ambassador. Bishop continued, "I was intrigued by the fact that every issue that they discussed was something that I cared about and by how much I agreed with Sen. Manchin, especially since I am Republican. As optimistic as I believe they are, I appreciate what No Labels is trying to do."