The Center for Ethics has been talking to people around New Hampshire about their experiences with housing, in order to gain a clearer understanding of how the housing shortage affects people in our communities. You can read some of their stories here.
Emilie and Cindy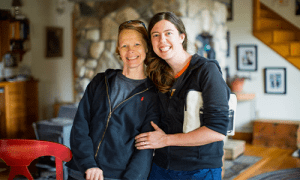 Emilie and her partner Cindy don't want to leave New Hampshire, but their inability to find adequate housing is now forcing them to consider moving out of state. They originally owned a home in Ossipee, but when Emilie accepted a faculty position at Saint Anselm College, the nearly two hour commute from Ossipee proved to be too much. They sold their home and rented an apartment in Concord that costs far more than they would like to pay. They are currently house-hunting and it is not going well. Emilie and Cindy would like the type of home that New Hampshire once offered in abundance: small, comfortable, affordable, and a bit removed from the hustle and bustle of city life. Unfortunately, such a house has been impossible to find. Their frustration has only grown as they spend their savings on an expensive apartment. In fact they have been disheartened to see that many of their friends and neighbors in their apartment complex have had to leave their homes due to an increase in rent, making their own situation feel even more precarious. Emilie and Cindy are now forced to consider leaving a state they love and call home. This would require Emilie even more hardship since she would have to rent a room or stay with one of her friends in the area while she teaches during the week.
---
Katharine
Listen to an interview conducted by the Center for Ethics in Society on Katharine Cusack and her experience in the New Hampshire housing market.
---
Angie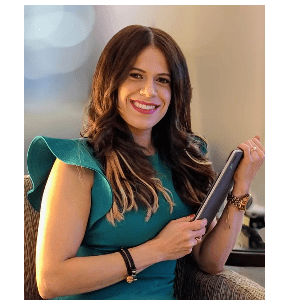 Angie Martinez-Rubio is a realtor in Goffstown, New Hampshire, where she has lived since 2017. An active member of the local community, Angie volunteers regularly with the Goffstown Main Street Program and the New Hampshire Housing Finance Authority. Through this work, Angie has gained an understanding of people's housing needs and the struggle that many young people, especially millennials, have faced as they look for adequate housing.
Although she helps other people with their housing needs, Angie ironically finds herself in the same situation. She would like to buy a new home in her community for her family of four, but is finding it incredibly difficult to buy a home in Goffstown. In the current market prices are high and options are limited, so even though Angie's job as a realtor gives her easy access to homes on the market, it hasn't made her search any easier. In fact, she has been forced to put her house search on hold for the foreseeable future so she can work to make herself more competitive financially. 
---
Mira
Listen to an interview conducted by the Center for Ethics in Society on Mira Wind discussing her desire to move to New Hampshire to be closer to her aging parents, and her inability to find an adequate home she can afford.