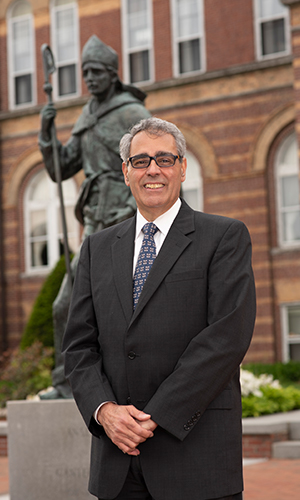 Dr. Joseph A. Favazza, president of Saint Anselm College, is a leader in liberal arts higher education with a longstanding record of success in achieving critical academic and institutional goals. He began his tenure as Saint Anselm College's 11th president on July 15, 2019.
Dr. Favazza comes to Saint Anselm from Stonehill College in Easton, Mass., where he served as Provost and Vice President for Academic Affairs from 2012 to 2019, and prior to that in other academic leadership roles from 2012-2005. His leadership helped shape Stonehill's current intellectual culture, and was instrumental in the move to restructure the academic program into two schools, as well as to develop and launch targeted graduate programs.
A tenured Associate Professor of Religious Studies at Rhodes College in Memphis, Tennessee, Dr. Favazza was also Director of the "Search for Values" Program for Interdisciplinary Humanities there. He and his wife, Dr. Paddy Cronin Favazza, Ed.D., are parents of four children: Alina, Ana-Marlise, Petr, and Isabella.