Dr. Joseph A. Favazza, president of Saint Anselm College, is a leader in liberal arts higher education with a longstanding record of success in achieving critical academic and institutional goals. He will become Saint Anselm College's 11th president on July 15, 2019.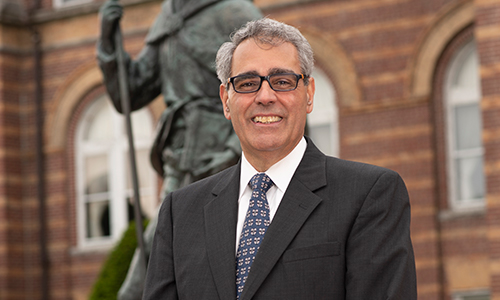 Dr. Favazza comes to Saint Anselm from Stonehill College in Easton, Mass., where he has served as Provost and Vice President for Academic Affairs since 2012. His leadership helped shape Stonehill's intellectual culture by building a community of teaching, learning, and scholarly excellence among the faculty. He was also instrumental in the move to restructure the academic program into two schools, the Thomas and Donna May School of Arts & Sciences and the Leo J. Meehan School of Business, as well as to developing and launching targeted graduate programs.
Dr. Favazza grew up in Memphis, Tennessee, the son of Ambrose and Mary Russo Favazza. A first-generation college student, he holds a B.A. in history from St. Meinrad College in Indiana, and an M.A. and Ph.D. in Religious Studies from the Catholic University of Louvain, Belgium. He has also earned a certificate from Harvard's Institute for Executive Management. He has published and presented widely on a range of issues from ritual practices of forgiveness and reconciliation to academic leadership and pedagogy. His books include The Order of Penitents: Historical Roots and Pastoral Future; Removing the Barriers: The Practice of Reconciliation; A Reconciliation Sourcebook; and From Cloister to Commons: Concepts and Models for Service-Learning in Religious Studies.
Dr. Favazza was appointed as Assistant Professor of Religious Studies at Rhodes College in Memphis, Tennessee in 1993. There he was tenured, promoted to Associate Professor and eventually was named Director of the Program for Interdisciplinary Humanities. The "Search for Values" program at Rhodes College was based on the Great Books program of the University of Chicago and is foundational to the liberal arts curriculum at Rhodes.
In 2005, he was appointed as the Dean of General Education at Stonehill College where he oversaw the new core curriculum and interdisciplinary programs. Three years later, he was named Associate Vice President for Academic Affairs and Dean of the Faculty, supervising the tenure and promotion process and working closely with department chairs.
His wife, Dr. Paddy Cronin Favazza, Ed.D., is an accomplished professor and researcher in the field of Early Childhood Special Education. The couple were Senior Fulbright Scholars at Babes-Bolyai University in Cluj-Napoca, Romania, in 2000. They have four children: Alina, Ana-Marlise, Petr, and Isabella.