A Young Adult's Guide to Personal Finance (It's Time to Move Out of Your Parents' Basement) by Michael McGuinness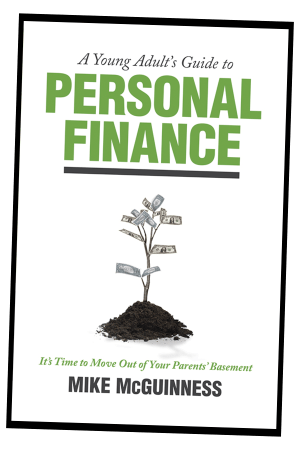 No, this book won't magically make you a millionaire overnight. But it will give you the tools to understand many finance topics, allowing you to ask smart questions to make even smarter decisions in the near future and over the course of your lifetime.
This guide is not intended to be an overwhelmingly comprehensive review of every personal finance topic. Rather, it addresses many of the key financial topics young (and sometimes older) adults will encounter, highlighting key information that you need to know to understand the workings of day-to-day finance, and how decisions made today can affect your financial health in the future. Actual financial documents are reviewed and explained in an easy-to-follow Q&A format, allowing the reader time to absorb and understand key concepts. You don't have to read this book cover-to-cover, as individual topics stand on their own and can be easily followed. Let A Young Adult's Guide to Personal Finance serve as your fundamental financial guide for years to come.
Michael McGuinness has 35+ years of industry experience, with the majority in the international field. He has worked around the world with a wide variety of talented people in most functional areas which allows him to incorporate many business principles into the courses he teaches at Saint Anselm.  The Personal Finance Initiative ("PFI") created by retired Professor John Romps who was a valued member of the community, and mentor to many successful graduates, for 46 years. The PFI is designed to improve the financial knowledge of Saint Anselm College students, faculty, and staff on key personal finance topics and, once updated, will offer online resources on a variety of personal finance topics.  Learn more…
Introductory Video
Watch
eBook: A Young Adult's Guide to Personal Finance (It's Time to Move Out of Your Parents' Basement)
Contact the Center for the PDF ebook
Student Videos
Jamal Peterson '22 On Investing in Stocks
Katherine Warth '21 On Understanding Employee Benefit Plans
Richard Flandreau '22 On Mutual Funds
Vanessa Krause '22 On The Mortgage Process
Joseph Sullivan '21 On Mortgage Options
Alex Rodolosi '21 on Budgeting 
Caroline Templer '20 on Credit
John Kelley '21 on Taxes
Kaleigh Scoville '20 on FICO Credit Scores
Watch FICO Credit Scores Video
Trey Aiello '20 on Present Value:
Matthew Butigian '21 on Home Buying:
Jason Hope '22 on Auto & Other Loans:
Watch Auto & Other Loans Video
Meghan Donahue '21 on Renting an Apartment:
Watch Renting an Apartment Video
Gabrielle Dionne '21 on Car Buying:
Eva Maria (Em) Rudler '21 on Auto Insurance:
Beyond Paycheck to Paycheck Series Presented by Michael B. Rubin
Michael B. Rubin is a Certified Public Accountant (CPA) and a CERTIFIED FINANCIAL PLANNER™ professional. In addition to his experience providing sophisticated financial advice to affluent clients, Michael has been a key source of information for over a decade to countless others. He speaks passionately about and provides guidance on virtually all personal financial planning topics.
Michael has appeared in various media, including radio and TV stations across the country, plus national media such as Money, Real Simple, CNN Money.com, latimes.com, The Wall Street Journal, SmartMoney.com, Chicago Tribune, Financial Advisor Magazine, and Investment News.  He is the author of the bestseller Beyond Paycheck to Paycheck and the follow-on book, The Savings Solution.
Prior to founding Total Candor LLC, Michael worked in the personal financial services practices of two of the former "Big Six" accounting firms. He holds an undergraduate business degree from the Ross School of Business at the University of Michigan and an MBA from the Kellogg School of Management at Northwestern University. Michael lives in New Hampshire with his wife and three daughters.
Listen to Podcasts
Contact the Center to request listed podcasts below:
Don't Be Cheap, Be Fiscally Responsible: Top Saving Strategies 
"Plan to Retire? Get One or You Might Not: Retirement Planning" 
"I Made That Mistake . . .So You Don't Have To: Financial Life Lessons and Debt Management" 
"Beyond Paycheck to Paycheck Capstone Course - How to Move From Income to Wealth"