College Dedicates the Savard Welcome Center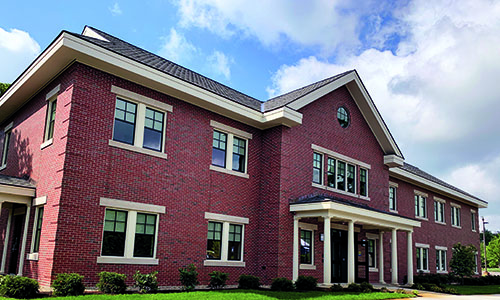 On Friday, September 18, a little over a year after first breaking ground, members of the Anselmian community gathered to celebrate the opening of the Savard Welcome Center.
"The Savard Welcome Center serves as the front porch of the college and signifies the arrival into our Anselmian community," said Dr. Joseph A. Favazza, college president. "Visitors will now experience our Benedictine hospitality as soon as they step foot on campus."
As the first place prospective students will visit on campus, the Savard Welcome Center will provide an easily accessible visitor space on campus, with air conditioning and, more importantly, the college's homemade chocolate chip cookies. It includes an event room, outdoor patio space, the Sherwood C. Blake '50 Presentation Room, and offices for admission staff and ambassadors. The Welcome Center also will be home to function space available for alumni reunions, homecoming, and other community events.
The Savard Welcome Center is named to honor the generosity of Robert and Susan Savard. During the event, Robert F. Savard, Jr. '71 shared his memories of his time on the Hilltop and how they changed him. In a call to action to encourage more people to support the college they love and value, he reflected, "We came seeking wisdom, we left with an appreciation for mankind."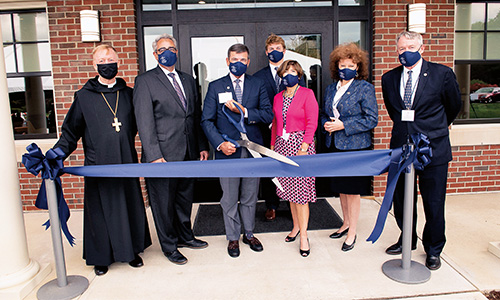 The ribbon cutting opened with a prayer by Fr. Jonathan P. DeFelice O.S.B. '69, president emeritus. Richard (Rit) Flandreau '22, Saint Anselm College's student body president and an admission ambassador, greeted the guests and reminisced on his first visit to campus. After remarks from Dr. Joseph A. Favazza, Steve Goetsch,  vice president for enrollment, Robert Savard, and Abbot Mark Cooper, O.S.B. '71 conducted the dedication and blessing.
"From their beginning, over 1,500 years ago, Benedictine monks have made their presence known in the world, in good part, through their offer of hospitality," said Abbot Mark. "It is in this spirit that we dedicate the Savard Welcome Center—a tangible expression of our Benedictine hospitality."
Earlier in the day, the college dedicated the presentation room in memory of Sherwood C. Blake '50, whose legacy gift made the Welcome Center possible.
Many people were involved in the construction of the new Welcome Center including: Bill Furlong, vice president of finance & chief financial officer; Jonathan Woodcock, project manager; John Deloia, vice president of Eckman Construction, Dennis Mires of Dennis Mires—The Architects; James Flanagan, senior vice president and chief advancement officer; the Office of College Advancement staff; Michael Iorio '07, assistant vice president of enrollment and director of admission; and the entire Office of Admission staff.
---
Robert and Susan Savard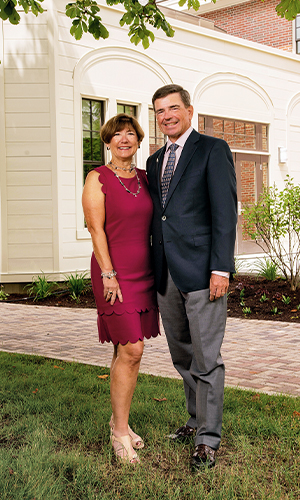 Last fall, Robert F. Savard, Jr. '71 and Susan Savard attended the groundbreaking for a new Welcome Center as part of a weekend visit to the Hilltop. During the ceremony, Senior Vice President and Chief Advancement Officer James Flanagan joked with the Savards that the Welcome Center needed a name. Afterwards, Susan sent Bob to the refreshment table to get her a cupcake. When he came back, she told him, "We are going to do this."
A longtime supporter of his alma mater, Bob graduated from Saint Anselm in 1971 with a bachelor of arts degree in history. During his time on the Hilltop, Bob participated in the Abbey Players, volunteered with Big Brothers Big Sisters, and competed with the varsity ski team. Bob is the founder of The Desmond Group, a boutique executive search firm, which he operated until his retirement in 2018.
Their $1 million gift to Saint Anselm is the latest in their long history of philanthropy at the college, including support of the Career Development Center and the Robert F. Savard Annual Scholarship.
"Bob's generosity will continue to inspire our entire community and we are eternally grateful for his remarkable commitment to Saint Anselm College," said Ann Catino, Esq. '82, former chair of the Saint Anselm Board of Trustees.
---
Welcome New Members of the Board of Trustees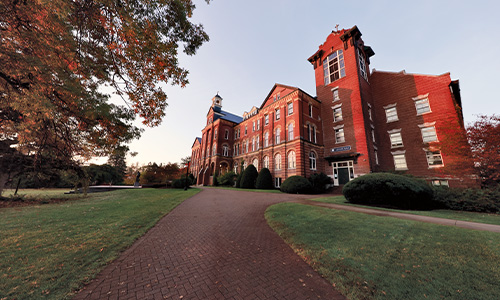 Saint Anselm College recently announced the appointment of 12 new trustees to the Board of Trustees. The new members bring "a diversity of experience and a shared interest in the perpetuity of the College," said President Joseph A. Favazza, Ph.D. "We look forward to working closely with our Board as we advance the interests of Saint Anselm, with a keen focus on providing a transformational education for our students."
Susan M. Connelly '92 is chief communications and public affairs officer at Darden Restaurants, an American restaurant operator. Darden's brands include Longhorn Steakhouse, The Capital Grille, and Olive Garden. Prior to Darden Restaurants, Connelly gained considerable marketing and communications experience in the public and private sector. In addition to a B.A. in English from Saint Anselm, she holds an MBA from Suffolk University.
Robert P. Connor worked in the financial services industry in New York City for 46 years and is now a consultant living outside of Charleston, S.C. He received his undergraduate degree from Boston College and a master's degree from Pace University. Connor was a member of the Board of Trustees from 2000 to 2018 and joined the Board again in October 2019.
Jeannette M. Davila '83, H.D. '99 served as director of strategic partnerships, mergers, and acquisitions at the Fedcap Group, a global network of nonprofit agencies dedicated to advancing the economic and social well-being of the impoverished and disadvantaged, based in New York. Prior to Fedcap, she was chief development officer at Easter Seals New Hampshire. She was the commencement speaker in 1999, receiving an Honorary Doctorate in Humane Letters, and she received the President's Award in 2011.
Fr. Mathias D. Durette, O.S.B. has been a member of the monastery since in 1987. He has held numerous positions at the college, including in the business office and as assistant dean of students. He currently is serving as a campus minister. Before entering the monastery, Fr. Mathias worked for Atex, Inc., a subsidiary of the Eastman Kodak Company. He earned a B.A. in marketing from New Hampshire College.
Margaret A. (Joseph) Emmons '75 is a nurse practitioner at Dartmouth Hitchcock Medical Center in Lebanon, N.H., where she specializes in cardiovascular medicine. She also serves as an instructor in medicine at Dartmouth College and assistant professor at UMass Medical School. Three of the couple's four children are Saint Anselm College alumni: Meaghan, Class of 2000; Joseph, Class of 2004; and Matthew, Class of 2007.
Sheila A. (O'Donnell) Evjy '74, H.D. '19 is the former vice president of nursing at Elliot Hospital, where she spent her entire nursing career. She received an honorary degree from Saint Anselm in 2019. She and her husband, Jack, a retired medical oncologist, live in Bedford, N.H., and Harpswell, Maine. She joined the Saint Anselm College Board in June 2020.
Laurence R. McCarthy '66 has been an operating partner at Ampersand Capital Partners, a middle-market private equity firm, since 2007. He is also president of Scientific Technologies & Solutions, a consulting firm. He holds a Ph.D. in microbiology from the University of New Hampshire and served on the faculty at Johns Hopkins, the University of North Carolina, and Weill Cornell Medical College. Larry has three brothers who are Saint Anselm College alumni: Charles, who is deceased, was in the Class of 1960, Robert and Malachy (a former monk), were both members of the Class of 1970.
Michael J. Riegel '92 is the president of CloudFactory USA in Durham, N.C., an IT services company. He has more than 20 years of experience in the IT field, and previously was an economic advisor and IT leader for the U.S. House of Representatives. He and his wife, Elizabeth, have three children. He joined the Saint Anselm College Board in June 2020.
Ray A. Rothrock has been chairman and CEO of Redseal Inc. in San Jose, Calif., an enterprise cybersecurity company, since 2014. He is an active angel investor, primarily in cyber companies. He holds a B.S. in nuclear engineering from Texas A&M University, an M.S. in nuclear engineering from MIT, and an MBA from Harvard Business School. He also was a 19-year board member of Woodside Priory School, a Benedictine school in Portola Valley, CA. including five years as chair.
Robert F. Savard, Jr. '71 is the retired founder and managing director of The Desmond Group, LLC, a boutique retained executive search firm serving clients with a focus in the corporate retirement services industry. Prior to that he was a managing director with several international executive search firms; within these firms he was co-chair of the financial services and diversity practice groups. Before beginning his executive search career in 1990, he spent 18 years with Aetna Life & Casualty, where he held management positions in a variety of line and staff areas. He graduated in 1971 from Saint Anselm with a B.A. in history.
Matthew J. Steinaway '90 is a senior managing director of State Street Global Advisors and is the chief investment officer of the firm's Fixed Income, Currency and Cash Group. Prior to his current role, he served as the chief risk officer for State Street Global Advisors and as the head of Global Cash Management. He received an MBA from Bentley College. His wife, Erin (Kelly) Steinaway, is a member of the Class of 1990, and the couple's daughter, Hannah, is a member of the Class of 2021.
William Withington '92 is the senior vice president of North American Operations at Enterprise Holdings Inc., in St. Louis, Mo., overseeing the company's three car rental brands— Enterprise Rent-A-Car, National Car Rental, Alamo Rent A Car—in the United States and Canada. Prior to his current role, he oversaw the company's Midwest, Canadian and West Coast Operations. He also served on the boards of SF Travel and the United Way of the Bay Area, and was a former board member of Visit California. He joined the Saint Anselm College Board in October of 2019.
---
O'Brien Named Father Bernard Holmes Scholar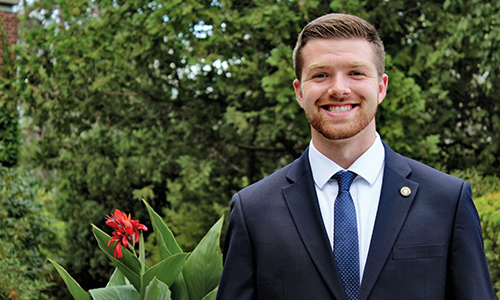 Connor O'Brien '21, an economics major, minoring in psychology from Westminster, Mass., has been selected as the Father Bernard Holmes, O.S.B., Scholar for the 2020- 2021 academic year.
The award is presented annually to an incoming senior, and provides a full tuition scholarship for the student's final year at Saint Anselm College. Bernard Holmes scholars show concern for and work to provide assistance to others, demonstrate leadership potential, and actively participate in the life of the college.
"It was a wonderful moment," says O'Brien about his conversation with President Dr. Joseph A. Favazza, who delivered the good news. "I was full of such gratitude, shock, and I was so honored to be chosen, like really truly honored."
O'Brien is deeply involved in the life of the college where his activities range from secretary of club affairs in student government to a student alumni ambassador to welcoming new students to campus as an orientation leader.
"It all started out in my freshman year when I walked into campus ministry and I started being an altar server and Anselmian 360 leader and from there things just kept rolling on and on. I found myself saying 'yes' to things and by my sophomore year I had a very full day," says O'Brien.
Considered a force on campus, O'Brien's work also includes room & board committee chair for student government; alter server, WBA participant and member of the liturgy committee for Campus Ministry; Anselmian 360 board member; and member of the Red Key Service Society and Knights of Columbus.
"If anyone could measure up to the model set by Fr. Bernard, it is he. For his service, his very sharp intellect, his modest and respectful way of relating to others, for his sense of humor, but mostly for being a force and influence for good on campus, Connor deserves to receive the Fr. Bernard Holmes award." says Brother Andrew Thornton, O.S.B.
O'Brien's service and leadership extends beyond New Hampshire. In his home town he is the director of a free summer camp where he deals with many children of different backgrounds, as well as their parents, and oversees a staff that assists him. O'Brien and his parents also volunteer at his church with children's liturgy classes.
Registrar, Tracy Morgan, further described his leadership among peers when she needed dependable flag bearers for the 2019 commencement ceremonies. "Connor was first to come to mind. He expressed humility at being asked, he took it upon himself to find other Red Key members who would also take the role seriously. He took a leadership role making sure they were all punctual and helped make commencement run seamlessly with this group."
O'Brien is not sure yet where his path will lead to after graduation in May, however, he hopes to pursue a career in higher education.
College President Joseph A. Favazza, Ph.D., and Chancellor Abbot Mark Cooper, O.S.B. '71, presented O'Brien with a certificate in recognition of his award during the college's opening Mass on August 18, 2020. The scholarship was established through the generosity of Mr. and Mrs. Robert C. Davison, in memory of Fr. Bernard Holmes, O.S.B., former president of the college.
---
Melucci Scholarships Awarded to Two Members of the Class of 2021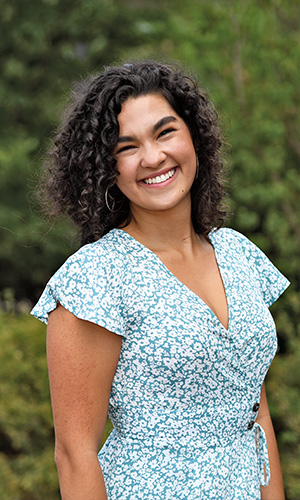 Seniors Eleni Rizos and Matthew Ward have been selected to receive the 2020- 2021 Thomas A. Melucci Jr. Memorial Scholarship, an award that annually provides full tuition to two seniors who have demonstrated significant spiritual and personal growth throughout their time at Saint Anselm College.
Rizos is a nursing major from Wakefield, Mass. She welcomes prospective students to campus as a tour guide and serves as the Student Orientation Chair and as an orientation leader modelling the hospitality that is a hallmark of Saint Anselm's culture, and ensuring that new members of the community feel as connected to the school as she has.
"The moment I stepped onto this campus, there was this overwhelming feeling of being home," says Rizos. "The Anselmian community, with its Benedictine values, the life and the culture we represent, is not one you can find anywhere else." She doesn't stop there, as she is involved in additional activities across campus serving as an Alumni Ambassador, a member of the Family Weekend Committee, and on Student Government. She has participated in spring break alternative trips to H.O.M.E in Orland, Maine and St. Francis Inn in Philadelphia, Pa., been a Crisis Line Volunteer for the YWCA, and is a member of the Koinonia Society. When she is not on campus, Rizzo works as a patient care associate at Massachusetts General Hospital. This summer she also participated in a summer nursing preceptorship, giving her valuable experience that will help her in the future.
Ward, a business and finance major from Shrewsbury, Mass., has also spent his time on campus working to leave an impact. He currently serves as the president of the Red Key Society, captain of the men's lacrosse team for his junior and senior years, an Orientation Leader since his sophomore year, and is a member of the Student-Athlete Advisory Committee.
In addition to these activities, Ward has completed internships at Alku, Northwestern Mutual, and Rise Private Wealth Management. He plans to work as a financial planner after graduation, and has already begun taking the tests and receiving certifications that he will need to be successful.
"Receiving the Melucci scholarship is an honor. I'm really humbled a to receive it. I'm thankful to the Melucci family," says Ward. "It makes me feel like I've left my footprint on Saint Anselm College in some kind of way, and to some people there."
The Thomas A. Melucci Jr. Memorial Endowed Scholarship was established by Thomas and Gail Melucci as a memorial for their son, Thomas, who graduated from Saint Anselm in 1988. Mr. and Mrs. Melucci remain closely involved with the scholarship, serving on the committee that selects recipients each year. Mr. Melucci is a former trustee of the college.
---
Father Francis McCarty, O.S.B '10 Ordained to the Diaconate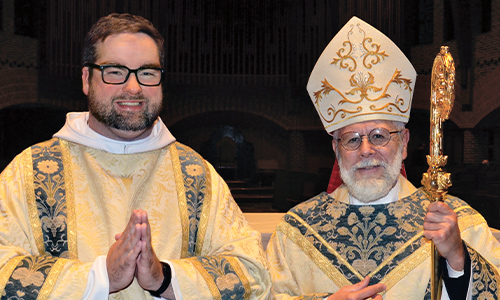 Francis Ryan McCarty, O.S.B. '10, a member of the Saint Anselm monastic community, was ordained to the Diaconate by the Most Reverend Peter A. Libasci, Bishop of Manchester, on October 2, the Feast of the Guardian Angels, in the Saint Anselm Abbey Church. Following his ordination and according to monastery custom, he is known as Father Francis.
As a transitional deacon, Father Francis is now a minister of service for Saint Anselm Abbey and the wider Church. Among his many duties he will assist priests with the administration of the Sacraments.
Father Francis was presented for ordination by Abbot Mark Cooper, O.S.B. '71.
After Bishop Libasci received his promise of obedience, Father Francis was vested with the stole and dalmatic, signs of his station within the Church, by his uncle Deacon Kenneth Angell, a permanent deacon for the Archdiocese of Washington.
During the Rite of Ordination, Bishop Libasci instructed Father Francis regarding his new ministry: "As a deacon you will serve Jesus Christ, who was known among his disciples as the one who served others. Do the will of God generously. Serve God and mankind in love and joy."
In reflecting on his ordination, Father Francis noted, "The ministry of a deacon is a ministry of service, a service rendered through the preaching of the Gospel in both word and action. I am so excited to take on this additional ministry for our community and for the universal Church."
Originally from North Smithfield, R.I., Father Francis graduated from Saint Anselm College in 2010 with a bachelor of arts degree in history with a minor in Catholic Studies. After graduation, he served as a teacher at his alma mater, Mount Saint Charles Academy in Woonsocket, R.I. He joined the monastic community as a postulant in July 2015.
Father Francis professed his solemn monastic vows on February 2, 2020. He is in his fourth year of theological studies at Saint John's Seminary in Brighton, Mass. He will be ordained a priest following the completion of his studies this year.
---
Welcome Brother Amadeus Cundiff, O.S.B.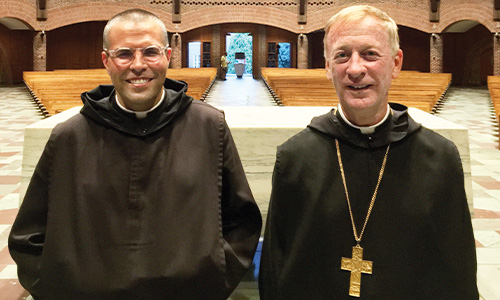 On August 17, 2020, Brother Anselm Daniel Cundiff, O.S.B. was received into the monastic community to begin a probationary period before transferring his stability to Saint Anselm Abbey. Brother Anselm comes to Saint Anselm from Mary, Help of Christians Abbey in Belmont, N.C. Following established custom, Brother Anselm received a new monastic name and patron. Brother Anselm will now be known as Brother Amadeus. His monastic patron is Blessed Amadeus of Lausanne, a 12th century Cistercian abbot and bishop. The transfer of stability is mentioned in Chapter 61 of the Rule of Saint Benedict.
Brother Amadeus is a native of Denton, Texas. He received a Ph.D. in philosophy from the University of Dallas. He took vows as a Benedictine monk in 2014. He teaches in the Saint Anselm College Conversatio Program.
---
"Give a Mask, Get a Mask" Campaign Supplied a Mask to Every Student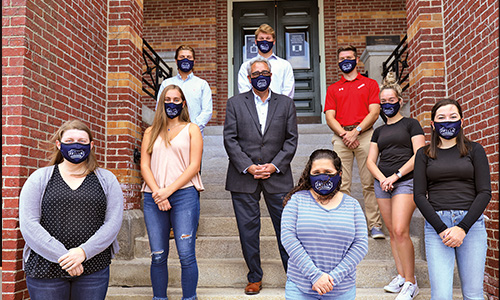 During the month of September, the Department of Athletics and the Office of College Advancement partnered to host the "Give a Mask, Get a Mask" campaign to supply every Saint Anselm student with a branded face mask while also raising money for important campus programs.
"The 'Give a Mask, Get a Mask' initiative offered alumni, faculty, staff, parents and friends of the college the opportunity to support students and student-athletes," said Daron Montgomery director of athletics. "It is exciting that all students will receive a custom, Saint Anselm-branded mask when we reach our goal."
Donors who contributed $25 before September 30, 2020 provided one student with a Saint Anselm Hawks facemask and received one mask for themselves, while also benefiting the fund of their choice. Options included the Saint Anselm Fund, the Ernie Thorne '34 Scholarship Fund for Racial Equality, the Anselmian Student Relief Fund, the Hawks Soar Higher Fund, or the sport of their choice.
The "Give a Mask, Get a Mask" campaign saw 1,510 members of the Anselmian community raise more than $85,115 and donate 2,779 masks.
---
Brother Celestine Professes Simple Vows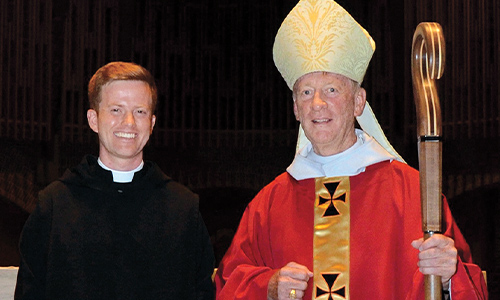 Brother Celestine Benjamen Hettrick, O.S.B. professed temporary vows as a monk of Saint Anselm Abbey on September 14, 2020, the feast of the Exaltation of the Holy Cross. Abbot Mark Cooper, O.S.B. '71 presented Brother Celestine with the full monastic habit and a copy of the Rule of Saint Benedict.
Through his temporary profession of vows, Brother Celestine embraces the vows of the Order of St. Benedict: obedience, stability, and conversatio morum (fidelity to monastic life) as cited in chapter 58 of the Rule of Saint Benedict. Upon completing three years as a junior monk, and after careful prayer and deliberation, he may petition the monastic community to profess solemn vows and become a permanent member of the monastic community.
Brother Celestine is a native of Salem, N.H. He attended Holy Family Academy in Manchester and The International Theological Institute in Trumau, Austria.
---
College to Host 2021 NCAA Division II Field Hockey National Championship
The NCAA recently announced Saint Anselm College has been selected to host the 2023 NCAA Division II Field Hockey Championship. Grappone Stadium will facilitate the national semifinals and championship games.
"We are thrilled to be given the opportunity to host the NCAA Division II National Championship in November 2023," said Carolyn King-Robitaille, who serves as both the head field hockey coach and assistant athletic director at the college. "We know how special Saint Anselm and the greater Manchester community is and we cannot wait to showcase both to the competing teams and fans from across the country in 2023."
Also in the Issue
Past Issues