Every season, the Dana Center for the Performing Arts plays host to a steady stream of talented musicians, dancers, and performers—but, for a glimpse of a true musical master, take a peek behind the scenes.
By Kate Grip Denon
Photo by Lori Pedrick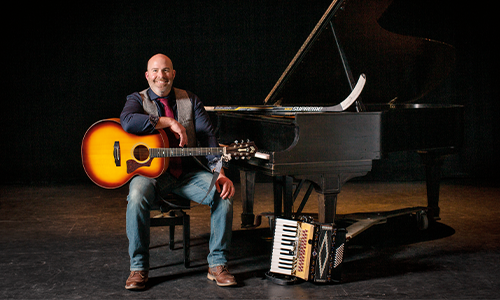 Joe Deleault, director of the Dana Center for the Performing Arts, is an award-winning international performer, composer, and session pianist who has written for and recorded with some of the best in the music industry, including Jon Bon Jovi, Carly Simon, Joan Osborne, Natalie MacMaster, and Mighty Sam McClain—not to mention several stage, television, and film credits under his belt such as Grown Ups 2, On Golden Pond, Dawson's Creek, PBS's Roadtrip Nation, and New Hampshire Chronicle.
The Manchester native, who was raised surrounded by music, comes from a long line of talented musicians. "My family is French and there was always music," he says. "My dad played guitar and would invite his friends over for jam sessions, and my mom's family is very musical, my grandmother was an accomplished pianist."
Deleault, who plays guitar, accordion, and various percussion instruments, considers piano his main focus, and remembers exactly when he first fell in love with the instrument. "When I was in fourth grade, my friend got a keyboard, and I wanted one, and then I got one—and there it goes," he says.
The time between receiving that fourth-grade gift and his numerous musical accomplishments today included many years of playing, touring, and learning. "When I was at Plymouth State University, I was determined to pursue music and decided to move to Cambridge, Massachusetts," he says. Deleault soon found himself in an apartment of friends who also were musicians, and things began to take off. "My goal was to gig as much as I could, because that's how you grow, and we found ourselves playing Cambridge and Boston clubs like the Lizard Lounge, The Middle East, Ryles Jazz Club, and Scullers Jazz Club."
Deleault continued to make a name for himself and collaborate with other musicians who would become extremely influential to him, including members of Boston-based band Buffalo Tom and Mighty Sam McClain. "Mighty Sam McClain was probably the biggest influence on me, and my career," he says. For several years, Deleault toured Europe with the powerhouse Blues singer, which led to collaborating with music giants such as Jon Bon Jovi.
In 2003, a different type of collaboration took shape when Deleault's parents told him of an opening for a technical director at the Dana Center. His father, Arthur Deleault '69, a retired adjunct professor in the English department, and his mother, Francine, who worked for several years in the Campus Ministry office, knew it would be an ideal opportunity for their son. "They called me and said, 'The environment here is really wonderful, you should really check this out,'" he says. And the rest is Hilltop history.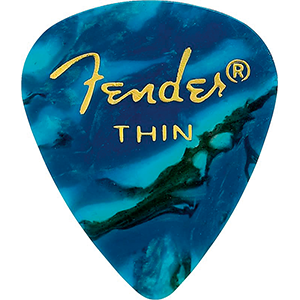 Over the past two decades, Deleault's position has evolved from technical director to assistant director, and eventually to his role today as director. While he's experienced many memorable moments on the Hilltop, he points to one in particular he'll never forget: being asked to compose an original song for the inauguration of Dr. Joseph A. Favazza. "As daunting as this request was, of course I was extremely honored," he says. "My biggest fear was not keeping true to Dr. Favazza and the college."
Once Deleault dug in, however, inspiration came quickly. He looked to his longtime music partner Ernest Thompson to write the piece's lyrics. Thompson, who won an Academy Award for Best Screenplay for On Golden Pond, has worked closely with Deleault on a variety of projects for more than a decade. "I wanted influences with traditional New England music dating back to when the college was built, but also hymnal elements to honor the monastery," he says. "Finally, I wanted the song to pay respect to Dr. Favazza and his love for Cajun music." The result was "Soar," and the response was a fully engaged and moved audience. "During the song, I was playing piano, and I was truly in the moment," he says. "It is something I will always remember."
For Deleault, who also somehow finds time to serve as the assistant coach of the women's hockey team, there is nothing more fulfilling than working with students. "I thrive on offering programming that helps to engage students during this transformational time in their lives," he says. "The things we're exposing students to now, they are impactful—the arts are so powerful."
I wanted influences with traditional New England music dating back to when the college was built, but also hymnal elements to honor the monastery."
To hear the inauguration song "Soar" visit https://anselm.edu/deleault-SOAR