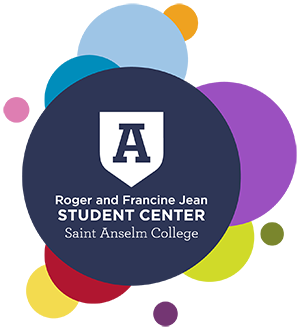 The Roger and Francine Jean Student Center Complex is the dynamic hub of Anselmian life, as students gather, work, and learn in its central location.
Home to multiple student services, the student center complex also offers spacious lounge and study areas, wide hallways, a 250-seat auditorium a café, a function room with an incredible view of Alumni Hall, the college bookstore, and abundant natural light to provide an open, inclusive, and comfortable environment.
Built on the former site of the college's Cushing Center, the new student center complex officially opened in May of 2018 offering the college's 2,000 undergraduates a state-of-the-art facility. Roger Jean, a Manchester native, 1970 graduate, 2006 honorary degree recipient, and trustee of the college, with his wife Francine, made a $6 million contribution — the largest individual gift in Saint Anselm College history — to make the complex that bears their name possible.