Commencement Exercises for the Class of 2021
On Saturday, May 15, 477 Saint Anselm students triumphantly crossed the stage in front of Alumni Hall, as part of the college's 128th commencement exercises. After a year and a half of living with the pandemic, the Saint Anselm College Class of 2021 celebrated their many accomplishments in the first large-scale event on the college campus since February 2020. 
College President Joseph A. Favazza, Ph.D., reflected on the contrasting emotions of sadness and excitement that the Class of 2021's final event brought about, explaining that commencement is not the end, but the beginning.
"Ready or not, the exploration now commences. And guess what? No one knows where the exploring will end," said Dr. Favazza. "Just as the monks have discovered their forever home on this Hilltop and vowed never to leave it, you have discovered your forever home and, I hope, vow to never leave it behind."
News story: Saint Anselm Graduates Ready to Explore and Engage the World
---
Class of 2021 Commencement Photo Gallery
Class of 2021 Nursing Pinning Ceremony Photo Gallery
Abigail A. Campbell - Student Address

President Favazza, Abbot Mark, the Benedictine community, faculty and staff, friends and families, and my fellow classmates of the class of 2021. Good morning.

If you attended the A360 retreat freshman year you received one of these (hold up key chain). An A360 key chain with the emblem of a compass on it. Now, if you are like me, you have carried this key chain with you for a significant amount of time around the Hilltop. Think about the different points on this compass and the many different directions it possesses. Every compass has a north point. This part of a compass is its true north, and it is a fixed point because it never moves. It is stable and reliable. The true north in many of our lives is right here. Saint Anselm College.

Now think about how you ended up where you are right now. What got you here? Maybe for you it wasn't this key chain I have with me here today or anything to do with a compass, but whatever it is remember it, because it brought you here. Being from California myself was an added challenge when I first arrived on campus. Nonetheless, I persisted and found my place here on the Hilltop. What got me here and kept me in the place I call my home away from home was the outward love I felt when someone would hold a door for me, listening to Fr. Mathias's homilies at Wednesday night masses, seeing a smile on a prospective student's face while giving a campus tour, sharing laughs with fellow classmates in the Student Engagement office, reflecting with friends in campus ministry, and so much more. This all can be summed up into one word for me: community.

Over these four years I have come to understand the nature of this pilgrimage we all have journeyed on. When thinking about a moment that got me where I am today, I think of an impactful experience I had at this year's senior retreat. About 30 seniors gathered in the lower church and listened to a reflection given by campus minister, Joycelin Raho. Joycelin started this reflection by having us close our eyes and told us to picture ourselves going on a hike on a beautiful summer day through the woods. She said that during the hike the well-groomed and well-marked path suddenly became rockier and more difficult slowing us down.

As Joycelin read this I began to look back on times of trial and doubt I have experienced here at Saint A's, and I invite you to do the same: maybe it was that exam you did poorly on even after endless hours of studying in the library, maybe it was running out of Dav money before the end of the semester, maybe it was the sports injury you suffered that ended your season, maybe it was losing a loved one or a personal struggle with family and friends, the social and racial injustice that the entirety of this world has been confronted with this past year, or maybe it was our perseverance as an entire Saint Anselm College community through the COVID-19 pandemic and needless to say COVID-19 brought much pain and suffering to this community and communities throughout the world. Even if you have had an easier year, the suffering the world has endured is tumultuous.

Personally, my doubt stemmed from a night I shared with a few friends in Brady Hall during our sophomore year. I walked into my friends room and they knew something was not sitting well with me. We all proceeded to sit in a circle on the floor and share how anxious we were about our futures. I remember being so lost and thinking I had no direction in this moment. Nothing to guide me or point me in the right direction. Except maybe this (hold up compass). With the help of my friends, I was able to rediscover where my true north was.

After the rocky path and steep incline, Joycelin assured us in her meditation we would eventually make it to the peak of our climb. The peak of the climb is comfortable, clear, and more beautiful than we could have ever imagined, much like it is here on the Hilltop. As she said this I pictured the countless memories from these past four years: battling for that last cup of frosting at the annual gingerbread house contest, the unbelievably amazing Christmas feast dinner, Ingrid from Davison putting a smile on your face after a long day, watching friends walk 130 miles in honor of 9 charities from Lewiston, Maine to campus, ketchup dispensers magically disappearing from Coffee Shop, Service and Solidarity trips: where students travel throughout the U.S. in search of love, companionship and kinship with different communities, all-nighters filled with buffalo chicken calzones and Coffee Shop ranch, wobbling with fellow orientation leaders, Relay For Life, and our own personal and unforgettable memories we have made with roommates and friends.

This morning my fellow classmates we are on the Hilltop. It's comfortable. It's stable. The view from where I am standing is beautiful. In a few hours we must leave the peak of our climb and begin our descent down. And on the way down we will stumble and worry over which path we should take. Will we take that job or internship? What institution will we pick for grad school? Or will we take on the challenge of doing a year of service? Where does your compass point? Hesitant and unsure, we will take the path that we feel called to. The path may bring us to the comfort of familiar shade or to greater uncertainty, just like when we began our journey towards Saint Anselm.

My hope for all of us is that rays of sunshine come through the trees and land on all our shoulders; that familiar voices of friends we laughed and cried with remain with us, reminding us of the joy we experienced here on the Hilltop. And that we encounter new voices and faces we never imagined. If there is anything that these past four years have taught me it is this: the journey is difficult and at times uncertain, but it in the end it is worth every mile.

Thank you to faculty and staff who supported us in our educational dreams, thank you to the monks for opening your home and showing us the meaning of hospitality. Thank you all for reminding us where true north is. And thank you to family members for showing us constant love and support and thank you to my fellow friends and classmates for showing me what it means to be a part of an Anselmian family.

There are 460 paths that came into Saint Anselm College and 460 paths will lead away from campus this afternoon, 460 journeys that will make an impact on the world that stands before us. As we begin the start to our new adventure let us remember the direction and path that Saint Anselm has led us in and the foundational values that make us so wonderfully prepared to leave our imprint on this world. May we be guided by the footsteps of past Anselmians to help us find our new home. (hold up compass) And may we always carry a compass that leads us back to the Hilltop. All my blessings and Godspeed in your next adventure class of 2021. Thank you.

Joseph A. Favazza, Ph.D. - President's Address

Dear Graduates,

Ok, this is an interactive commencement address.

English majors, raise your hands.

If you have read anything by Thomas Sternes (T.S.) Eliot, keep your hands up. If you have seen the Mississippi River, keep your hands up.

Ok, those whose hands are still up, come on up and give this address. Hold on: just kidding. I wouldn't want you to show me up.

T.S. Eliot is one of the major 20th century poets. Before he move to England at age 25, he was born in St. Louis, MO. reminiscing about his life later, he said this:

"There's something in having passed one's childhood beside the Mississippi River that is incommunicable to those who have not. I consider myself fortunate to have been born here, rather than in Boston, New York or London."

Like T.S. Eliot, I was also born along side that mighty, wild river about 400 miles south of St. Louis in Memphis, TN So even though I was not an English major (let's hear it for History and Theology majors), I have had an long affinity with him given our common river.

This wandering river of an introduction is to share with you a few lines of a poem Eliot wrote as a part of his "Four Quartets," four long poems for which he won the Nobel Prize in literature. The last poem, "Little Gidding," was written in 1942 and is animated by Eliot's experience of the bombing of London during WWII.

Eliot muses over the idea of endings and beginnings. Here are his words:

What we call the beginning is often the end

And to make an end is to make a beginning.

The end is where we start from….

With the drawing of this Love and the voice of this Calling

We shall not cease from exploration

And the end of all our exploring

Will be to arrive where we started

And know the place for the first time.

Commencement. To commence. To begin. But wait a minute: aren't we marking the end of something here today? Throughout this week, as i looked out of my office window unto this sacred quad, I have seen groups of students in cap and gown taking pictures with our beloved St. Anselm. while most of the faces were happy (made happier by the bottles of champagne that sometimes accompanied them), I also saw sadness. The beginning is often the end.

But the end is where we start from. It is from here that we commence. We may think that it is too early to commence, that we didn't have enough time, that darn COVID interrupted our plans to squeeze every ounce of experience out of the hilltop, that I am not ready to take the next step. What is next?

Ready or not, the exploration now commences. And guess what? No one knows where the exploring will end as Abigail just reminded us. As an example, a friend once reflected to me that if Jesus had graduated college, and if the college tried to track his outcomes after college, he was a total failure. No job, homeless, hanging out with low-lifes, and eventually convicted of a capital crime that cost him his life. No college would highlight him on their glossy magazine. No college would invite him to be a commencement speaker. Yet, he was the most consequential human being in human history. He listened to the voice of his calling and he gave himself over to love without limit. No matter your faith, you have to admit that he was not afraid of doing the hardesting thing we can do: knowing our calling and act on it.

Now you begin your next step, your exploring. You ask: Where will I go? How will I live the good life? In What will I believe? Whom will I love? When will I have a sense of accomplishment? If you were facing these consequential questions without the benefit of a St. A's education, god help you. Fortunate for you, you have acquired the vastly underutilized skill of reflection. I admit: You may not use this skill for a bit (Right parents?). But two years, five years, ten years down the road, you will reflect on your transformation on the hilltop. You will ask: not only what is your net worth, but what is worth doing? Not only what makes me happy, but what can i do to bring happiness to others? Not only what sustains me, but what is sustainable in this fragile world we live in? No matter how great a scientist, business person, or educator, you will come back to these questions. And yes, this is where your exploration will lead you back to where you commenced. Lead you back to this sacred quad.

And you will know this place as if for the first time. It may be hard for you to imagine since you think you know this place now, but trust me, you will know it again once you have tasted more of life. One day you will return for a class reunion, or to bring a friend or a child to an admission event, or pick up a poem like "Little Giddings" and be reminded of a professor who pushed you harder than you thought possible. In that moment, you will know Saint Anselm in a whole different light. It will be more than just friends hanging out together, or good food at the c-shop, or surviving COVID together. It will be more, much more. Just as the monks have discovered their forever home on this hilltop and vowed never to leave it, you have discovered your forever home and, I hope, vow to never leave it behind.

Just as that mighty river where T.S. Eliot and I passed our childhoods wildly pushes its banks and refuses to be tamed, may your exploration push you always toward to the wildest and most untamed thing we know: love. Love is not only our calling, it is our destination, even destinations that are dangerous or surprising. Love does not always mean safe and cozy.

So are you make this end in order to make a beginning, don't be sad. It must be this way as you begin your exploration with all of the tools Saint Anselm College has given you. It will be hard, you will make bad decisions, you will get hurt, and you may be tempted to give up or despair. But you have a calling. It will lead you if you listen, reflect, and yes, love. And eventually, you will know this place again... for the first time.

Congratulations, graduates!
Download Class of 2021 Digital Media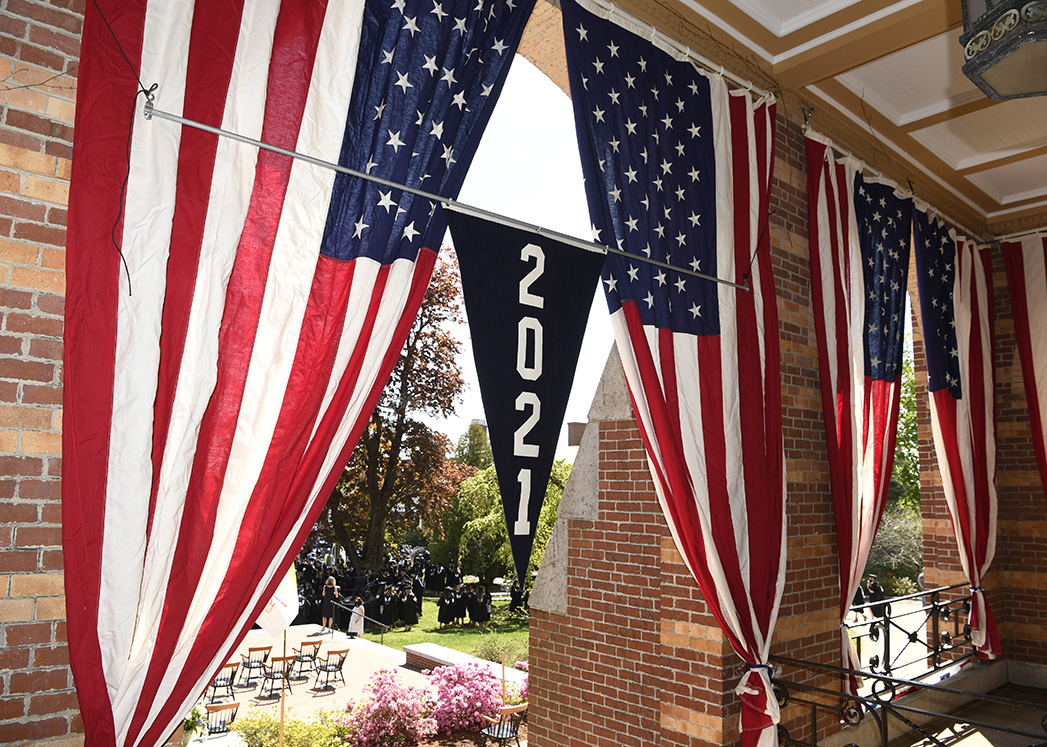 CELEBRATING THE CLASS OF 2021
To the Saint Anselm College Class of 2021, your family, friends, and the entire college community are proud of your hard work and all you have accomplished.