Galleries
Comiskey Art Center
The Comiskey Art Center is the central space for Fine Arts on campus. In addition to a theater classroom, the center features painting, drawing, printmaking and ceramics studios, as well as office spaces and classrooms for graphic design, watercolor painting, and mixed media. The Center also contains a state-of-the-art Macintosh computer lab for graphic design, digital art, and computer music courses. In addition, there is a gallery space used for display of student class work, critiques and senior thesis exhibitions. The Comiskey Art Center is named in honor of Professor Edward J. Comiskey, who served as director of the Saint Anselm theater group, the Abbey Players, for 35 years.
Dana Center Alcove Galleries
Located in the Dana Center lobby. For current exhibition information, please visit our Facebook Page.
Alcove Gallery Hours: Monday-Friday, 9 a.m. to 5 p.m. and during show times.
LLC Galleries - In The Living Learning Commons 
The Living Learning Commons, Saint Anselm College's newest residence hall, continues the innovative blending of living and learning through new exhibition spaces which incorporate six museum-quality art cases installed on all three floors.
These new galleries provide additional exhibition space to showcase fine arts student, faculty and outside professional artists works, while also making art accessible to students 24 hours a day, seven days a week. Additional workshops, programs, and future exhibitions hosted in the LLC integrate art into everyday campus life, give students an audience, and make art education available to the entire college community. For current exhibition information, please visit our Facebook Page.
LLC Gallery Hours: Open to the public 7 days a week, 9 a.m. to 9 p.m.
South Alumni Hall
Fine Arts spaces in Alumni hall include faculty offices, a music lab, a photography classroom and darkroom, and an art gallery.
Performance Space - Dana Center Music Facilities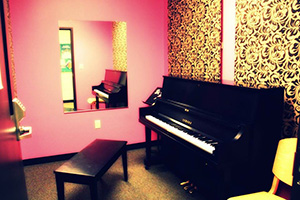 Students have access to 8 individual practice rooms in the Dana Center, each equipped a new Yamaha upright piano. Each of the classrooms has a grand piano: one new Yamaha grand piano and a Steinway grand piano. The piano lab contains 15 electronic pianos. An electronic pedal organ is also available for students to practice on.
The music recording studio is outfitted with two computer stations, one running Pro Tools and the other running Finale. (Both Finale and Sibelius are available in the music lab in South Alumni Hall.)