If you sit in a Saint Anselm classroom every day or already have a Saint Anselm diploma on your wall, if you prepare lectures or keep the grounds, if you support our programs or enjoy events on campus - you are an Anselmian.
As an Anselmian, you know this is a special place. Maybe you felt it the moment you arrived for a tour. Maybe you have been shaped by a lifetime of Anselmian memories and friendships. Perhaps your Saint Anselm experiences influenced your career and guided your personal life.
No matter your place in the tapestry of Anselmian life, you share common traits: a creative mind and generous spirit, a drive to achieve, a love of tradition and a need to innovate, and a devotion to growing spiritually and morally as we live lives of meaning.
As Anselmians, we also want to share the best of who we are. We are developing a (traditionally) new way to showcase the college. You can help us by telling us what being Anselmian means to you.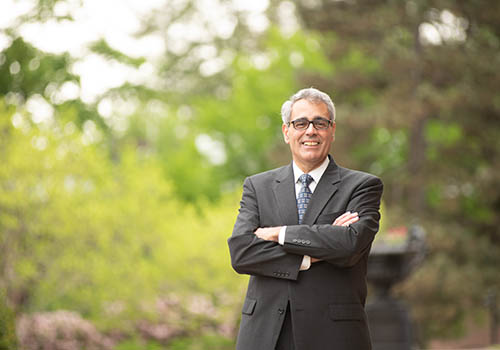 Message from the President
"To be sure, these few months have tested the character and resolve of us all. Here at Saint Anselm, our students, faculty, staff and monastic community have passed the test with flying colors. We are emerging a stronger, smarter and more supportive community than ever before."
President Joseph A. Favazza, Ph.D.
Dr. Favazza shares with the class of 2024 and their families a message about Saint Anselm's response to the coronavirus, his hopes for the fall, and the continued strength of the college community.